Image

< Back
Santa Priscila Takes Pole Position in Supplying the US Market
The US top 10 largest suppliers in 2021 and 2022
Image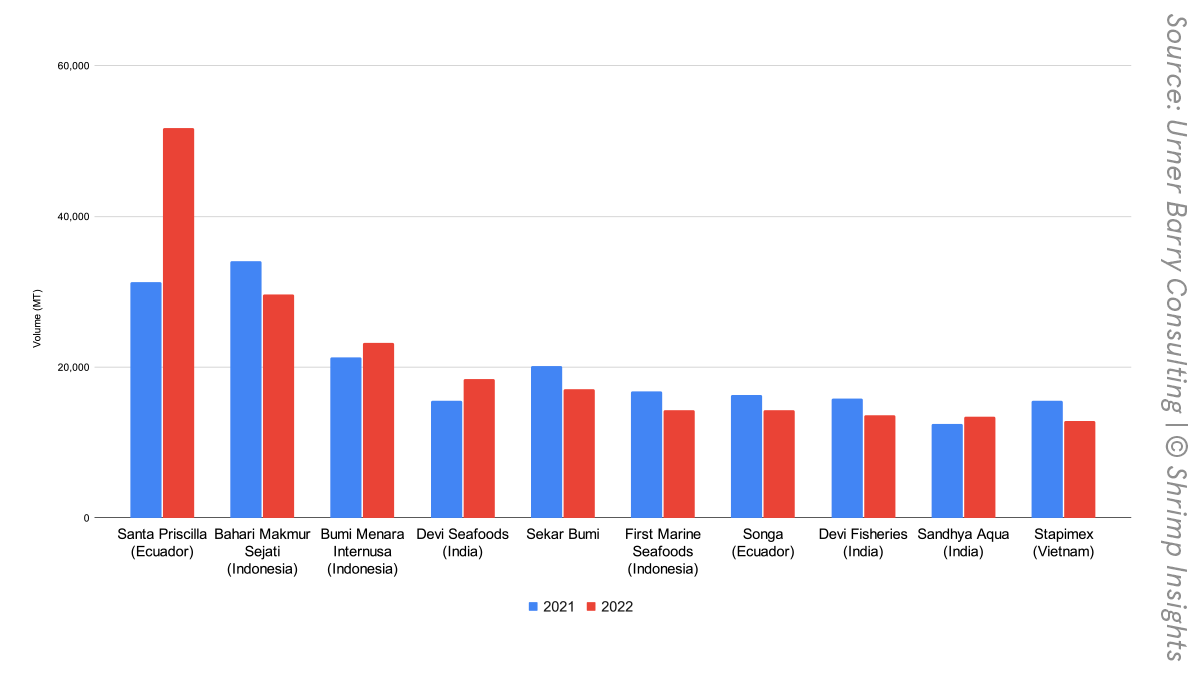 Disclaimer: The data presented in this blog are sourced from Urner Barry's Foreign Trade Database. The data is organized by Urner Barry Consulting and Shrimp Insights on a best-efforts basis. A considerable portion of shrimp imported into the US is declared as "order". This volume cannot be linked to a specific importer or exporter; therefore, the numbers may differ slightly from the actual numbers. Nevertheless, we are certain that these numbers provide a good insight into the importers and exporters that lead the US shrimp trade. The volumes presented here are on a best-effort basis presented as net weight and volumes of related companies have been combined. If your company is listed and you feel the data is incorrect, please contact Angel Rubio or me to discuss and correct it where necessary.
Along with the rise of Ecuador as a major supplier to the US at the cost of Asian suppliers, the import landscape is being slightly shuffled. Here are some of the most important changes: 
While the US's total import volume dropped from 2021 to 2022. The total volume imported by the top 10 suppliers increased by around 5%. The companies that grew their volumes were Santa Priscilla, Bumi Menara Internusa (BMI), Devi Seafoods, and Sandhya Aqua. 
Santa Priscilla has jumped to be the solid number-one shrimp supplier to the US. While last year just below Bahari Makmur Sejahti (BMS), this year Santa Priscilla exported more than 50,000 MT. Songa is the only other Ecuadorian player in the top 10 list. 
BMS lost its first place to Santa Priscilla but was once again joined in the top 3 by Bumi Menara Internusa (BMI) which maintained a stable export volume from 2021 to 2022. Also, Sekar Bumi and First Marine Seafoods remain in the top 10. 
Nekkanti Seafoods dropped from the number 4 supplier to the US to being number 10. It's clearly one of the companies that suffered from the issues India is confronted with at home and in the US. In the meanwhile, Devi Seafoods climbed to the fourth spot. The total amount of Indian companies in the top 10 remained three. Sandhya Aqua occupies the 9th position.
A big thank you to Angel Rubio, senior analyst at Urner Barry Consulting, who provided me with most of the data for this Shrimp Byte from Urner Barry's Foreign Trade Database. I encourage all of you who want to delve deeper into the US shrimp imports to subscribe to this database or to contact Urner Barry Consultancy. They're the best data resource if you want to go beyond simple trade data.