Image

< Back
No Major Changes in Market Shares 2022's Top 10 Shrimp Import Companies
The US top 10 largest importers in 2021 and 2022
Image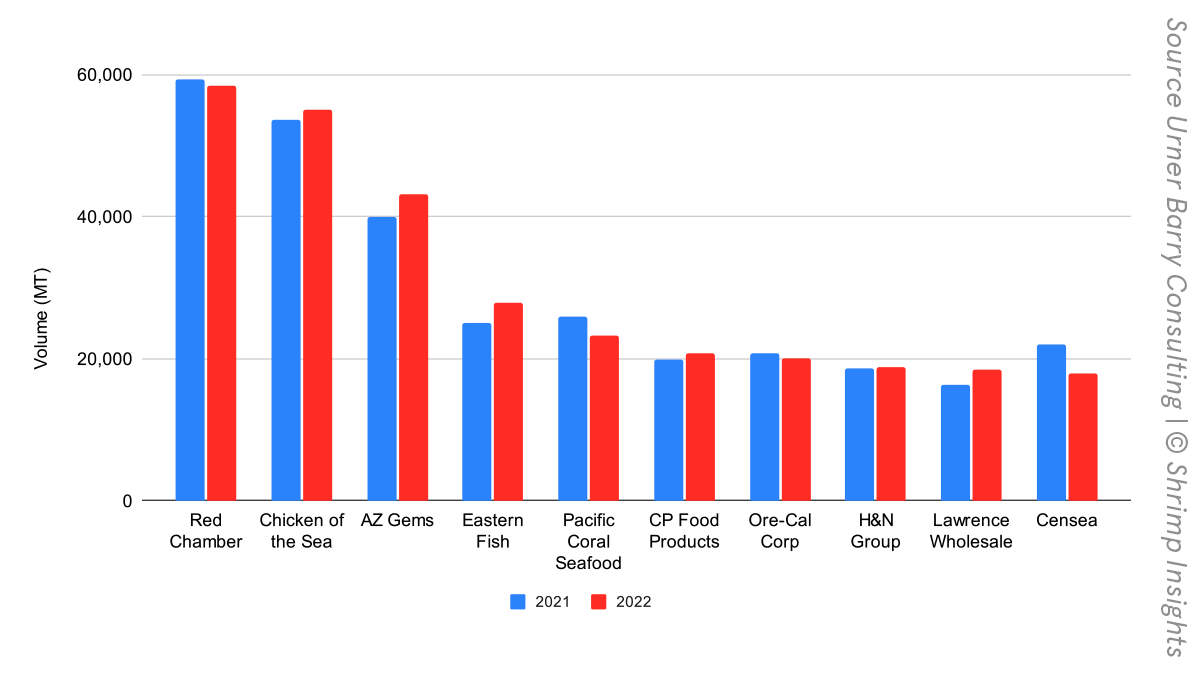 Disclaimer: The data presented in this blog are sourced from Urner Barry's Foreign Trade Database. The data is organized by Urner Barry Consulting and Shrimp Insights on a best-efforts basis. A considerable portion of shrimp imported into the US is declared as "order". This volume cannot be linked to a specific importer or exporter; therefore, the numbers may differ slightly from the actual numbers. Nevertheless, we are certain that these numbers provide a good insight into the importers and exporters that lead the US shrimp trade. The volumes presented here are on a best-effort basis presented as net weight. If your company is listed and you feel the data is incorrect, please contact Angel Rubio or me to discuss and correct it where necessary.
There are no big changes in market shares among the overall top 10 US shrimp importers in 2022. There is only one player that entered the top 10 and that was Lawrence Wholesale. Lawrence Wholesale, LLC was founded in December of 2000 by Mark Liszt, with the support of a small group of private investors. From 2000 to the present, the Company has grown from a small group of poultry traders to a nationwide sales force of diverse (and sometimes exotic) proteins from all over the world. Lawrence Wholesales rise into the top 10 list was at the cost of Devi Fisheries who in 2021 occupied the 10th place.
If we look in a bit more detail into the top 10 importers for the most important origins there are some interesting differences. 
H&N Group and Pacific Coral Food are the largest US importers of Ecuadorian shrimp, accounting for 13,000 MT and 12,000 MT respectively. 
In Indonesia, the largest US buyer clearly is Red Chamber (around 30,000 MT in 2022) while Chicken of the Sea and Eastern Fish follow at a long distance (each imported around 15,000 MT from Indonesia. 
From Vietnam, Ore-Cal this year was the largest US buyer, followed by Minh Phu's US import division Mseafood and Eastern Fish. It's clear from Urner Barry's data that Minh Phu saw its shipments to the US half and Censea even saw supplies from Vietnam shrink by 75%. 
From India, AZ Gems (owned by Sandhya Aqua India) consolidated its position as the largest importer of Indian shrimp into the US with almost 40,000 MT on its account. Chicken of the Sea, Devi Fisheries, and Red Chamber follow at a long distance (19,000 MT, 16,000 MT, and 14,000 MT respectively). 
In the next Shrimp Byte, I will reveal the top 10 suppliers to the US with at least one big change to talk about.
A big thank you to Angel Rubio, senior analyst at Urner Barry Consulting, who provided me with most of the data for this Shrimp Byte from Urner Barry's Foreign Trade Database. I encourage all of you who want to delve deeper into the US shrimp imports to subscribe to this database or to contact Urner Barry Consultancy. They're the best data resource if you want to go beyond simple trade data.