Image

< Back
Indonesia's Q1/Q2 L. Vannamei Exports Down 19% Year-on-Year
Indonesia's L. Vannamei Exports 2018–2023
Image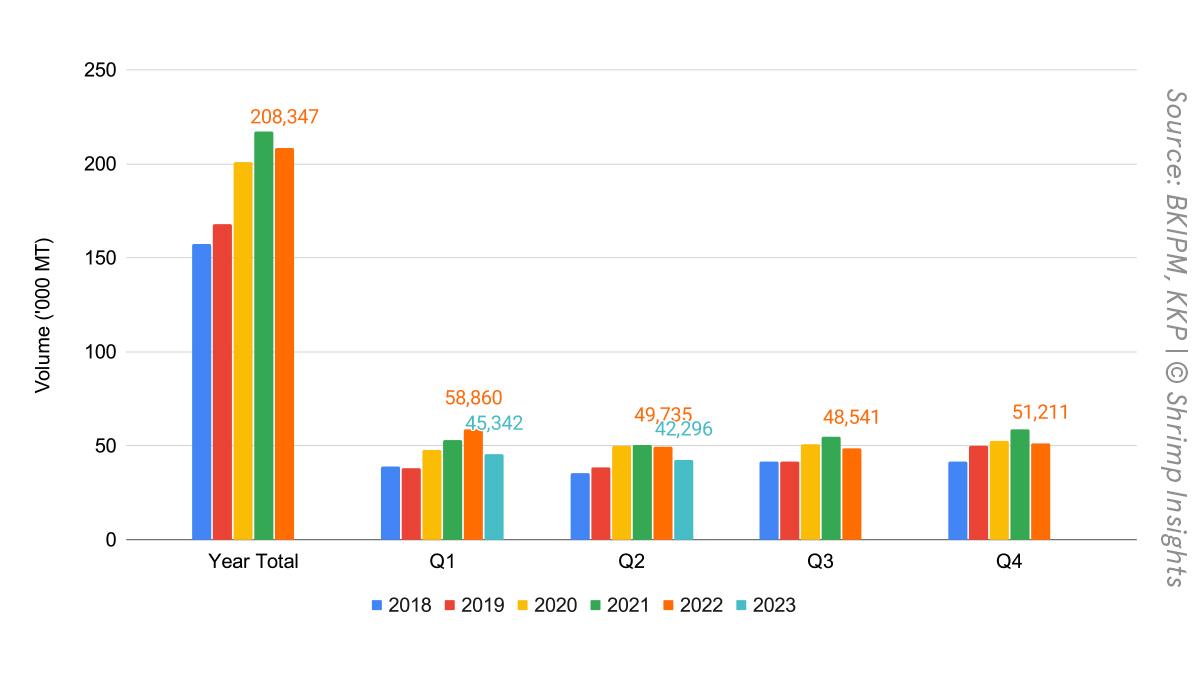 This byte shares with you the latest data on Indonesia's shrimp exports. Although the two data sources (NOAA for the US imports and BKIPM, KKP) for the Indonesian exports are not entirely comparable, both give a good impression of the downward trend of Indonesia's L. vannamei exports in 2023. Important note: NOAA data represents US imports. BKIPM data refers to products tested for exports. It is unknown whether the product has already been shipped or is still in local cold stores.
Indonesia is extremely dependent on exports to the US, 68% in 2022, to be exact. According to NOAA, Indonesia's exports to the US declined by 41% year-year over the first five months of 2023. The drop was the biggest for exports of shell-on products (51%), but shocking across the board. Peeled shrimp exports were the least affected, with a decline of 24%. This is sharper compared to the overall drop in US imports over the first five months of 2023 (45%) and to some of Indonesia's main competitors in that market (India down 41%, Ecuador down 21%). Only Vietnam seems to be doing much worse, with a drop of 58%.
In line with the slowdown in US imports, Indonesia's total L. vannamei exports over Q1 and Q2 2023 have also decreased, according to BKIPM, KKP. The total export volume in the first two quarters of 2023 reached 87,638 MT only, down 19% compared to 2022 but even the lowest volume since 2019 when exports reached 76,596 only. Exports over Q1 2023 were stronger down (23%) than exports over Q2 2023 (15%). May 2023, the month after Ramadhan, even showed year-on-year growth (5%), but April and June were down 30% and 18%. With Indonesia's overall exports down less than exports to the US, it seems that Indonesian exporters have products in store and are also finding some other markets for their products.