Image

< Back
Indian Broodstock Imports Signal 30-40% Drop in Production for First Crop of 2023
India's broodstock imports 2019-2023
Image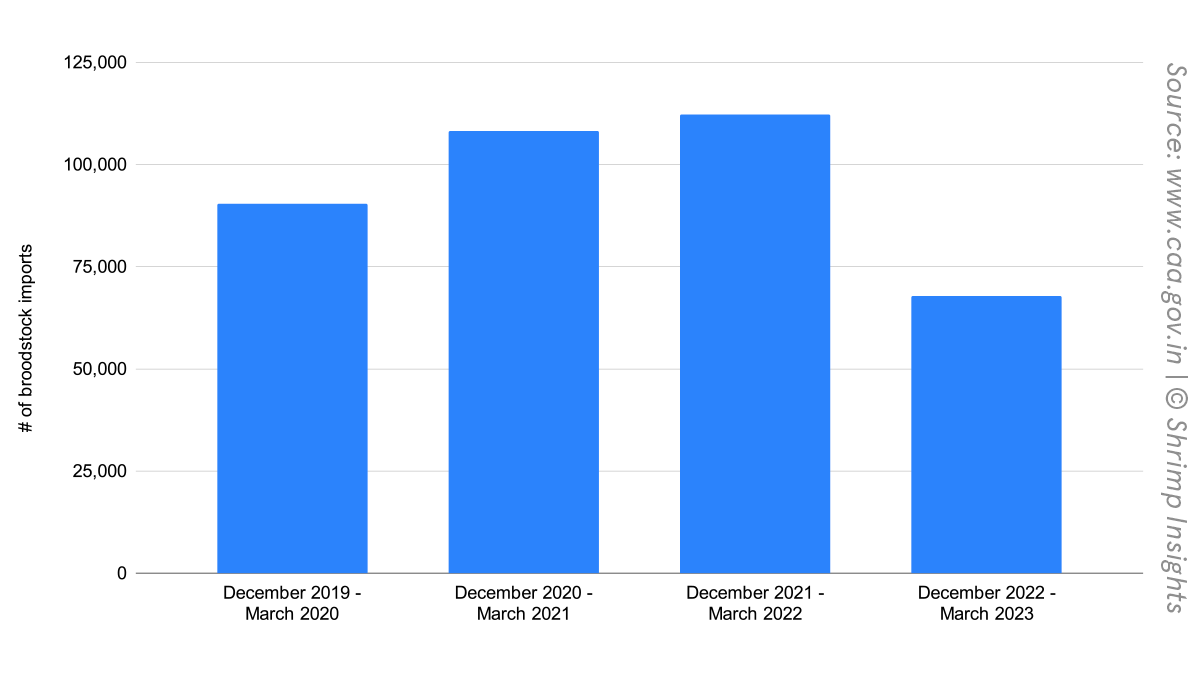 There have been lots of rumors about a drop in Indian shrimp production in 2023. Although January's export data shows a year-year increase (more about this in another Shrimp Byte), broodstock import data is a clear signal that a correction on production is underway. India's broodstock imports for the first crop of the year normally would happen between December and March. In 2022-2023, broodstock imports reached only 67,777 animals, which is much less than in any of the previous years. If the data of the Coastal Aquaculture Authority is correct, broodstock imports even came to a standstill in mid-March when no more broodstock was imported till the end of the month. The drop in broodstock imports is largely a sign that hatcheries have scaled down production as they expect not much demand from their farmer clients and it's very likely that this will translate into a drop of production and exports in Q2 of 2023.
In terms of broodstock suppliers, there are some interesting developments in India as well. In 2022, India's broodstock imports dropped to around 250,000, down from around 270,000 in 2021. The drop of exports mainly came at the cost of Shrimp Improvement Systems which saw supplies drop—not only in absolute terms but also in terms of its market share, which dropped from 52% to 43%. The companies benefitting most from this drop were SyAqua (supplying almost 24,000 animals in 2022, up from only around 7,500 in 2021) and Benchmark (supplying almost 12,000 animals in 2022, up from around 3,500 animals in 2021. However, in the first months of 2023, the landscape drastically changed, mainly due to a halt of exports to India from Kona Bay in Hawaii. Kona Bay was confronted with an issue with the Aquaculture Quarantine Facility which resulted in a stop on its supplies to India. Industry stakeholders hope the issue will be resolved soon, but as of today, supplies have not yet restarted.
There's much more to tell about India's broodstock market but a more detailed analysis will be part of my next Shrimp Blog which is an update of the the Asian L. vannamei broodstock market in 2022 and will be published by mid-May.