Image

< Back
Ecuador's Shrimp Exporters Break Record Volumes in 2022
Export volumes of Ecuador's top shrimp exporters from 2015-2022 and the average value/kg in 2022
Image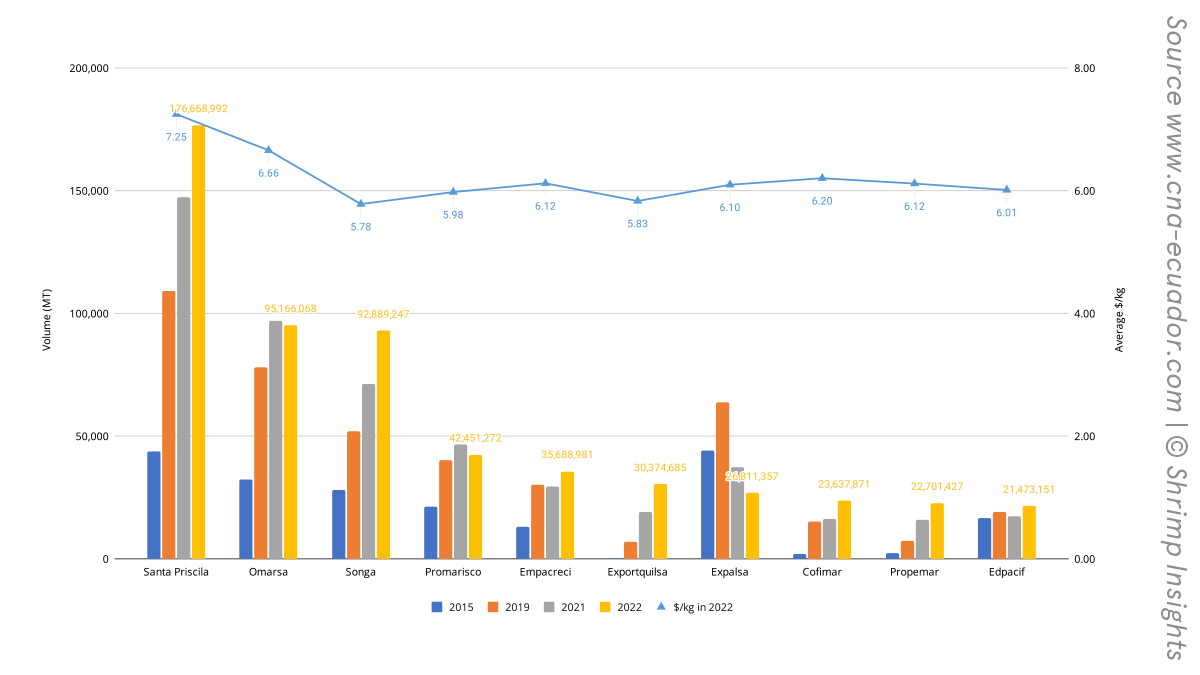 Santa Priscila, Ecuador's top exporter in 2022, exported around 175,000 MT of shrimp. This is by far the largest export volume of any shrimp producer in the world. Omarsa and Songa, the country's second and third largest producers exported more than 90,000 MT of shrimp, making them possibly the number two and three shrimp producers in the world, with only Minh Phu in Vietnam competing for these positions. The only major Ecuadorian exporter showing a strong negative trend is Expalsa, which in recent years divested in its shrimp farming operations. Ecuador's top ten shrimp exporters combined in 2022 accounted for 54% of Ecuador's total shrimp export volume. 
The average $/kg of exported product ranges from $5.78 to $7.25. This variation can among other things be an indication of (1) the level of investment in value-adding capacity and penetration of markets for value-added (HLSO, peeled, and breaded) products, (2) the share of organic or sustainable certified products which might command a premium, or (3) the quality range of the exported products, e.g. a larger share of A3-A4 quality shrimp.
Please note that these volumes in the figure above are just indications. The volumes are compiled from the bill of lading records. Actual export volumes may deviate due to the fact that some containers may have been returned or in some cases, the bill of lading may have been withdrawn. Nevertheless, these are good indications of reality. On the other hand, if companies also toll manufacture at other plants, these volumes are also not included in this figure.