Image

< Back
With a 9% YOY Increase in Q3, Ecuador's Exports Are on Track to Reach 1.2 Million MT by the End of the Year
Ecuador's shrimp exports from 2019 till Q3 2023
Image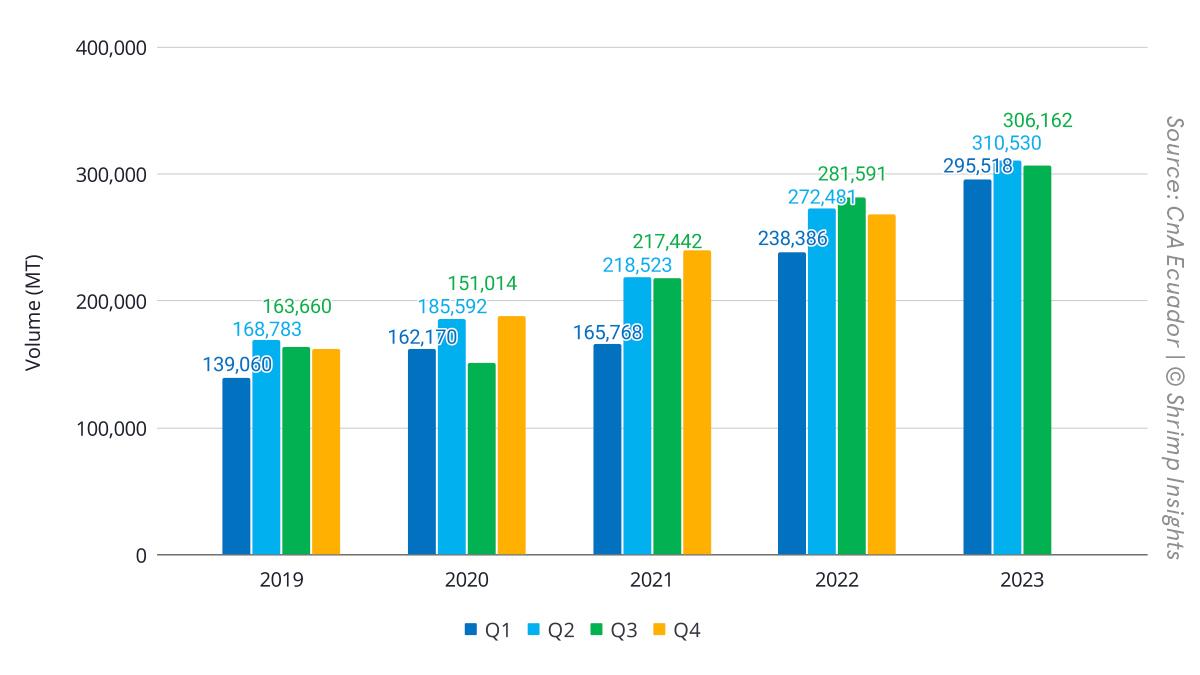 Ecuador's exports in July, August, and September changed year-on-year by -3%, +18% and +13% respectively. The quarterly volume, for the second time ever, surpassed 300,000 MT. The Q3 volume increased 9% year-on-year but declined slightly compared to Q2 2023. Ecuador's year total now stands at 912,211 MT, a 15% increase year-on-year. If Ecuador records another 5-10% year-on-year growth in Q4 2023, the 2023 year total will reach 1.2 million MT.
There is a shift in the growth trends of export markets. The year-on-year growth of exports to China has slowed from 43% in Q1 to 37% in Q2 to 5% in Q3. The year-on-year growth of exports to the US, on the other hand, went from 4% in Q1 to -8% in Q2 to 15% in Q3. And year-on-year growth of exports to Europe went from -5% in Q1 to 6% in Q2 to 27% in Q3. This signals that with Ecuador's continuous growth and China's growth slowing, the EU and US seem to be able to absorb more products from Ecuador after all. Luckily for Ecuador, the more robust growth of the US and Europe comes with an uptick in average prices in September.
Although the average price per kilogram continued to drop in July and August to $5.03/kg and $4.96/kg respectively, in September, the average price per kilogram increased to $5.10/kg. This uptick in prices from August to September was seen across markets, with examples for HOSO markets such as China ($4.59/kg to $4.81/kg) and Italy ($4.95/kg to $5.32/kg) and examples for peeled markets such as the US ($5.88/kg to $6.05/kg) and the Netherlands ($6.13/kg to $6.34/kg). We will have to wait and see whether average prices continue to stabilize or increase further towards the end of this year.