Image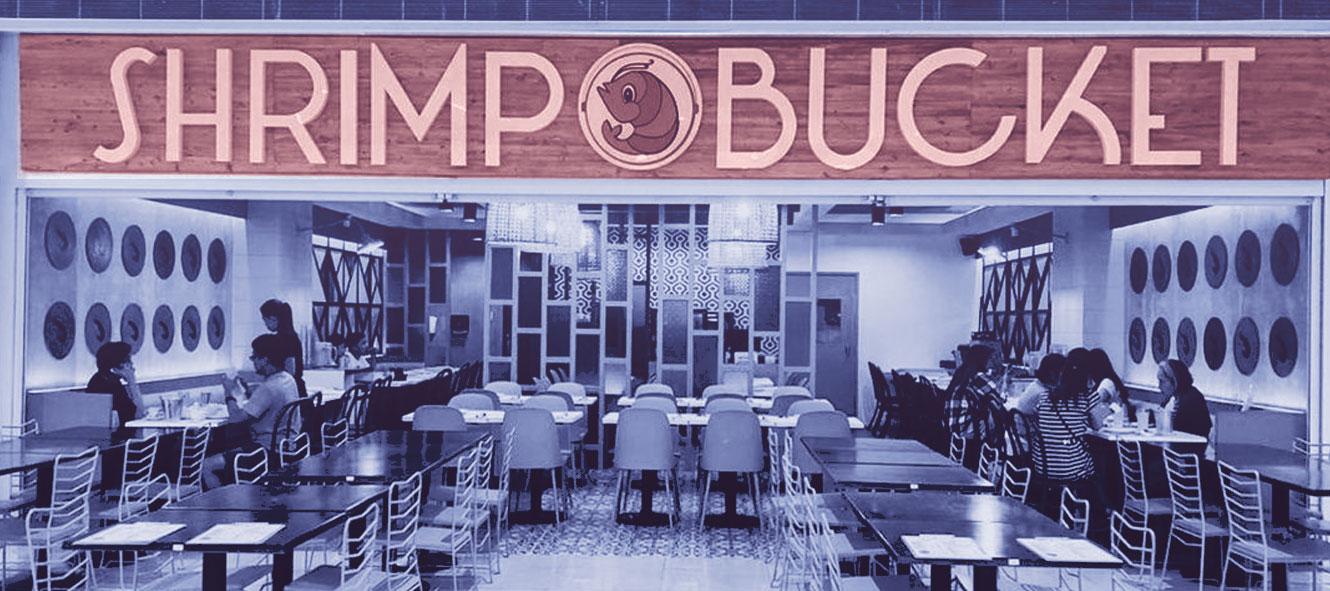 < Back
WILL THE PHILIPPINES HIT 120,000 MT OF L. VANNAMEI SHRIMP IN 2022?
In an article in Aqua Culture Asia Pacific, Zuridah Merican reported that industry representatives in the Philippines were bullish about 2019 L. vannamei production. They anticipated that L. vannamei production would reach 60,000 to 70,000 MT. Driven by the development of new farms in Mindanao and other southern regions, and intensification of existing farms in central regions such as Luzon and Cebu, production could increase further to as much as 120,000 in 2022. With these numbers, the Philippines is just another country that's going to add to the world's already rapidly expanding L. vannamei production. What surprised me when digging into the situation in the Philippines was that while production increased rapidly, exports did not. Exports actually declined and almost all shrimp turns out to be consumed locally. In this blog, I want to explore the recent expansion of the L. vannamei industry in the Philippines and think about where the industry might be heading over the next couple of years.
Image

BEFORE REINTRODUCING L. VANNAMEI IN 2007, THE GOVERNMENT BANNED THE SPECIES TWICE
In the late 1970s, the Philippines was the first country in Asia to import L. vannamei into Asia for experimental purposes. L. vannamei was locally produced till the government banned the species in 1993. According to the FAO, it was only in 1997 that the import of L. vannamei broodstock was approved again. SPF broodstock was imported from Taiwan and production started anew. After a few successful years of production, disease outbreaks started to cause concern and in 2001 the Bureau of Fisheries and Aquatic Resources (BFAR) decided to ban the species once more.
Only in 2007, after extensive trials and the development of standards with which farms had to comply, the government reintroduced L. vannamei. While initially production did not take off for reasons that are unclear, it started to develop significantly as of 2014. According to Vergel (2017), in 2014 the area under shrimp cultivation as registered with the BFAR was around 3,600 ha, of which 465 ha was registered for monoculture and the remainder for polyculture. By 2020, the BFAR-approved area for L. vannamei cultivation had increased to 3,300 ha for monoculture and 2,300 for polyculture systems. In addition, some area has been approved for the cultivation of P. monodon as well, but since production of L. vannamei surged, production of P. monodon is believed to have declined.
Image

BROODSTOCK IMPORTS CONFIRM PREDICTION OF 2019 PRODUCTION OF 60,000-70,000 MT
Broodstock imports published by the BFAR from 2014-2019 show the surge of L. vannamei production over the past couple of years (Figure 1). Although imports dropped in 2018 due to the extremely powerful cyclone Mangkhut, which struck the country in September of that year and hampered shrimp production, a steady growth can be observed from just over 8,000 in 2014 to almost 20,000 broodstock in 2020. For the sake of comparison: India, which used broodstock supplied by the same companies as the Philippines, imported 235,000 broodstock and produced between 600,000 and 800,000 MT shrimp in 2019. If the hatcheries in the Philippines have around the same level of productivity as those in India, with just over 8,000 broodstock in 2014 and 20,000 broodstock in 2019, L. vannamei production may have more than doubled over the past five years from around 22,000-28,000 MT in 2014 to 55,000-70,000 MT in 2019.
Figure 1: L. vannamei broodstock imports from 2014-2020
Image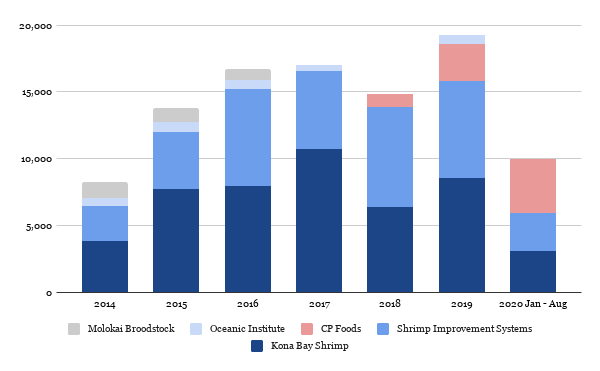 Source: BFAR 2020
The reintroduction of L. vannamei into the Philippines was heavily regulated. Until recently, the BFAR only approved broodstock suppliers from Hawaii. Kona Bay Shrimp, Shrimp Improvement Systems and to a lesser extent Oceanic Institute and Molokai Broodstock dominated the market (Figure 1). In 2019, CP Foods Thailand also obtained approval and started to supply its hatcheries in the Philippines. As these hatcheries were previously supplied by Kona Bay, the latter lost some market share here. In 2020, up to the end of August, CP Foods is the largest supplier of broodstock.
Photo 1: A CP Foods Philippines shrimp hatchery
Image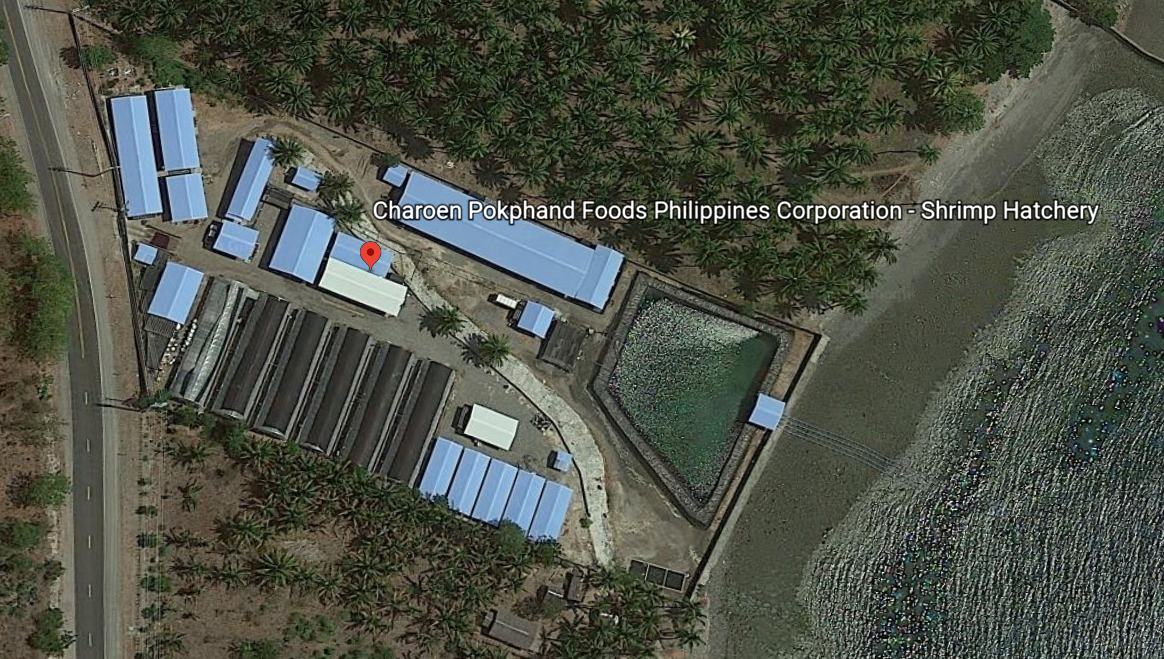 Source: Google Earth
The BFAR has approved 40 hatcheries, belonging to around 30 companies, for broodstock imports but only 13 of these actually imported broodstock in 2019. The others, if operational, purchase nauplii or post-larvae (PL) from the broodstock importers and use those to produce more PL from the mature animals. Many of the broodstock imports belong to vertically integrated producers that play an important role in the expansion of the industry. Although some of the importers belong to companies that are primarily farming or processing shrimp and supplying it to the domestic market, other hatcheries belong to feed companies that supply PL to farmers in their contract farming networks.
Image

CRUCIAL PARTIES FOR PRODUCTION EXPANSION
Unlike several other countries in Asia like India and Vietnam, where small-scale household farmers account for a large part of the L. vannamei production, production in the Philippines is dominated by independent enterprise farms, vertically integrated companies and feed suppliers. The L. vannamei farm register currently lists 205 farms, with a total farming area of 3,327 ha. This number excludes extensive polyculture farms, which are listed separately.
Photo 2: One of Alsons Aquaculture Corporation mixed L. vannamei and milkfish farms
Image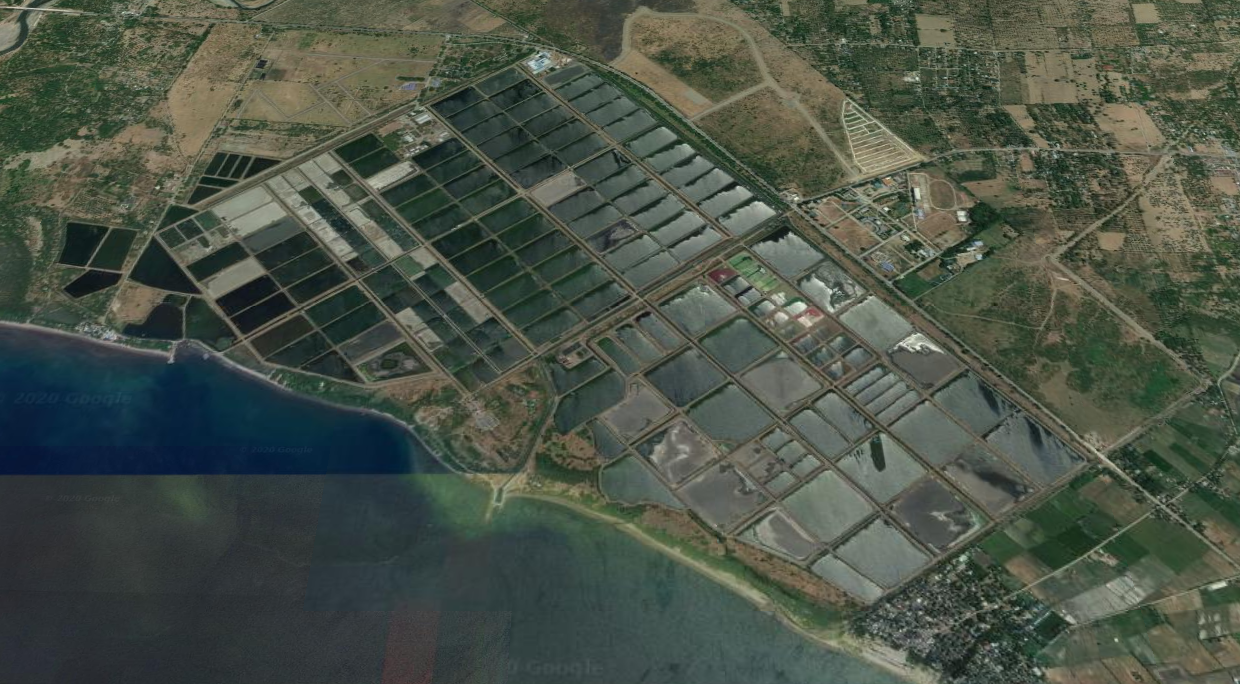 Source: Google Earth
The 12 largest enterprise farmers are in possession of half of the farming area (Figure 2). Alsons Aquaculture Corporation alone, with several farms in Mindanao, accounts for more than 25% of the total farming area. Satellite images – which I'm a great fan of, as you've perhaps read in one of my previous blogs – suggest that some of the larger farms apply less intensive production systems than some smaller farms. Therefore, farm size does not necessarily equal a similar share of production. However, the farm register also tells us that enterprise farms account for the vast majority of L. vannamei production and that small-scale household farmers play only a minor role.
Figure 2: Top corporate farms and total farm land (hectares) registered by BFAR for cultivation of L. vannamei
Image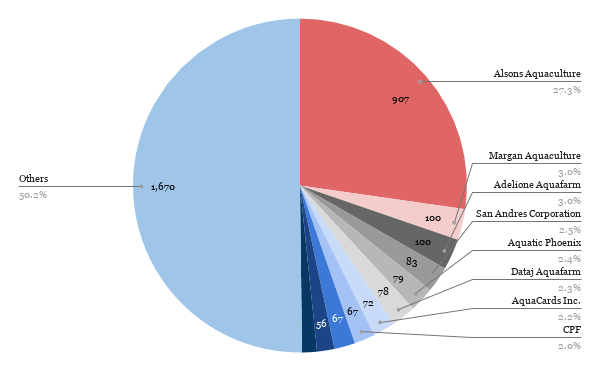 Source: BFAR 2020
Some of the enterprise farms are owned by vertically integrated companies owning hatcheries, farms and processing and distribution companies, for instance Alsons Aquaculture Corporation, RD Group, CP Foods, Marcela Farms and Anderlude Seafoods Corporation. I'll go into these companies in a bit more detail below to outline their respective roles in the Philippines' shrimp sector.
Alsons Aquaculture Corporation is part of the Alcantara Group, which is one of the major industrial groups in Mindanao in the southern Philippines. The company traditionally focuses on milkfish but is nowadays also deeply involved in shrimp farming, having more than 900 ha (27% of the total area) registered for the cultivation of L. vannamei shrimp. The company also owns its own processing and distribution companies with which it supplies shrimp and milkfish to the urban markets in the Philippines.
Image

Smaller but still significant integrated producers with a processing or farming background are equally important and should not be overlooked. A good example is RD Group, which is a group of companies traditionally focused on fisheries but nowadays also a major player in the development of the L. vannamei sector. It is one of the major broodstock importers, operating several farms on a total of 48 ha registered with the BFAR, and having its own processing facilities. According to the company website, RD Group has also recently invested in its own feed production capacity.
Another example is Anderlude Seafoods Corporation, headed by Ludevito Batilong. Anderlude is one of the smaller broodstock importers with 150 ha of farms registered for L. vannamei cultivation. It has its own hatchery and processing plant. The plant was the first shrimp processing plant in Davao in the southern Philippines and is equipped to produce raw frozen as well as value-added shrimp items. Its farms consist of about 100 ha of polyculture ponds where they grow milkfish combined with L. vannamei, and 50 ha of intensive shrimp farms. In 2019, the company produced 500-700 MT of L. vannamei, almost entirely supplied to the domestic market.
Photo 3: An Anderlude Seafoods Corporation farm in Davao
Image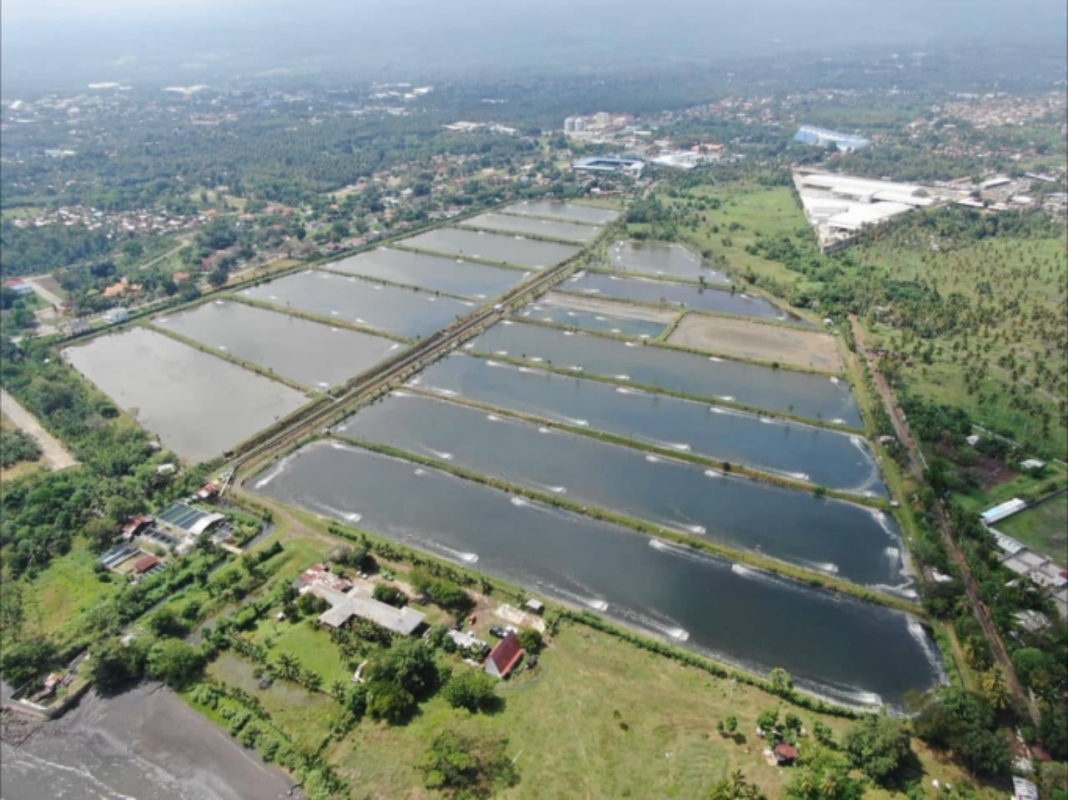 Source: Anderlude Seafoods Corporation
Feed companies also play a major role in the expansion of the sector. We all know CP Philippines, which is the largest supplier of shrimp feed, the largest supplier of PL and one of the largest corporate farmers. However, smaller players shouldn't be underestimated. A well-known smaller company, for instance, is Hoc Po Feeds which, besides importing feed raw materials and broodstock, operates its own hatchery and produces under the name HP Farms, and also has its own trading company named Golden Tiger Export Ventures.
Although primarily focusing on milkfish farming and feed production, Feedmix Specialist has also become active in the shrimp sector. The company owns and contracts several shrimp farms, supplies shrimp feed and has a processing and distribution company called Fisher Farms. In recent years, Fisher Farms has been a steady presence at global seafood trade shows, promoting in particular its shrimp products. It's one of the few companies that has established a Philippine shrimp brand in the international market and is certainly a company to keep an eye on.
A last company that deserves to be mentioned is Dataj Aquafarms. It's the only company besides Fisher Farms which has part of its farms BAP approved, so its products can be sold to retailers – in the Philippines and abroad – that require BAP certification. While I'd love to mention and highlight more companies who certainly deserve to be noted, I'm running out of space in this blog. Feel free to contact me if you want to know more!
Photo 4: One of Dataj Aquafarm its locations in the North of the Philippines
Image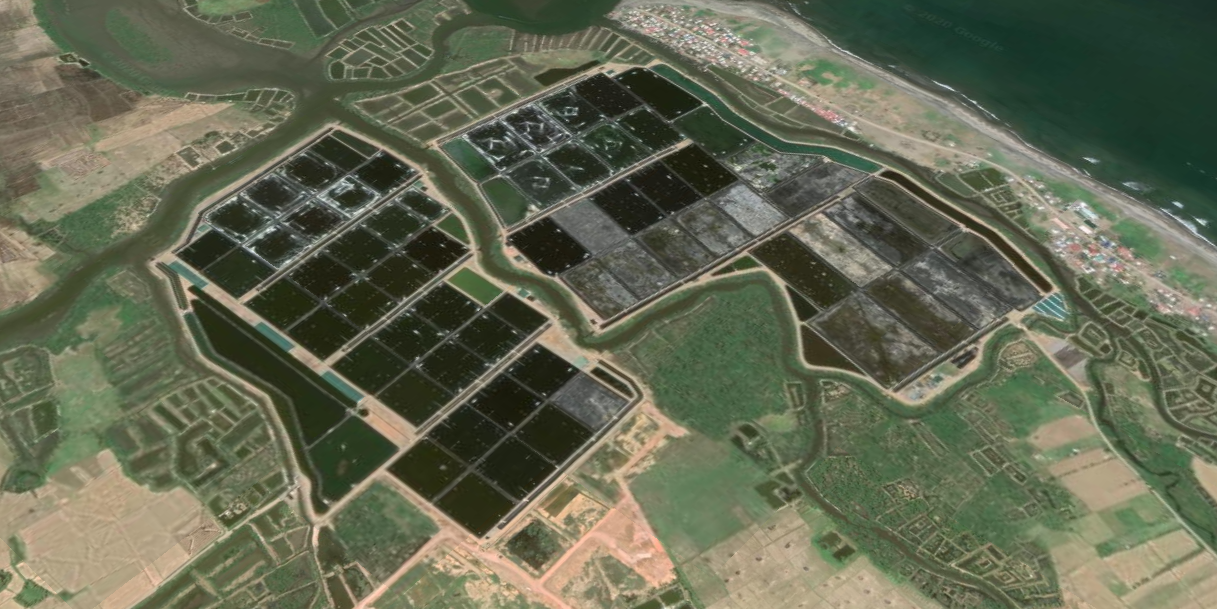 Source: Google Earth
THE GOVERNMENT'S ROLE IN FURTHER EXPANSION
All recently built farms apply intensive production systems. While Zuridah Merican mentions some farms that apply moderate stocking densities of 70 PL/m2, she also writes that other farms apply much higher densities, pushing their limits to densities as high as 300 PL/m2. At this level of intensity, production can increase rapidly as reported yields are as high as 50 MT/ha. The question is: at what cost? From discussions at the Shrimp 2019 Conference in the Philippines in November 2019, it's clear that industry stakeholders are well aware that there are risks to the further expansion of the sector. The focus of the conference was on the importance of partnerships and joined action to develop the industry sustainably. One of the suggestions in Merican's article was that the BFAR should ensure that new farms would not get approval to establish themselves within a 2-3 km radius from already existing farms. 
Although one of the concerns of expansion is of course the increased risk of disease outbreaks, another concern of the industry and authorities should be to ensure that the expansion of L. vannamei farms for example does not cause mangrove deforestation and pollution of coastal waters. Farms are hopefully forced to use existing farmland or other land suitable for establishing shrimp farms outside mangrove areas. Also, hopefully regulations with regard to water treatment and sedimentation are enforced to ensure that water discharge does not pose risks, both in terms of disease as well as in terms of water pollution of the surrounding ecosystems.
Image

WILL FURTHER EXPANSION RESULT IN EXPORTS?
An interesting fact that sets the Philippines aside from most other Asian countries is that the shrimp sector is currently mostly oriented towards the domestic market. Shrimp is supplied to local wet markets, wholesalers, food service players and into the retail channel. While a major part of production is supplied as a chilled product straight from the farm, part is processed into value-added and frozen products.
Photo 5: The Shrimp Bucket fast food chain in the Philippines
Image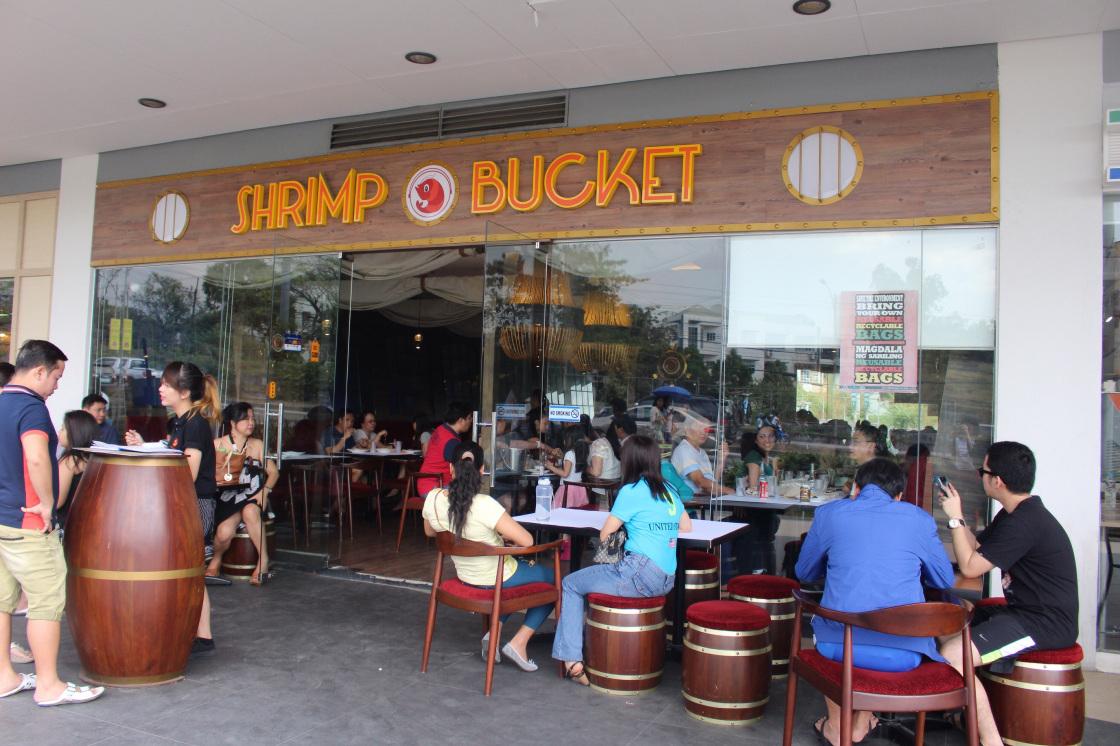 Source: Katherine Go
While L. vannamei production increased, the Philippines' shrimp exports have declined (Figure 3) . Shrimp exports in 2019 were just above 5,000 MT. As that year's production totaled 65,000 MT, this means that more than 90% of shrimp production has been consumed domestically. Domestic prices have so far been high – varying between an absolute minimum of $2.96 (itself relatively high) and a peak of $5.90 during Christmas for 60-70 count/kg shrimp (prices quoted by Zuridah Merican) – so the export market was not very appealing. The question is at what point the domestic market will be saturated and producers will have to choose between either producing less or turning to the export market.
Figure 3: The Philippines' shrimp exports from 2010-2019
Image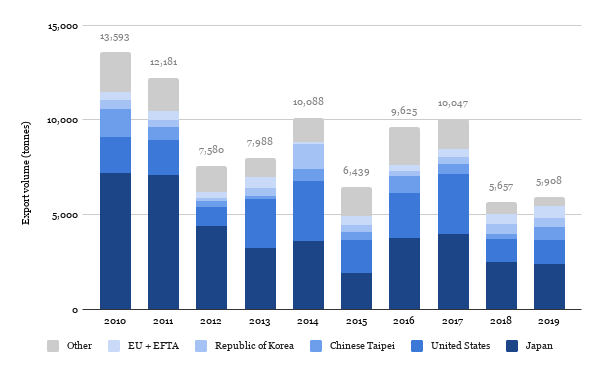 Source: ITC 2020
Prices in the export market have been under pressure during the past couple of years and it is unclear whether producers in the Philippines can produce competitively. Although prices for chilled shrimp on the domestic market are high and steady, the added costs to process shrimp into peeled and other value-added products are high. It would be interesting to do a detailed study on whether production costs in the Philippines allow producers to compete with raw head-on shell-on and peeled or cooked and other value-added products in the global market. 
EXPECTATIONS FOR THE FUTURE
Photo 6: Shrimp marketing in the Philippines by Fisher Farms, one of the largest domestic seafood brands
Image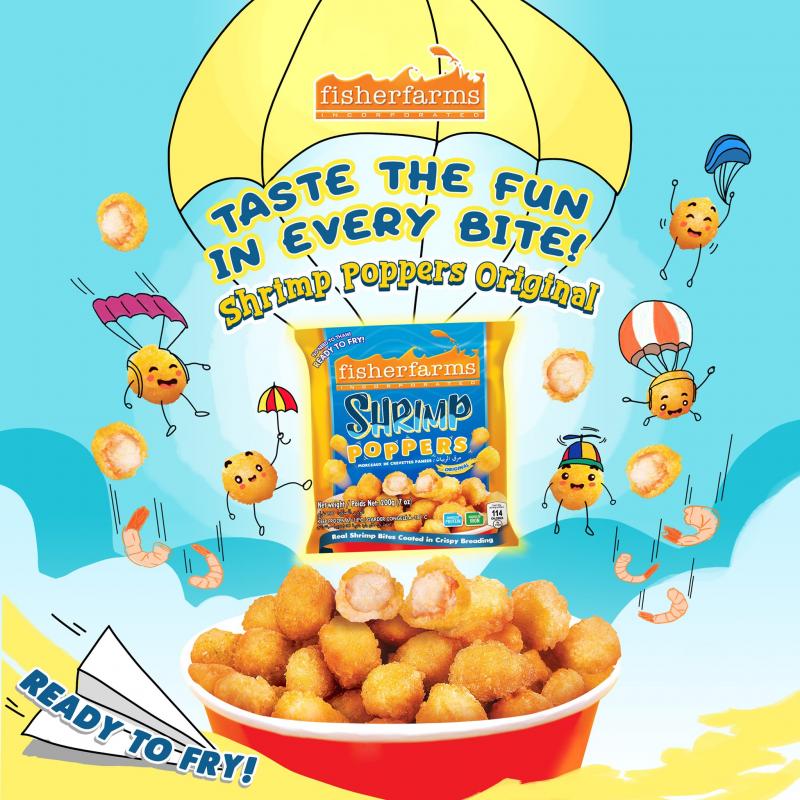 Source: Fisherfarm's Facebook page
Although broodstock imports in 2020 are lagging behind a bit due to logistical implications caused by Covid-19, with the 10,000 broodstock imported up to the end of August, I'm estimating that the Philippines has so far produced 27,000-30,000 MT of L. vannamei shrimp. Keeping the trend of the past couple of years in mind, the Philippines will probably increase its L. vannamei shrimp output. Although it's still a small player compared to other Asian producers, such an increase in production will result in an expansion of the number of farms using intensive production methods, as well as in more business for broodstock suppliers, hatchery operators, feed and health product suppliers, and processing and distribution companies.
More hatcheries will be required to supply the increased demand for PL. As production is dominated by intensive production systems, I'm anticipating that producers will look for fast-growing animals. Disease tolerance will also be an important requirement but as these production systems are relatively biosecure, fast growth will be the priority. New hatcheries will likely be developed close to the areas where new farms are being established, especially in the southern regions.
Although part of the feed and health products currently used are locally produced, the Philippines also imports significant amounts of shrimp feed, hatchery feed and health products. Some global players like Inve, Zeigler, Cargill, Invivo and Uni-President already have a market presence with established brands. As the sector grows, more global players will attempt to access the Philippine market. New players may search for local distributors, establish greenfield projects, and look for potential acquisitions and joint venture partners, which means more investment and employment.   
It remains to be seen whether the domestic market can absorb the increased output or whether the Philippines will need to turn to export markets. If the Philippines turns to export markets, it will certainly need to invest more in modern processing facilities. Existing plants may need to invest in new processing lines and some of the larger farmers who don't own processing facilities yet may decide to venture into processing as well.
While the Philippines won't become a producer as big as countries like India, Vietnam and Indonesia, with all these developments, it is definitely one to watch for!