Image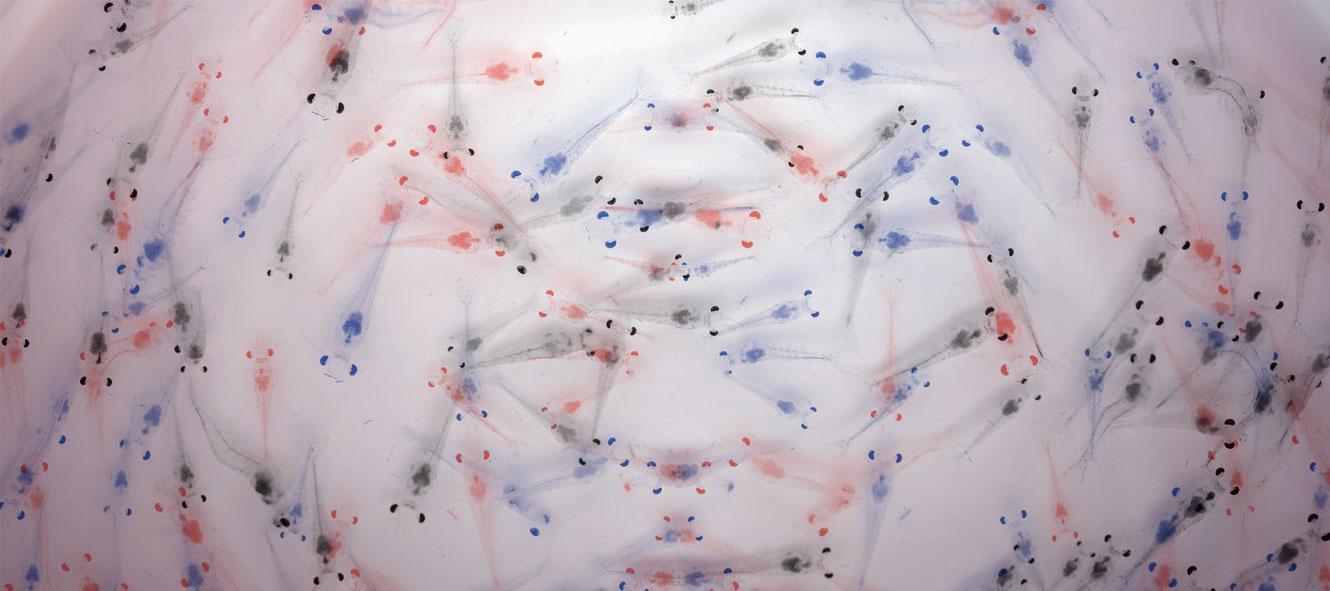 < Back
Update on the Shrimp Broodstock Market of 2022-2023
It has become a regular fixture in my calendar to provide you with an update on the global broodstock market. This year's update will provide a good understanding of (1) the most critical changes in market dynamics in 2022 and the first half of 2023, (2) the market shares of the leading players in the various markets, and (3) concerns that the various broodstock players have about the broodstock business. It contains country updates for China, India, Indonesia, and Vietnam, as well as company updates for some of the most significant broodstock companies.
A big thank you to Robin Pearl (American Penaeid Inc.), David Danson (Hendrix Genetics – Kona Bay), David Leong (Shrimp Improvement Systems), Ricardo Melo (SyAqua), Dries Agneessens (Blue Genetics Global), and Robins McIntosh (CP Foods) for sharing your valuable insights.
In 2023, the Shrimp Blog is supported by: Inve Aquaculture, Taprobane Seafoods, DSM Animal Nutrition, Zeigler Nutrition, aquaconnect, Bioiberica, Megasupply, American Penaeid, and Omarsa.
Image

China
The Chinese market remains the world's largest broodstock market. However, it's a highly obscure market, and few official sources provide insights into the reality of the situation. Luckily, I managed to get some insights from my own sources familiar with the reality in China, and what follows is based on the information I've obtained from these unofficial sources.
Regarding market size, most sources estimate that China uses around 1.4–1.6m broodstock annually. Around 700,000–800,000 are domestically produced, second-generation animals selected from growout ponds. Sources state that these breeding programs seem to be gaining momentum in terms of the volumes they produce but that the quality is often dubious and inbreeding is prevalent. Companies active in this segment include Kehai, Guantai, Bangpu, and Guangdong Haid.
The other half of the broodstock market consists of locally produced and imported, first-generation animals from breeding programs—a minor fraction, less than 10%. This estimation is slightly more than in 2019, when imported animals were reportedly at around 600,000. Today's imported broodstock market is still dominated by American Penaeid Inc. (API), which claims to have sold more than 400,000 broodstock to China in 2022. This would mean the company has a market share of around 55–65% of total imports but it's unclear how much of this amount consists of parent post-larvae (PPL) and how much of adult breeders. Therefore, API's actual market share may be lower. According to my sources, other players on the Chinese market include SyAqua, Top Aquaculture Technology, and CP Foods from Thailand; US-based players such as Primo Broodstock (currently owned by Tongwei), Hendrix Genetics – Kona Bay, and Shrimp Improvement Systems (SIS) (all minor market shares); and Mexico-based Blue Genetics.
While most companies focus on selling fast-growth and balanced animals, API and Blue Genetics sell tolerant lines. API is widely known for its tolerant broodstock, which is in high demand as disease prevalence in China continues to be high. Blue Genetics has found a special niche in the Chinese market with a highly disease-tolerant line, which has good traction with Chinese farmers struggling with diseases such as IMNV. This would make it the second-largest supplier in 2022 after API.
Image

Image

The biggest challenge that American Penaeid Inc. (API) faced last year was hurricane Ian, which hit Florida in September 2022. The eye of the hurricane hit API's operations with winds over 240 km/h, resulting in flooding and wind damage. Despite the damage to the farm's greenhouses and the local electricity network, all animals in production initially survived thanks to the backup generators. Unfortunately, as road access to the farm was destroyed, and the backup generators only had sufficient fuel for 72 hours, the company had to make a difficult decision. They decided to conserve fuel and only keep the generators running that were backing up the genetics section and the section with animals that would be shipped during the upcoming broodstock season. The company sacrificed all non-essential shrimp to keep the important ones alive and to be able to continue its broodstock business.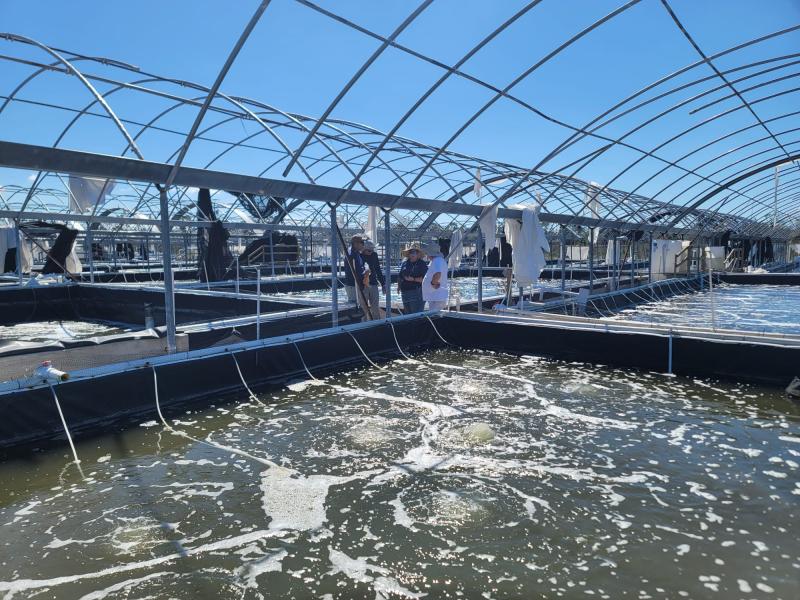 Even though 2022 was a very challenging year, according to API, the company shipped around 500,000 animals, just below the 535,000 the company reported to me last year. In 2022, 450,000 of its animals were shipped to China, but these were not all adult broodstock. While previously only shipping adult breeders to China, API started shipping PPL to its major hatchery clients to supply sufficient animals during the challenging period presented by COVID-19. These hatchery clients created their own broodstock multiplication centers (BMCs) to grow the PPL into adult breeders, but the quality of breeders grown by these clients was unsatisfactory. PPL were shipped with an assumed 30% final usage rate, but the Chinese clients ended up using around 80% of the PPL shipped. The performance of many of this locally grown adult broodstock was nowhere near as good as when shipped straight from Florida. Now that COVID-19 is over and transportation is getting easier, API intends to revert to the shipment of adult broodstock only, which should bring down the number of animals close to those reported in my 2019 SPF L. Vannamei Broodstock Report, when the company claimed to have exported 325,000 adult broodstock.
Besides China, API has good traction in Indonesia, where it shipped 11,000 adult broodstock in 2022 to several hatchery clients. According to API, the main reason for their success in Indonesia is that the country has many farming areas heavily challenged by disease. API explains that Indonesian farmers rate farming areas as green, yellow, and red zones. Few green zones remain, and farmers in yellow and red zones increasingly switch to more robust stocks instead of just focusing on fast growth. API claims that a growing number of farmers has seen API's stock thrive well in yellow and red zones, resulting in increased demand for its products. Because of this higher demand from its hatchery clients and new farmers wanting to use its broodstock, API hopes to double its sales to Indonesia in 2023.
API started offering both Kong and Turbo shrimp in India sourced from Homegrown Shrimp USA, a CP Foods company. API proudly claims that CP Foods' Turbo line is one of the fastest-growing shrimp on the planet. While API will continue to offer its stocks based on high survival in challenging environments, farmers who can provide well-managed, clean ponds can use these stocks and attain amazing results with these fast growth lines. After introducing these stocks in the market last year and doing a round of performance testing, API says that many farmers are now placing new orders.
Image

Image

According to Robins McIntosh, CP Foods' broodstock production dropped by about 15% year-on-year, mainly due to lagging sales to China. Despite this drop, the company is most likely still the fourth largest broodstock producer, and there are a few exciting developments for the company: (1) the partnership with API and CP Foods resulting in their Homegrown Shrimp USA's operation in the US and (2) the possible entry of its Thai operations into the Indian market.
The partnership between Homegrown Shrimp USA and API, which involves API producing broodstock from the former's Turbo and Kong lines and distributing these to various markets worldwide, has resulted in sales to new customers in China, India, and Indonesia. API has even sold Turbo and Kong broodstock to the Americas, among which Guatemala and Venezuela, and hopes to make possible future sales to Brazil, Peru, and Colombia as well. The Turbo line is considered one of the world's fastest-growing shrimp, while the Kong line is highly disease tolerant. Homegrown Shrimp USA does not export broodstock but sells post-larvae (PL) from its Turbo line to indoor farmers, especially in Canada and the EU. Future PL exports are also planned to the UK.
Soon after the Indian Coastal Aquaculture Authority (CAA) notified earlier this year that companies in Thailand and other Southeast Asian countries could apply for market access, CP Foods Thailand submitted papers to obtain approval to supply broodstock for L. vannamei and P. monodon. CP Foods Thailand's operations becoming active in India could be a big help for CP Aquaculture India, which until today depends on other suppliers to keep its PL business running. The partnership between Homegrown Shrimp USA and API already provides CP Aquaculture India access to CP Foods' genetics program in the US. But market access for Thai operations would also enable the company to ship P. monodon broodstock to its Indian hatcheries, which could become a third source for P. monodon PL from domesticated broodstock. Approval from the CAA will probably take some time, but the company hopes it will eventually happen.
India
2022 and 2023 broodstock import in numbers
From 2021 to 2022, India's broodstock imports dropped by 7% to just over 255,000 animals. While broodstock imports in January 2022 were at par with previous years and imports in February were even at an all-time high, the first drop in imports of 2022 occurred in March and April, when imports saw a year-on-year decrease. However, after modest summer imports and a spike in imports in September and October, total broodstock imports were ahead of 2021 and even at an all-time high between August and October. This spike in imports catered to the post-summer crop, which occurred amidst a global oversupply situation with farm gate prices decreasing rapidly.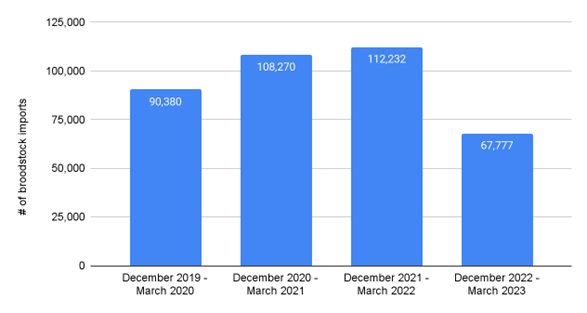 When farm gate prices spiralled down in November and December 2022, imports suddenly dropped to just 15,000 (compared to 33,550 in 2021) and 22,000 (compared to 42,000 in 2021), respectively. This drop in imports was the first sign that the Indian hatchery operators were cautiously approaching the first stocking season in 2023 and that a correction of India's production was underway. The downward trend of broodstock imports continued from January to March 2023, with monthly imports down 44% year-on-year in January, 24% in February, and 38% in March.
Only in April did broodstock imports show some sign of recovery, with just over 18,000 animals—an 8% increase year-on-year. Although I saw this as a possible sign of an improving situation, May's broodstock import numbers once again dropped as they were down by even 42% compared to May 2022.
Import market shares
In 2022, having imported just over 110,000 animals, SIS managed to keep its top position. However, the company's market share declined from 52% to 43% and the gap with Hendrix Genetics–Kona Bay was reduced to just over 10,000 animals. Hendrix Genetics–Kona Bay increased its market share from 38% to 39%. The two companies that significantly benefitted from the drop in imports by SIS were Benchmark Genetics (increased market share from 1% to 5%) and SyAqua (increased market share from 3% to 9%).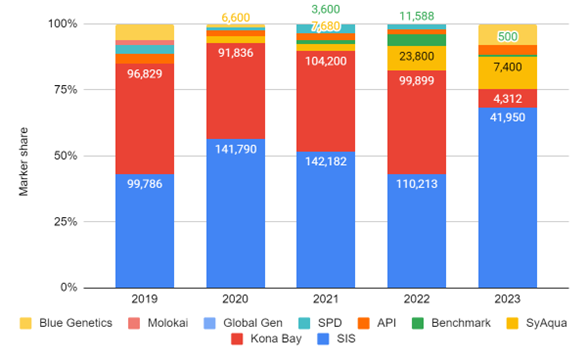 The start of 2023 has been surprising. Amidst the drop in broodstock imports, Hendrix Genetics–Kona Bay lost its import approval. Due to a positive test for specific pathogens in the aquaculture quarantine facility, the CAA delisted Hendrix Genetics–Kona Bay from the approved supplier list. Despite a lobby from within the industry to get the company relisted, the CAA has not yet complied. However, most stakeholders seem confident that Hendrix Genetics–Kona Bay will be able to resolve these issues eventually.
While SIS is at par with 2022 imports, SyAqua seems to continue its expansion in the Indian market in the first four months of 2023. Its total imports during this period more than doubled compared to 2022, and the company has already sold broodstock to more than 11 hatchery groups. After being delisted for several years, Blue Genetics is back on India's approved supplier list and has already sold almost 5,000 broodstock to four different hatcheries. Last but not least, API's activity in India is also worth mentioning. As a result of its production and distribution partnership with CP Foods-owned Homegrown Shrimp USA, API started to supply CP Aquaculture India with Homegrown Shrimp USA's broodstock.
Local BMC production
In 2022 and 2023, BMC activity in India increased. This accounts for the government-run Andhra Pradesh BMC owned by Ananda Group and the BMR Blue Genetics BMC, which both produce L. vannamei broodstock. What is more, the P. monodon BMC of Vaishnavi Aquatech has started operations, and the government-run BMC is back in operation, which also prepared for P. monodon production.
According to data released by the CAA, the Andhra Pradesh BMC, owned and operated by Ananda Group, imported PPL from Global Gen in Indonesia in May 2022 and produced 3,400 broodstock that were sold to CP Aquaculture India in July. However, since then, no new figures have been reported in the regular updates and the BMC appears to have stopped operations. Based on the data, the BMR Blue Genetics BMC has imported two batches of PPL from Sea Products Development (Blue Genetics USA), which has been owned by Blue Genetics Global since 2022. When Blue Genetics Mexico lost its status as an approved supplier to the Indian BMC, Sea Products Development—now owned by Blue Genetics Global—was able to step in and supply the BMC with PPL from its facilities in Texas. According to the CAA data, the BMC produced around 6,700 broodstock supplied exclusively to BMR Blue Genetics' hatchery operations.
Vaishnavi Aquatech, the partner of Moana Technologies in India, imported its first batch of PPL from Moana Technologies in Hawaii to its BMC in Gujarat in December 2022. Between February and April, the company produced over 3,000 broodstock supplied to its hatcheries in Andhra Pradesh. The government-run BMC, previously tied up with Oceanic Institute in Hawaii, is now used for multiplication trials for the P. monodon broodstock produced by India in its breeding program in the Andaman Islands. This broodstock should be supplied to hatcheries later in 2023 to trial PL production and farming.
CAA opens doors to Thai suppliers
In February 2023, the CAA announced that it will, as of that moment, also allow broodstock suppliers from Southeast Asian countries, opening the doors to India's broodstock market for suppliers from Thailand and Vietnam. This is potentially interesting for companies such as CP Foods in Thailand, which previously had to source broodstock for its subsidiary in India from other suppliers because they could not export from Thailand to India.
More importantly, the new CAA rule increases the number of possible sources of P. monodon broodstock. While currently only Moana Technologies from Hawaii and Aqualma from Madagascar have been approved, now also CP Foods from Thailand, Moana Ninh Thuận from Vietnam, and other potential producers in Thailand (such as Top Aquaculture) and Vietnam (in the future, possibly Viet-Uc) can apply for approval to access the Indian market.
Image

Image

In 2022, SIS claims to have distributed a total of 300,000 broodstock across various markets worldwide. The company's largest markets reportedly are Vietnam and India, in both of which SIS holds the largest market share. David Leong, CEO of SIS, emphasizes that the company focuses on supplying its clients with product lines tailored to specific regions with their own farming practices and climate conditions. Currently, the company offers four lines: (1) SIS Superior, (2) SIS Growth, (3) SIS Hardy and (4) SIS Robust.
In terms of its position in China, SIS acknowledges the importance of the Chinese market and has been actively exploring avenues to grow sales in this region. Despite disease incidences and unusual weather patterns, which can make production difficult, SIS remains committed to developing genetics that are well-suited for the Chinese market. The company is working on introducing its most suited lines and results should be there later in 2023 or in 2024. While SIS continues to focus on India, Vietnam, and China, the company understands the significance of diversification, says David Leong. Therefore, the company is dedicated to exploring and developing other export markets worldwide.
Image

The opening of its BMCs in Indonesia, first in Java in 2020 and then in Bali in 2022, has been a game changer for Hendrix Genetics–Kona Bay (Hendrix Genetics) and its local subsidiary Kona Bay Indonesia. According to Hendrix Genetics, moving into the country with a strong local partner has proven to be a winning formula. Next to the business with its long-time loyal customer and JV partner JAPFA, Kona Bay Indonesia welcomed many new customers that, before, were not able to manage the often complex import process when the company was only supplying from Hawaii. Hendrix Genetics claims that its customer base quadrupled in size, and its market share, already around 60% in 2021, went up further. Hendrix Genetics is happy where it is in terms of its market share in Indonesia. The exciting part for the company is that it can now grow with and contribute to a resilient future for the Indonesian industry. 
In India, Hendrix Genetics has also expanded its market share. Furthermore, the construction of a BMC—a JV with Sapthagiri Hatcheries, one of India's largest hatchery groups—is underway and progressing according to plan. The first PPL stocking is planned for later this year, and David Danson, Director of Operations and Shrimp at Hendrix Genetics, expects to sell the first BMC-reared adult breeders to the market in Q1 2024. With Deepak Patnaik (a veteran in India's shrimp industry with previous functions at CP Aquaculture India, Godrej, and Nutreco) joining as General Manager for Kona Bay India, and with Sapthagiri Hatcheries, David believes that Hendrix Genetics has everything it needs to replicate the success that it has seen in Indonesia. Regarding its export license to India (see country update), the company indicates that it follows the process set out by the CAA. As Hendrix Genetics complies with the Indian government's demands, the company hopes to be able to have more news soon.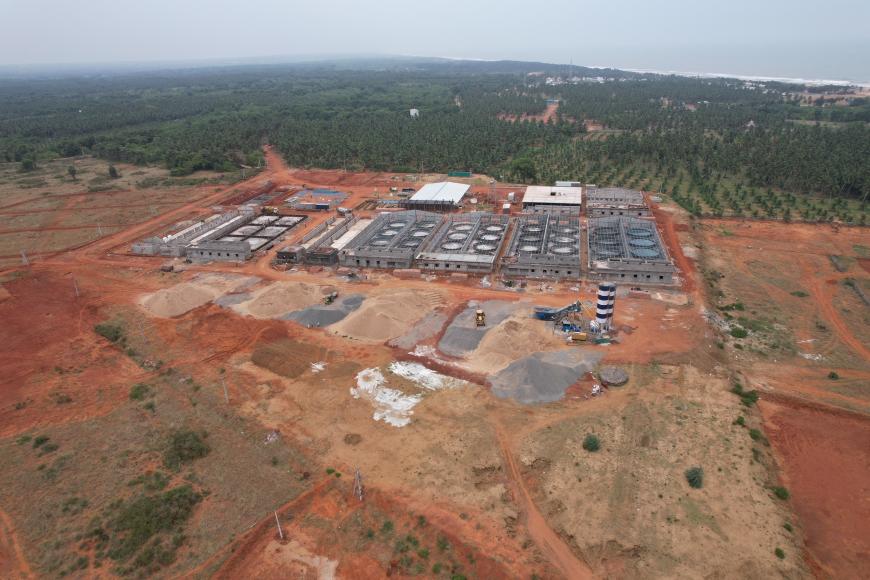 In China, market preferences can shift from cycle to cycle, says David, and in 2022, the company saw its market share reduced. However, market expansion in China remains an essential pillar of Hendrix Genetics' strategy. David explains that the underlying demand remains vast, and Hendrix Genetics' product portfolio from Hawaii and Malaysia provides a good fit for the different farming types in China, from extensive to highly intensive. The company's next move is to get closer to the market and work with local partners. Firstly, through its subsidiary Hendrix Genetics China and secondly, with the right partner to establish physical infrastructure, including potentially a BMC. Hendrix Genetics sees the opportunity to become an equally solid and long-term player in China as it is in Indonesia and India but emphasizes that that success wasn't built in one year.
Image

Indonesia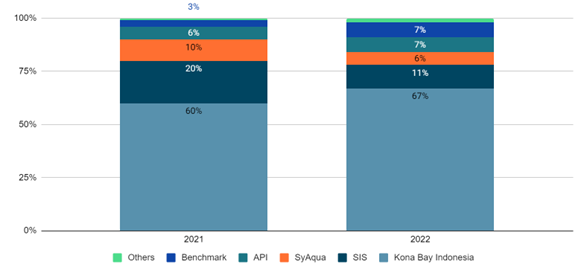 The Indonesian broodstock market, according to local industry sources, accounted for around 140,000 broodstock in 2022. According to the same sources, Kona Bay Indonesia has grown its market share from 60% in 2021 to around 67% in 2022. Other market players that did well include API (increased market share from 6% to 7%), and Benchmark Genetics (increased market share from 3% to 7%). Companies that lost market share include SIS (although it remains Indonesia's second largest broodstock supplier exclusively selling broodstock to CP Prima), and SyAqua (the company mentioned supply issues in its BMC for the drop but claims to be back on track to reclaim its market share in Indonesia in 2023).
Image
Blue Genetics Global (Blue Genetics) declines to provide numbers for its PPL and broodstock exports, but claims that, following the merger between Blue Genetics Mexico and Sea Products Development (currently changing its name to Blue Genetics USA) in 2022, business is strengthening and that 2023 will be a record year, mainly in terms of surpassing the combined past sales figures from both companies, reaching sales of at least 70,000 animals. Blue Genetics' claims are confirmed by broodstock import data from India and industry sources in China.
Today, Blue Genetics is mainly active in China, India, Indonesia, and Thailand (supplying adult broodstock and PPL) but also exports to Europe and North America (supplying PPL).The company supplies its tolerant line from Mexico and a fast-growth line from the US. As an example of its success, the company highlights that in 2021 and 2022, it was awarded the "Best Genetics Brand" trophy during the Tianjin exhibition in China for the outstanding performance of its tolerant line.
Blue Genetics aims to let its Mexico operations be the R&D and PPL production center for its tolerant line. From there, it will ship PPL to its BMCs in Texas, and its JV/partner BMCs in India (BMR Blue Genetics) and Thailand (Topgen). Next to selling PL to US and European farmers, the operation in Texas will be its major production center for adult breeders to be shipped to China, Indonesia, and other markets. This way, the company solves its most important bottleneck: air cargo destinations and capacity from Baja California Sur in Mexico are limited. A lot of air cargo capacity is available from Texas, however, so shipping large quantities from there makes much more sense.
Blue Genetics is already reaping the benefits of merging the two companies in India. However, it's needed some time to change focus from its fast growth line to its tolerant line to meet the growing demand for more tolerant lines due to continuous disease challenges. The company aims to have its tolerant line ready with locally grown adult broodstock in time for the next stocking season from August 2023 onwards.
Image

Vietnam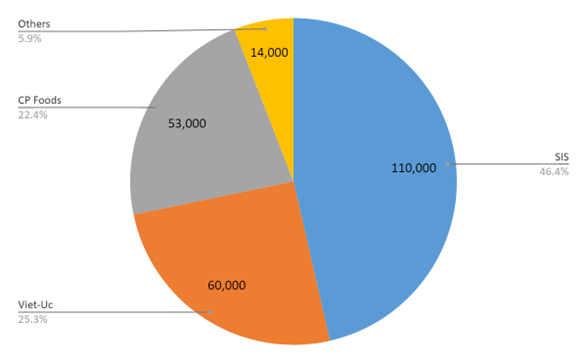 According to a statement by government officials, in 2022, Vietnam imported 171,000 L. vannamei broodstock, down from around 200,000 in 2021. On top of imports, Viet-Uc reportedly produced around 60,000 L. vannamei broodstock domestically.
Two companies continue to dominate broodstock imports in Vietnam: (1) SIS, with a 60% market share, and (2) CP Foods, with a 30% market share. While SIS' exports to Vietnam are flat compared to 2018, CP Foods' sales to Vietnam reportedly doubled over the same period. The big difference between SIS and CP Foods is that CP Foods (like Viet-Uc) supplies broodstock only to its vertically integrated hatcheries, while SIS dominates the open market.
Other suppliers to the Vietnamese market include Thai Union, Kona Bay, Top Aquaculture, Benchmark, SyAqua, Aqua Bio, and API. However, combined, these companies have less than a 10% market share and find themselves unable to grow significantly in the country due to the integrated breeding programs of CP Vietnam and Viet-Uc, on the one hand, and the firm grip of SIS on the open market, on the other.
Relevant to mention is that official government data shows that broodstock imports in Ninh Thuận over the first five months of 2023 reached only 29,215 animals, down 12% compared to the same period in 2022. This would be in line with the reports that shrimp production in Vietnam is likely to drop year-on-year due to the low market prices and domestic production challenges.
Image

Image

While SyAqua does not share its official sales numbers, the company breaks down the distribution of sales between China, India, and other Asian markets as 60–65%, 15–20%, and 15–25%, respectively. Based on its 2022 sales to India of 24,000 broodstock, the company's total sales would therefore have to be anywhere between 100,000 and 120,000 animals in 2022.
In 2022, SyAqua built a brand-new hatchery feed plant in Malaysia and boosted the investments in the breeding program of its Balanced line while improving and expanding capacity in its BMC in the US as well as its assets in Thailand and Indonesia. In 2023, the company hired a new CEO, Fred Kao, who will accelerate SyAqua's development in the coming years. Its current CEO, Ricardo Melo, will, in a new role, be focused on developing new partnerships and M&A to further develop SyAqua into a full-service platform.
SyAqua's success in India (see country update) does not surprise the company. The significant advantage of SyAqua's main genetics line (Balanced line) is that it performs well in a broad range of farming systems. Furthermore, SyAqua has been the number one shrimp larvae (zoea and mysis stages) feed supplier in India for many years, which gives the company a significant edge as it is familiar with the market's and shrimp farms' needs and has access to the significant hatchery players in the country. SyAqua aims to continue to penetrate the Indian market and to become India's largest broodstock and hatchery nutrition supplier by 2025.
Another growth market for SyAqua is China. In 2022, SyAqua's sales in China increased by 25%. The company claims that farmers in China follow the global trend of increased interest in balanced and tolerant lines. Various developments in the farming systems that Chinese farmers use make balanced and tolerant lines better suited to their situation and therefore these lines are in high demand. SyAqua thus believes it has the potential to gain significant market share.
SyAqua has also been doing well in other Asian markets, according to the company, especially in Thailand and Malaysia, where it claims to already be the second largest player. The company has furthermore started to supply to Vietnam in 2022 and continues to grow its numbers in 2023, but it acknowledges that it will take time to grow as it's difficult to compete with the long-established players in that market. The only major Asian market where SyAqua did not see its numbers grow in 2022 was Indonesia. However, the company expects to return to previous levels by the end of this year.
Genetics piracy
When I asked him for final comments, Robin Pearl, API's owner, said that he found that, after genotyping more than 2.5 million animals from around the world, piracy of shrimp genetics is practiced everywhere and he calls out to the industry to please stop pirating genetics.
"Piracy is hurting the industry on many different levels. First, farmers are not getting what they are paying for. The level of inbreeding we see, the use of F2 or F3 generations being offered by large breeding companies and many hatcheries, or the mixing of different genetic stocks to produce PL that do not perform the way they should be make an already difficult environment even more so for the farmers. Second, when someone uses inbred or untested combinations of stocks, the results, even if good, cannot be replicated season after season. This is why our industry sees huge ups and downs and swings in the use of different genetics stocks. With piracy, there is no consistency between batches, and this lack of stability hurts our whole industry. Third, companies doing honest work and making real investments in genetics must compete against their own stocks in the marketplace. This is wrong and may stop real genetics companies from spending the time, effort, and investment needed to continue improving their stocks. If the real genetics companies stop doing the work, what will there be to copy for the pirates?"
Robins McIntosh endorses Robin Pearl's plea and jokingly warns that we'll soon be able to read his opinion piece, "Is Shrimp Piracy Good for the Future of the Shrimp Industry?", leaving us guessing about his conclusion… or not.
Conclusion
Today's uncertainty about prices and demand quickly results in negativity about the future. However, I would like to close this blog with a quote from David Danson of Hendrix Genetics–Kona Bay:
"We're seeing that our industry is often questioning itself; the market volatility is creating uncertainty, and in tough times the tone for some markets or countries is turning pessimistic. Setbacks are part of the agriculture and aquaculture industry. Still, the long-term potential remains huge, and with shrimp, that is no different. Challenging ourselves and pushing ourselves for constant re-invention and improvement is good. But we should not be pessimistic. All the moves made in the whole value chain are paying off. We are working towards a more robust value chain from brood to hatcheries to farms to processing and export. Let's not be beaten down and believe in ourselves. We have a bright future ahead!"
Image