Image

< Back
REFLECTIONS ON INDIAN SHRIMP IN COVID-19 DOMINATED 2020
India is one of the countries most affected by Covid-19: almost 1.5 million cases have been confirmed, more than 32,000 people have died and almost 50,000 new cases are registered every day. For the shrimp industry, the consequences were at their most severe when the country went into full lockdown for 21 days at the end of March – farmers had to stress-harvest their ponds; hatcheries could not import new broodstock; and factories did not have sufficient workers to operate at decent capacity. But with most of the shrimp value chain being permitted to continue activities to some extent during lockdown and activities quickly resuming in the immediate aftermath, hatcheries were able to import new broodstock, some farmers were able to stock their ponds, and factories quickly resumed operations – some factories even maintained operations at 50% capacity during lockdown. In this blog post, I want to take a look at how the first seven months of 2020 have unfolded for Indian shrimp, especially the months surrounding the global outbreak of Covid-19. I will also share the view of one of India's biggest hatchery operators, and will provide my own prognosis on what the remainder of 2020 might look like for Indian shrimp.
SHRIMP EXPORTS DOWN 11% IN VALUE AND AROUND 20% IN VOLUME
The data available from India's Ministry of Commerce (MOC) covers export volumes until April and export values until June. Export value data for May and June, although still provisional, show some interesting insights into what happened after lockdown was lifted.
Figure 1: India's shrimp exports in 2020 vs. 2019
Image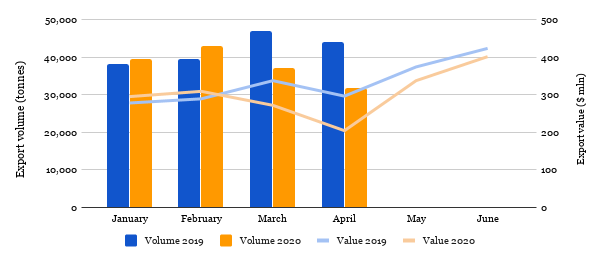 Source: Ministry of Commerce, India
Concerning export volumes, MOC data show that by April 2020, the year total export volume was 10% behind that of 2019. This is interesting to observe and indicates the impact of the lockdown, as in January 2020, India's export volume was 3% ahead of January 2019, and February 2020 data shows a similar trend with the export volume being 9% higher than that of February 2019. But these volumes plummeted to −21% and −28% in March and April of 2020 respectively: in March 2020, India exported 37,182 MT while in March 2019 it exported 46,835 MT; in April 2020 this downward trend continued and India exported a total of just over 31,800 MT compared with April 2019 when it exported 43,918 MT.
April 2020's year-to-date export value was 10% behind 2019's April year-to-date total. The export value data for May and June 2020 provide some further insights, most importantly that exports in May and June improved considerably. Although export values for 2020 were 19% behind March 2019 and 31% behind April 2019 respectively, export values in May and June 2020 were only 10% and 5% behind those of 2019, showing some significant recovery in the immediate aftermath of lockdown: while exports certainly suffered considerably during lockdown in March and April, Indian exporters managed to get back on track quickly, and, despite shortages of labor, seem to have been able to ship considerable amounts of product since then. When looking at export value alone, by June 2020 the year-to-date total exports were only 9% behind those of 2020.
Image

What happened with exports in July is uncertain. Reportedly, exports of Indian shrimp to China came to a halt as Chinese customs delayed the influx of containers. As a result of this development, prices for smaller shrimp (normally purchased by China) fell considerably. With demand from the US being slow as well, prices for bigger sizes dropped even more. This drop in export prices has had an impact on farm gate prices, which have also fallen rapidly in recent weeks.  
BROODSTOCK IMPORTS STOPPED IN APRIL, JUMPED IN JUNE, AND ARE NOW ON A PAR WITH 2019
Broodstock imports can be seen as a parameter that allows us to predict PL and eventually farmed shrimp production: everything came to a standstill in April, things recovered quickly by June, and now they're looking promising as the year progresses past the "peak" of the Covid-19 crisis. India was well on track with its broodstock imports in the first three months of 2020. While it was 15% behind the import level of 2018, with 63,430 broodstock during the same period in 2020, imports were well ahead (+35%) of 2019's first quarter import levels. And then the Covid-19 pandemic happened. We all know about the devastating impacts this has had on global business, economy and industry… and the shrimp sector didn't go unscathed. In India and specific to broodstock, from 22 March hatcheries had to close down their operations for over a month. As the Aquaculture Quarantine Facility (AQF) also closed down, broodstock imports stopped entirely for 50 days. 
Figure 2: India's broodstock imports January-June 2018, 2019 and 2020
Image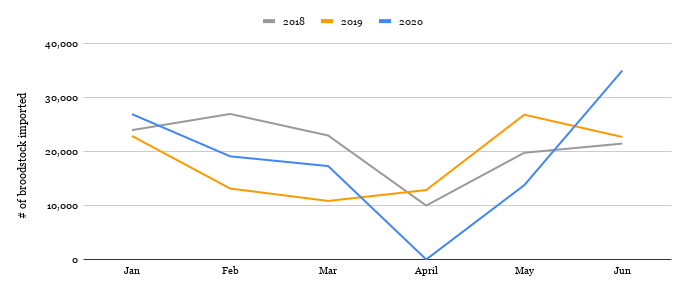 Source: Aquaculture Spectrum
When chatting with Ravi Kumar Yellanki, owner of Vaisakhi Bio-Marine, one of India's largest hatcheries, he told me that at least part of the broodstock that was imported in January, February and March went to waste. According to Yellanki, hatcheries were caught by surprise and as demand from farmers dropped and road transport stopped, hatcheries had to dispose of a lot of the PL they had already produced. Although in principle the hatcheries could continue to produce PL with the broodstock that had been imported before lockdown, this was complicated by the lack of availability of live feed for which logistics were also disrupted. Although the government of Andhra Pradesh and some other states relieved hatcheries and other segments of the supply chain by declaring fisheries and aquaculture as an essential activity, logistics, such as the scarcity of domestic flights, remained troublesome for the industry.
Image

Due to the low stocking levels and the shortage of shrimp harvests in April, farm gate prices went up and farmers became eager to stock their ponds in May and June. However, PL was at that time only scarcely available. According to Yellanki, April-June seed production was almost 50% below the level of 2020. Luckily, after 50 days, the AQF opened again and in May 2020, the first imports of broodstock arrived: 13,786 broodstock were shipped to India from Florida and Hawaii. Shrimp Improvement Systems accounted for more than 70% of May's supplies. Other suppliers included Kona Bay (1,536 broodstock), Blue Genetics (1,200 broodstock) and American Penaeid Inc. (600 broodstock). SyAqua USA, for the first time since it was approved to export broodstock to India, shipped 1,200 broodstock in May.
In June, Kona Bay started to increase its exports to India. Indian hatcheries and Kona Bay chartered several flights to enable shipments from Hawaii to India. According to Aquaculture Spectrum, Kona Bay shipped 14,300 broodstock to India in June. That same month, SIS exported 19,550 and Sea Products Development (SPD) imported 1,200 broodstock. Together, June supplies of Kona Bay, SIS and SPD already amount to 35,550, well above the import volumes in June 2018 and 2019.
As the hatcheries needed roughly one month to produce PL with the new broodstock, it was only by the end of June that PL become more readily available again. When we take a look at May and June's broodstock import numbers, it's clear that hatcheries were ready to supply farmers PL to stock their ponds in July for a new crop to be harvested in September and October 2020. Yellanki agrees that since early July sufficient, high-quality PL is available again. However, he does worry that the hatcheries may experience some bad luck and that due to the recent decline of prices, farmers may once again be hesitant to stock their ponds. Stocking may therefore remain behind 2019 levels.   
MY PREDICTIONS FOR THE REST OF THE YEAR
Although the Indian shrimp industry suffered in March and April – as did many industries in India but also globally in this time of crisis – looking at shrimp exports and broodstock imports, it seems that the shrimp industry recovered rapidly in May and June.
Despite the current low farm gate prices, the fact that hatcheries have PL readily available combined with the news that feed suppliers are offering discounts on feed might result in Indian shrimp farms having reasonable stocking levels. Although some people believe that the current cash crunch among shrimp farmers, and the unwillingness of input suppliers to pre-finance feed, will disable some farmers to stock their ponds at full scale, it's likely that a considerable new crop is still underway. The largest part of this new crop will be harvested in September and October.
Chatting to Yellanki reveals that he is hopeful that prices will recover around September when the buying season usually starts. My own worry is that the opposite will happen. I'm thinking of a scenario in which even if September and October's harvests are only 70-80% of last year's second crop, it's doubtful whether demand from the US, China and India's other markets can sustain a higher price level. I therefore expect farm gate prices to take a hit once harvests start to peak in September. Although Indian processors may take the opportunity to build new inventories, the farmers may struggle to break even.