Image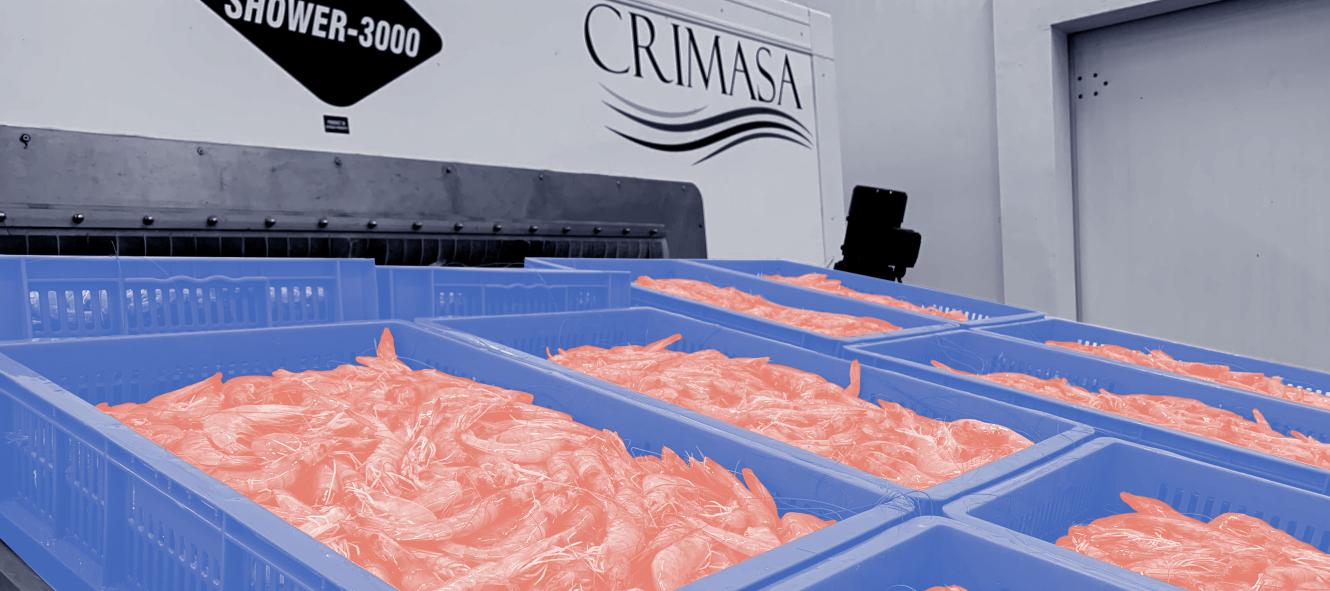 < Back
Pivotal times for the world's two largest shrimp export nations Ecuador and India
The world's two major shrimp exporters—Ecuador and India—have, since 2010, enjoyed a decade or so of rapid business expansion and decent profit margins. But today they're facing a different reality: oversupply and spiraling prices. Due to massive shrimp production and exports on the one hand and stagnating imports and consumption on the other, prices at the end of 2022 spiraled downwards. And it's becoming clearer day by day that we're in the midst of a pivotal period that will shape the future trajectories of the two largest shrimp export nations.
In 2023, the Shrimp Blog is supported by: Inve Aquaculture, Taprobane Seafoods, DSM Animal Nutrition, Zeigler Nutrition, aquaconnect, Bioiberica, Megasupply, American Penaeid, and Omarsa.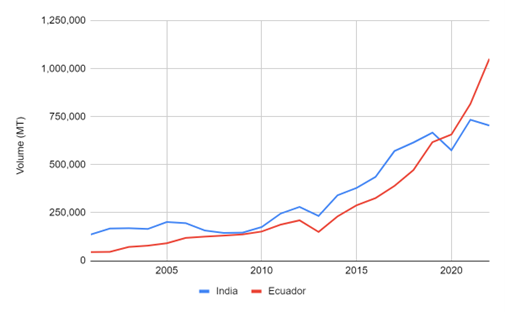 In this blog, I will raise some of the most urgent questions that I encountered during my recent travels to both India and Ecuador, and I'll look at some of the different scenarios that we might face. First of all, let's take a look at Ecuador.
Image

Will Ecuador continue increasing its output at such an impressive rate?
Ecuador has continuously increased its shrimp export volumes since 2010. Although at an equal pace with India earlier on in the period, in the last couple of years Ecuador's growth rates have been exceptional (see Figure 1). So far in 2023, Ecuador's exports in January hint that at least in the short term, growth will continue (see Figure 2).
With experts voicing different opinions about whether Ecuador will continue expanding at this rate, the industry is currently speculating about the direction in which things will go. Although some people—including myself—tend to be bullish on Ecuador's future growth, there are also reasons to be a bit more conservative.
Image

Is Ecuador about to push the boundaries of the carrying capacity of its shrimp ponds?
Theoretically, there are no short-term limits to Ecuador's growth. Ecuador's farmers have been increasing their output by using post-larvae that are tolerant to disease and grow increasingly fast; by using nursery ponds to shorten production cycles; by adding aeration systems and auto feeders to their grow-out ponds, which enable higher stocking densities; and by developing new farming areas. This has coincided with favorable external factors over the past decade or so, such as the early mortality syndrome (EMS) outbreaks in Asia and the rising demand for head-on shell-on (HOSO) shrimp in China (see Figure 3).
While Ecuador's average production per hectare (ha) today is only around 6 MT/ha/year (1.3m MT divided by 220,000 ha), Ecuador's most productive farms that have adopted the full extent of the new farming model already produce as much as 15 MT/ha/year. They have 3-4 farming cycles of around 4.5 MT/ha each. Although this may not be achievable for the average farm in Ecuador, a vast number of farms are likely to increase productivity significantly. Once achieved, the average productivity per hectare in Ecuador should reach at least 10-12 MT/ha/year. Consolidation in the farming sector could also contribute to further productivity gains: the larger players use their expertise and capital to upgrade the farms that they acquire to become more productive and profitable.
Ecuador's growth comes with a gradual increase in stocking densities. Today, it's not strange to see stocking densities of 30-35 PL/m2, higher than many farms in India. But farmers on the other side of the globe in India have had bad experiences with increasing stocking densities in systems that can't sustain those densities, and warn that Ecuadorian farmers cannot play god: if farmers in Ecuador push carrying capacity boundaries, there will be consequences sooner or later. Although it's unclear how large the carrying capacity is, the recently reported harmful algae outbreaks in Ecuador may be perceived by some as a sign that its production expansion is not without its limits.
Image

Will China absorb more of Ecuador's HOSO products, or will Ecuador accelerate its penetration of other markets?
Let's assume that Ecuador is able to prevent production issues and its shrimp production continues to grow at equal rates to those seen in previous years. In this scenario, though, it remains to be seen to what extent global markets can absorb such an increase. Will Ecuador continue to grow its market for HOSO shrimp in China and southern Europe? And to what extent will it have to continue to compete in peeled and further value-added market segments?
In terms of HOSO, China has been the main market absorbing much of Ecuador's output. With Chinese demand significantly down during COVID-19, it became clear that Ecuador didn't have many other markets where it could sell its HOSO shrimp, and its exports of headless shell-on (HLSO) and peeled products to the US, Europe, and other markets jumped. As soon as Chinese demand strengthened in the second half of 2022, Ecuador's exports to China rose again and the growth rates of its exports to the US and Europe came down. In January 2023, China even accounted for 62% of Ecuador's total shrimp exports.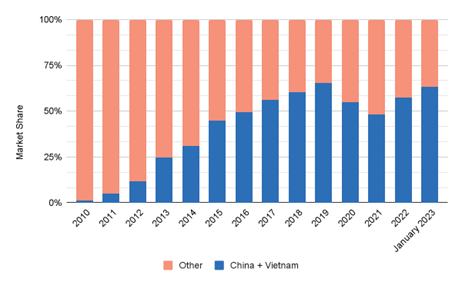 While Ecuador's dependency on China for exports of its HOSO products is on the rise again, and growth rates to other destinations have declined, this doesn't mean that the export volume to other destinations has declined. After strong growth during COVID-19 (from 2020 to 2021), despite the Chinese market opening up again in 2022, exports to Europe and the US still increased by 2% and 3% respectively.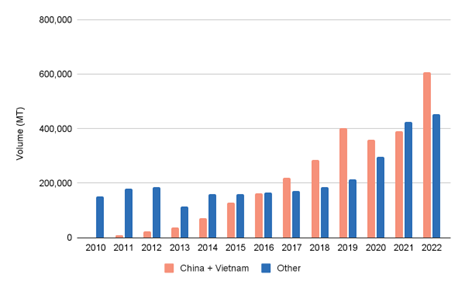 With China only back at strength since the second half of 2022 (see Figure 6), if China continues its current level of buying throughout 2023, Ecuador may not have to further penetrate other markets to sustain its growth. However, it remains to be seen whether China will continue to buy once prices in Ecuador increase as the demand from the US and Europe also increase from April onwards. If China stops buying, Ecuador's exporters will have to accelerate their penetration of other markets to be able to sell the foreseen increase in output. In these other markets, they will be competing directly with India and other Asian suppliers.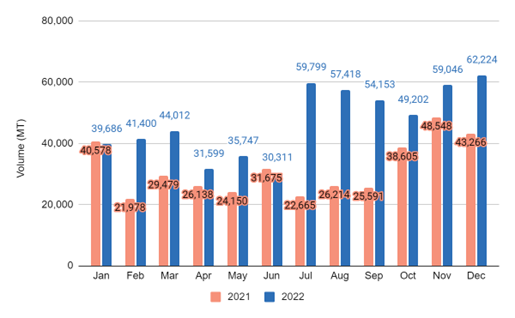 Image

Will pivoting away from traditional strategies allow India to circumvent direct competition with an opponent it cannot easily beat?
Although today's Chinese demand for Ecuadorian shrimp may offer some relief to India's exporters, the rise of Ecuador as a major competitor over the past two to three years has made it clear that the Indian industry has to pivot away from old strategies to maintain its competitive edge.
Exporters accelerate diversification into cooked and breaded products, and support farmers who switch species
Indian exports of HLSO and peeled products to the US took a severe hit from 2021 to 2022. But seeing the exports of peeled and HLSO products drop, Indian exporters managed to rapidly increase their export volume of cooked products. Having invested in new plants and cooking capacity over the last couple of years, Indian companies—such as Sandhya Aqua, Devi Fisheries, Devi Seafoods, Sandhya Marines, and Choice Canning—managed to gain market share in the US cooked shrimp market to the detriment of Vietnam and Thailand. The US's total imports of cooked products increased by 6% year on year to 142,958 MT. Of that share, India's exports increased by 36% to 56,854 MT—that's a 39% market share for India (see Figure 7).
Image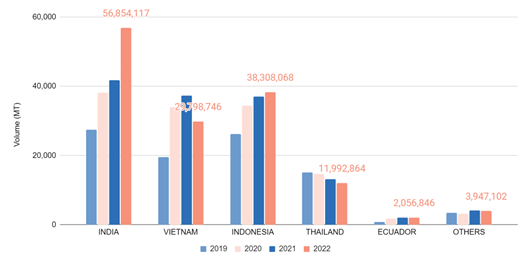 Besides cooked shrimp, the market for breaded shrimp in the US is also growing. From 2021 to 2022, the import volume grew by 14% to 70,000 MT. Although India doesn't play a significant role in the US breaded shrimp market yet (see Figure 8), exports of breaded shrimp from India are slowly expanding: as part of the pivot to value-added products, the capacity for breaded products is also being installed. Nekkanti Seafoods, one of India's largest exporters, opened a new facility dedicated to breaded products in late 2022, and Devi Fisheries is also building a new factory for this purpose that should open in late 2023. Surely, although not on my radar just yet, other projects are underway as well.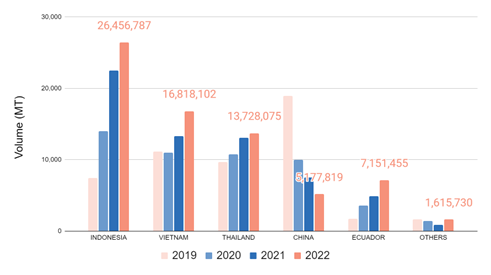 Although Indian exporters previously didn't see the need to diversify their product range, the new scenario with tough competition on raw, frozen HLSO and peeled products, and the fact that the market for cooked and breaded shrimp in the US is growing, make pivoting to value-added products a priority for some of India's leading exporters. Having access to cheaper raw materials and cheaper labor than most of its competitors in other Asian countries, Indian exporters should be able to penetrate value-added markets further.
Besides moving into value-added products, Indian exporters also encourage farmers who struggle with L. vannamei to switch species to P. monodon. While there was some initial resistance, and a market for Indian P. monodon needs to be built, it's another way in which India can prevent direct competition with Ecuador and penetrate other markets where it has a competitive edge.
Image

Targeting India's domestic market has become a priority
India has a domestic market of 1.4 billion people. While there's a lot of poverty in the country, there's also a rapidly growing wealthier middle class. According to a recent report, the middle class grew from 14% in 2005 to 31% in 2022, and it's set to double by 2047. What's more, there are 1.8 million people who make up the wealthy upper class in India. These growing middle and upper classes can afford more expensive proteins, and shrimp could—and should—become part of their diets.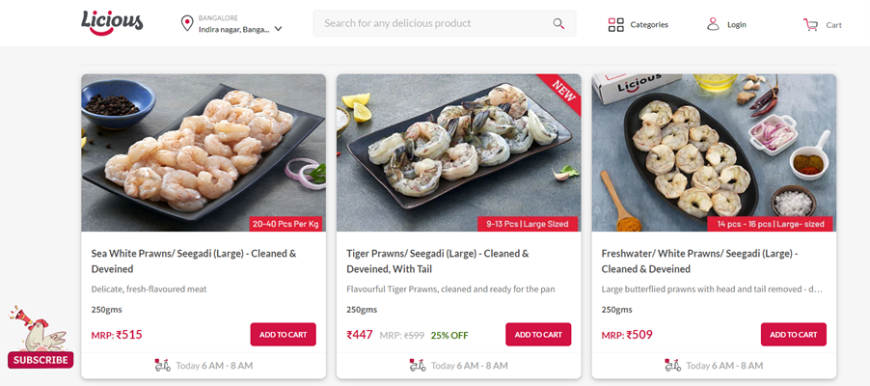 Traditionally, Indian consumers would buy fresh meat and fish at wet markets. The fresh market is estimated to value at $55bn. However, conditions in these wet markets may no longer meet the requirements of today's Indian middle-class urban consumers. Several startups are revolutionizing the domestic market for fresh meat and fish by developing large-scale cold-chain logistics networks and home delivery services. Companies like Licious, Fresh to Home, and Captain Fresh have raised hundreds of millions of dollars and serve consumers and restaurants in most of India's cities. These companies also offer shrimp, but shrimp is not yet part of the staple diet for most Indian consumers.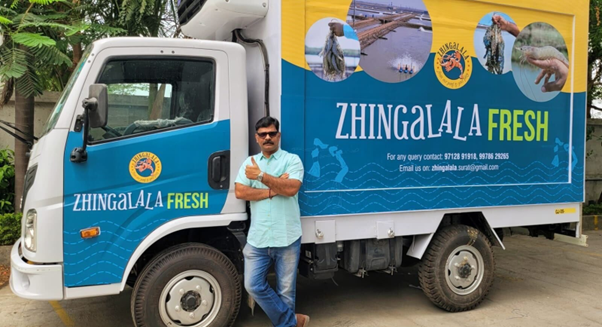 The Indian government as well as the shrimp industry itself are increasingly investing in the promotion of domestic shrimp consumption. They organize festivals, open shrimp-only restaurants, and launch consumer campaigns through media channels. During my recent visit to India, I learned of some exciting developments that will feature in the news soon. Most people rightfully think it's only a matter of time before domestic consumption will increase and the Seafood Exporters Association of India, for example, estimates that in due time the domestic market should easily absorb 300,000 MT of shrimp annually.
A major challenge for the shrimp industry is that Indian consumers tend not to accept frozen products while supplying fresh shrimp is challenging. Several shrimp exporters have already established retail outlets through which they try to sell frozen shrimp to consumers in their vicinity, but they're often not able to reach the larger urban consumption hubs. Companies like Licious and Fresh to Home don't believe in offering frozen products. (If you want to read more on this topic, see this blog post I wrote for Aqua Spark.) A major opportunity for the Indian industry might be to apply a refreshed model in which frozen shrimp is thawed according to demand close to the consumer and repacked and supplied as a refreshed product. If this model were to be accepted in India, it might become a major driver of domestic shrimp consumption.
Image

The perception of Indian shrimp has to change
One thing that India's industry leaders increasingly acknowledge is that if the markets in which India directly competes with Ecuador start seeing Ecuadorian shrimp as superior to Indian shrimp, they have a problem. This means that even if they were to focus on promoting shrimp consumption in these markets, this may benefit Ecuador more than it benefits India.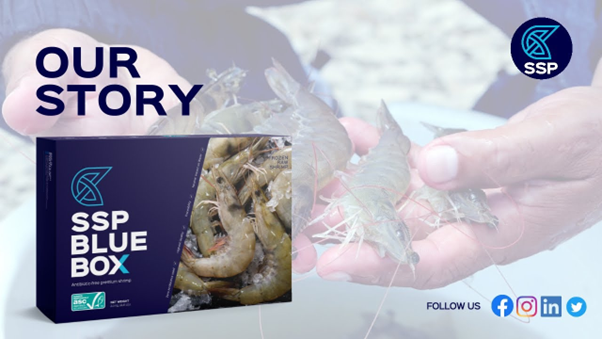 Ecuador has done an extremely good job of marketing its shrimp as a superior product. Individual companies, the industry as a whole, and the government all convey the same message: that Ecuador's shrimp is healthy, tasty, and sustainable, that "it's the best shrimp in the world". This is substantiated by a narrative around sustainable extensive farming operations, sustainable intensification, vertical integration, and large-scale farming operations. And all of that is combined with high business ethics. Although Indian companies at an individual level have built brand recognition and improved their marketing practices, at a pre-competitive level a collective narrative is simply absent.
While a few years back Indian industry leaders weren't particularly receptive to this observation, now that the competition is threatening their businesses, I have personally noticed a change in attitude and mindset, and I sense the possibility that some industry leaders may stand up and join hands to translate their individual pride into a collective narrative for Indian shrimp.
Image

Looking beyond these pivotal times: some thoughts about the future of the two largest shrimp export nations
Although Ecuador should indeed not play god and push the limits too far, it's very likely to continue increasing its shrimp production and exports at significant rates for at least another couple of years. It remains to be seen to what extent China can absorb most of Ecuador's output and, therefore, to what extent Ecuador will need to accelerate its penetration of other markers. However, one way or another, the rise of Ecuador will put shrimp industries in other places under pressure.
For India, in the short term it's not so much about growth but rather about whether the industry can maintain its current volumes. One set of challenges, which I didn't really go into in this blog, relates to disease and controlling production costs. Another set of challenges has to do with preventing direct competition with Ecuador by turning to value-added products, switching species to monodon (discussed in other blogs), creating domestic demand, and creating a better image of Indian shrimp. Where direct competition can't be avoided, to stand a chance India needs to remain price competitive and level the playing field in terms of people's perception of Indian shrimp. This will not only help India to compete with Ecuador but also with its Asian competitors for cooked and further value-added products.
In the longer term, with global demand for proteins ever increasing and wealthier consumers looking for more diversity in their choice of proteins, global shrimp consumption will increase and there will be a place for the growth of the shrimp industries in Ecuador, India, and other nations alike.
Image