Image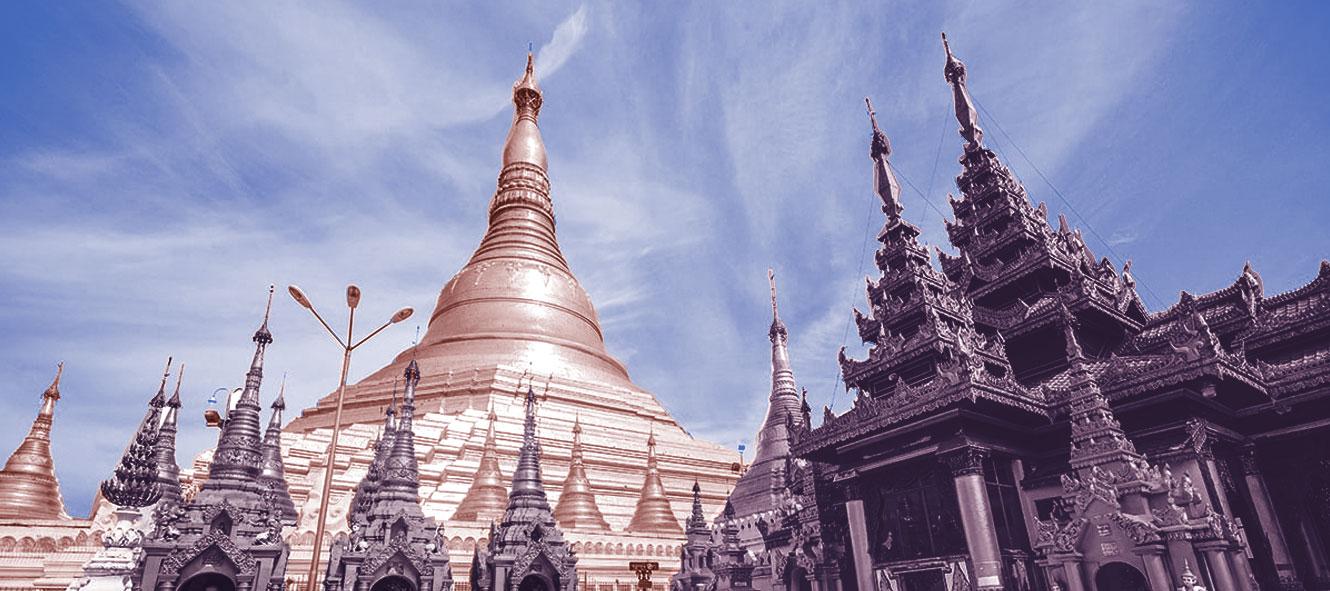 < Back
MYANMAR: FROM HIDDEN GEM TO TROUBLED WATERS
The Shrimp blog is sponsored by Grobest, Inve Aquaculture, DSM animal nutrition, American Penaeid Inc., Zeigler Nutrition, and Aqua Pharma Group.
I traveled to Myanmar for the first time in 2012 as a business developer at Wageningen University and Research Center. At that time, Myanmar was opening up, and was viewed by many as a hidden gem in terms of its aquaculture production potential. Together with a representative of the Center for the Promotion of Imports from developing countries (CBI), an agency of the Dutch Ministry of Foreign Affairs, we met with representatives of Myanmar's aquaculture industry to hear whether there were opportunities to support them in their development. This visit was mind-blowing: the people we met were extremely eager to move their sector forward, and they couldn't wait to engage and collaborate. I went home with the strong belief that Myanmar had great potential to become a seafood powerhouse, but also that a lot of support would be needed for it to get there.
Photo 1: Me (most right) participating as an organizer in a European trade and capacity development mission to Myanmar back in 2015
Image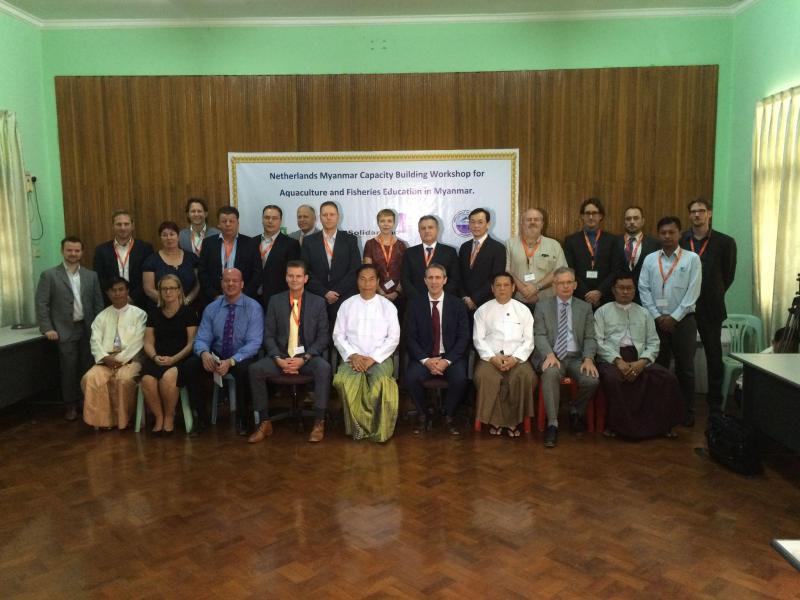 After that first visit, I traveled back to Myanmar many times. Together with Solidaridad Network, we conducted a scoping study for the EU delegation in Yangon, which resulted in the EU-funded Myanmar Sustainable Aquaculture Program (MYSAP). I also visited the industrial sites of Yangon several times, stopping at all the seafood processing factories there so I could include them in the Seafood Trade Intelligence Portal (nowadays Seafood TIP) supplier database that we were setting up at the time. A couple of years later, together with the Netherlands Enterprise Agency (RvO), we organized a trade mission where we brought a group of European seafood companies to Myanmar and, some time later, we also hosted a mission for a delegation from Myanmar visiting the Netherlands. Once CBI started its seafood export coaching program and organized a Myanmar pavilion at the Global Seafood Expo in Brussels, at Seafood TIP, which I was the director of at the time, we co-exhibited at the Myanmar pavilion. Still today, I consider many of the Myanmar people I met during these years as true friends.
It was therefore such a shock earlier this year to hear the news about the political turmoil in the country and the human catastrophe that followed. All those people who were enjoying the open political climate and the economic opportunities that came with it suddenly found themselves in a position that leaves them uncertain about the future direction of their country.
Just before all of this happened, I worked on a project together with Anton Immink of ThinkAqua, which allowed us to really dive into the current status of Myanmar's aquaculture industry. In this blog, I want to reflect on our findings and remind you of the great potential that Myanmar's aquaculture industry has.
Image

Myanmar's Aquaculture Industry is Dominated by Large Vertically Integrated Rohu (Indian Carp) Producers
Myanmar is Asia's 6th largest aquaculture producer and produces around 750,000-1,000,000 MT annually. The vast majority of this volume consists of freshwater fish. Farmed fish production is dominated by freshwater finfish, primarily Rohu (or "Indian carp", L. rohita) produced primarily in polyculture systems. In these systems, Rohu is complemented by other species such as common carp, mrigal, catla, tilapia, and pacu.
Photo 2: Fish Farms in Maubin in the Ayeyarwaddy Delta
Image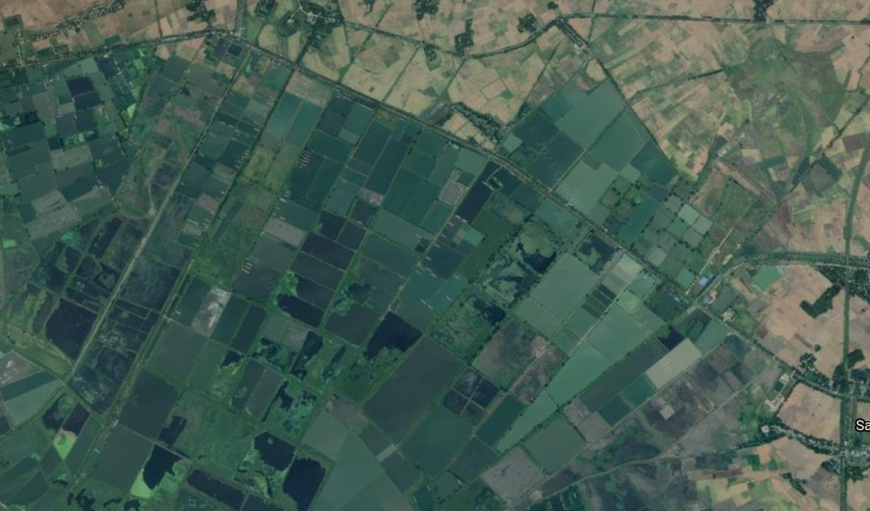 Source: Google Maps
The fish farming industry consists largely of vertically integrated producers who manage their own hatcheries, farms, processing, and export operations and, in some cases, also produce their own feed. Major producers include companies such as Wah Wah Win (2,800 ha), Htoo Tith (1,200 ha), Min Zar Ni, Arsha Tar, and Grand Wynn (each around 400 ha). Large vertically integrated producers account for the largest part of fish production (according to some, they account for more than 60% of production). But there are also thousands of independent small- and medium-scale farmers.
Image

Although some NGOs and donors have been trying to support the polyculture fish farmers to improve their productivity, growth has been stagnant due to a lack of innovation, investment, and market opportunities. At the time that I first visited Myanmar back in 2012, transitioning to a more intensive monoculture of commercially more-relevant species such as tilapia and pangasius was viewed as the best way to further develop Myanmar's fish farming sector.
Photo 3: Global Earth & Agro Aqua's Vertically Integrated Fish Farm in the Ayeyarwaddy Delta
Image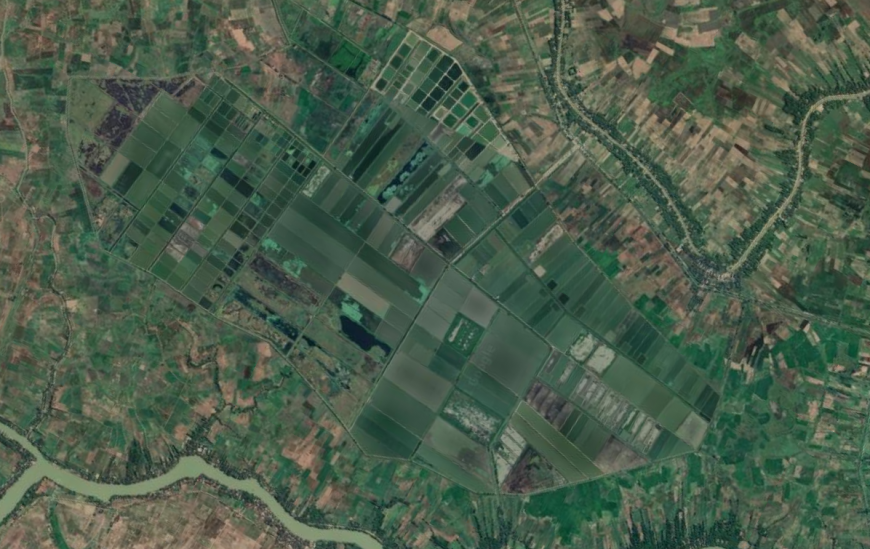 Source: Google Maps
Some of the vertically integrated producers have made attempts to make the transition. Some of the initiatives I've encountered over the years include those of Htoo Tith and Min Zar Ni, which are actively involved in intensive tilapia farming, and that of the Yuzana Group in large-scale pangasius production through its subsidiary Global Earth Agro & Aqua. However, to date, we still can't speak about a large-scale transition from poly- to monoculture, something that would be required to take Myanmar's fish farming sector to the next level.
Image

Myanmar Produces 10,000-20,000 MT of Extensively Farmed Black Tiger Shrimp
One part of Myanmar's shrimp sector consists of the extensive production of black tiger shrimp (P. monodon) in Rakhine State (close to the Bangladesh border) as well as parts of the Ayeyarwady Delta. The production volume is currently assumed to be around 10,000-20,000 MT annually. The absence of black tiger shrimp hatcheries is a major obstacle for production expansion. What's more, the conflict between the Myanmar army and the Rohingya people in the northern part of Rakhine State has also been holding progress back. Several development projects, such as the EU-funded MYSAP program, are working to improve the productivity of the extensive black tiger farming sector, but it's unclear to what extent they've been successful so far. While some of the black tiger shrimp produced will be sold to Bangladeshi shrimp exporters in Chittagong and Cox's Bazar, the remainder is sold to Myanmar's two largest shrimp exporters: Shwe Yamone and Ayeyarwady Fisheries.
Image

Yuzana Group's Ayeyarwady Fisheries is by far the largest shrimp processor and exporter in Myanmar. Its involvement in black tiger shrimp is limited to a network of collection centers, and to processing and exports. But the company is active in other parts of the industry as well. It operates a fleet of trawlers, a processing plant, a feed mill, and several intensive shrimp farms (under the name Irrawaddy Fisheries Development Company). As already mentioned, the company is also involved in the new intensive pangasius farming project through its subsidiary Global Earth Agro & Aqua and, as we'll discuss next, it's also Myanmar's largest Pacific white shrimp (L. vannamei) farmer.
Fewer Than 10 Corporate Pacific White Shrimp Farmers Produce Around 10,000 MT Annually
Myanmar's shrimp sector has been under development since the beginning of the 21st century, but that's not to say it hasn't been a bit of a bumpy road. It had started to develop into a vibrant industry – in addition to the extensive monodon sector, a small semi-intensive Pacific white shrimp industry also exists – but, amongst other things, it was heavily impacted by the cyclones Nargis in 2008 and Giri in 2010. Still today, the semi-intensive shrimp farming sector hasn't recovered to pre-2008 levels and it struggles to be competitive. Despite this, Myanmar does produce around 10,000 MT of Pacific white shrimp annually.
Semi-intensive shrimp farming first developed in the Ayeyarwady Delta. One of the clusters was in Kyauktan, just outside of Yangon. However, already back in 2012 when I visited the site, most of the farms had shifted to producing softshell crab, which, under the circumstances, was considered more profitable than shrimp farming. They maintained the pond structure but built pavilions on top of the ponds and kept the crabs in individual cages to be able to harvest them exactly at the right moment. In Kyauktan, but also in Labutta (further south in the Delta), a couple of large integrated producers – such as Texchem, MEF International, and SG Crab World – own most of the softshell crab production sites, and processing and export units.
Photo 4: A shrimp farming cluster gone soft shell crab in Kyauktan
Image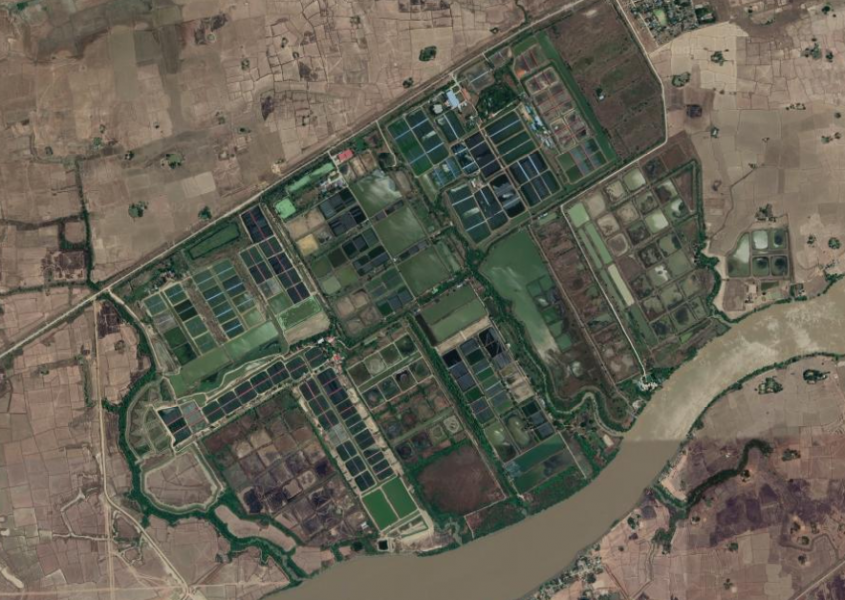 Source: Google Maps
Another cluster of farms is to be found on the other side of the Delta, but most of the farms in that region were already idle when I visited in 2012, or they operated only at a small capacity. This hasn't changed. Only Yuzana Group's Irrawaddy Fisheries Development Company operates a number of Pacific white shrimp farming sites and a hatchery in the region. The company even used to produce its own feed. With regard to broodstock, its Facebook page shows that in 2019 the company's hatchery was supplied by Kona Bay from Hawaii. According to one of my contacts, in 2019 the company supposedly produced around 5,500 MT of Pacific white shrimp alone. This is a considerable volume, and actually makes the company most likely one of Southeast Asia's top 50 vertically integrated Pacific white shrimp producers.
Photo 5: One of Irrawaddy Fisheries Development Company's shrimp farming sites
Image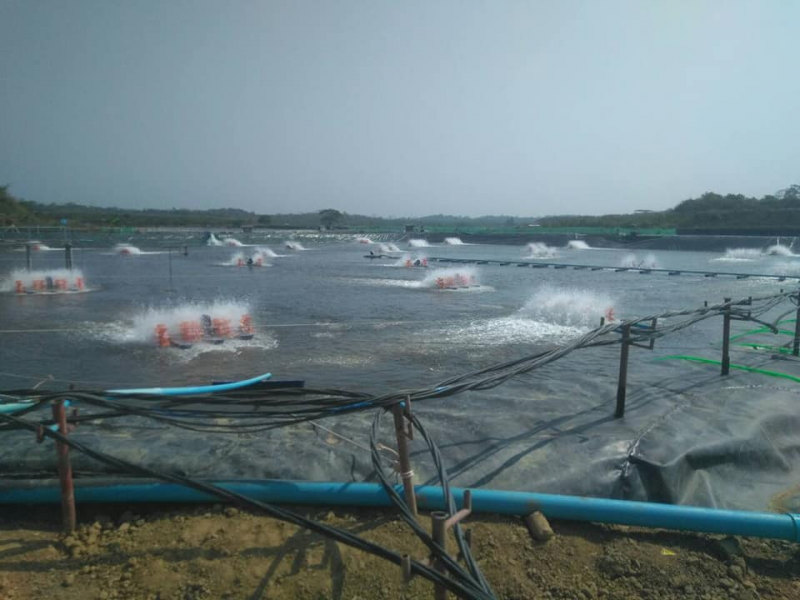 Source: Irrawaddy Fisheries Development Company Public Facebook page
More recently, new Pacific white shrimp farms have started to be developed in the south of Myanmar, close to the Thai border in Tanintharyi Region around the cities of Myeik and Dawei. Most of these farms source their inputs, feed, and PL from Thailand. According to one contact, in total there are 7 shrimp farms in this region, 5 of which are already active and 2 of which are still under construction. The 5 active farms produce somewhere around 5,000 MT annually. Pyae Phyo Tun (PPT), the Region's largest farm, accounts for roughly 2,250 MT and also has an EU-approved processing establishment in Myeik. The Myanmar Investment Commission has recently approved one other major shrimp farming project in the south: Dawei Shrimp Farming Company, which is a joint venture between a local company, a Japanese company, and an Italian company.
Photo 6: Pyae Phyo Tun (PPT) shrimp farm in Myeik
Image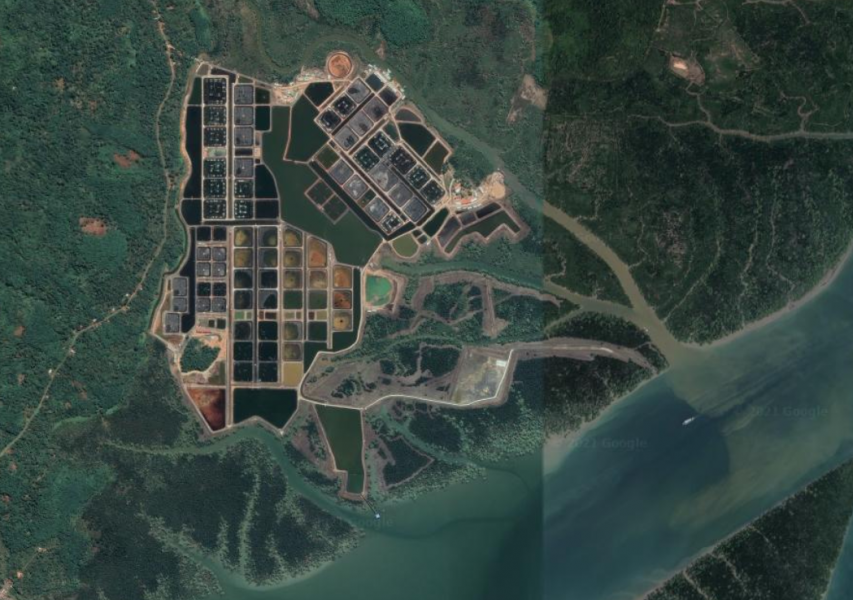 Source: Google Maps
The Expansion of Feed Production in Myanmar May Play a Vital Role in Making Myanmar's Shrimp Production More Competitive
One of the major challenges for the Myanmar shrimp sector is the absence of locally produced, affordable, high-quality shrimp feed. Myanmar's aquafeed sector has mostly evolved from the polyculture fish farming sector. However, it's believed that at present only 25-50% of the freshwater fish farmers in Myanmar use commercial feeds. Most farms rely on homemade mixtures or raw ingredients such as rice bran. Nevertheless, total commercial fish feed consumption is estimated to have increased from around 170,000 MT in 2013 to approximately 260,000 in 2019 (personal communication with Kevin Fitzsimmons, Director of MYSAP, in 2020). Htoo Tith (the second largest fish farmer), with a feed production volume of around 150,000 MT, is the largest feed producer. Around 5 other feed producers each account for 15,000-25,000 MT. None of these companies focus on producing shrimp feed.
Photo 7: Shrimp feed from CPF stored at a shrimp farm
Image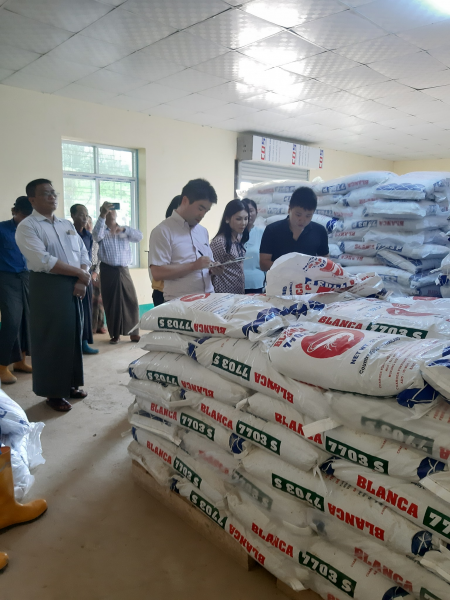 Source: Irrawaddy Fisheries Development Company Public Facebook page
The current demand for shrimp feed is so low that it's hard to run a profitable shrimp feed operation. Most of the shrimp feed in Myanmar is currently imported from Thailand. This is the case for the shrimp farmers in the south, close to Thailand's border, but also for the Yuzana Group, which operates in the west of the country in the Ayeyarwady Region. While the Yuzana Group used to produce its own shrimp feed, its existing feed mill has stopped operations and the company now imports feed from abroad. The company is currently constructing a new feed mill connected to the Global Earth Agro & Aqua project, but it's not clear whether that mill will produce fish feed only or shrimp feed as well. The last time I visited Myanmar in 2018, there was only one local shrimp feed producer left, a small company called Ahr Man Tith owned by Dr Kyaw, the previous president of the Myanmar Shrimp Association. The company used to lease capacity at a fish feed mill and worked closely together with the semi-intensive farmers in the Ayeyarwady Delta. It's unclear what the status of the company is at the moment.
Image

Since Myanmar opened up its economy, foreign feed companies have also entered the country. De Heus and Aller Aqua are the most relevant. De Heus opened its 200,000 MT dedicated aquafeed mill in November 2019. Aller Aqua is also in the process of beginning the construction of its feed mill in Myanmar, and, before the political turmoil started, it was expected to have a feed mill in operation by 2021. At the moment, Aller Aqua only imports and distributes feed as it waits to see how the situation will develop. Both companies work closely with farmers to educate them on how to use their high-quality feeds in an optimal way. Although the companies primarily focus on fish feed, it's likely that they'll eventually also venture into shrimp feed. If they do, locally produced shrimp feed might become available at a more competitive price. It remains to be seen how the political situation will affect the activities of companies like De Heus and Aller Aqua, and therefore whether they can help to bring Myanmar's fish and shrimp farmers the change that they'd hoped for.
Image

What does the future hold?
The recent political turmoil and the terrible situation that the people of Myanmar have been confronted with pose a threat to the development of the aquaculture sector in general and the shrimp sector – which is more dependent on the international market – in particular. Buyers may be hesitant to continue business and investors may well prefer to wait and see how the situation develops.
International sanctions so far only affect direct business with companies controlled by the military. One of two business conglomerates owned by the military is invested in a vertically integrated fish farmer, processor, and exporter. But this company isn't involved in shrimp. Foreign investors, however, and international buyers not yet active in the country may also be cautious when doing business in Myanmar in general.
Knowing the drive of the people of Myanmar's aquaculture sector, I'm 100% certain that once the situation is resolved, they'll be ready to move forward at full steam and, although the road will be long, they'll once again work to realize the full potential of Myanmar's aquaculture and shrimp industry.