Image

< Back
A Helicopter View of Northwestern Europe's Retail Landscape and the Players Driving It
Image

For quite some time, I thought Northwestern Europe (my current definition: Belgium, France, Germany, and the Netherlands) wouldn't be such a significant growth market for L. vannamei shrimp. However, recently imports in this part of Europe made a significant jump. While the wholesale market is probably responsible for a part of it, the retail market drives the larger volumes and is targeted by big Asian and Latin American suppliers that have grown their production volumes to such an extent that they look for partners able to absorb those volumes.
In this blog, I'll look at the latest Northwestern Europe shrimp import data and discuss this market's refreshed and frozen retail segments, their different characteristics and various players driving them. I'll provide an overview of the supermarket chains active in Northwestern Europe and the companies supplying shrimp to them. While my focus is on L. vannamei, I'll touch on other species when relevant.
In 2023, the Shrimp Blog is supported by: Inve Aquaculture, Taprobane Seafoods, DSM Animal Nutrition, Zeigler Nutrition, aquaconnect, Bioiberica, Megasupply, American Penaeid, and Omarsa.
Image

Northwestern Europe and Its Shrimp Imports
The trade data described in this section combines HS030617 and HS160521/29. HS030617 includes all Penaeus shrimp (L. vannamei and P. monodon), but also wild-caught warmwater shrimp such as a variety of Asian pink shrimp. HS codes 160521/29 include both warmwater and coldwater shrimp as the two cannot be separated in these HS codes. However, coldwater shrimp under these HS codes likely amounts to a maximum of 30%.
Let's first look at the relevant trade data. Figure 1 shows the size of the four countries in Northwestern Europe in terms of imports, exports, and estimation of domestic market size for warmwater shrimp in 2022. The vast majority of shrimp traded in the market are headless shell-on and peeled products (except in France, which will be explained below). Around 60% of the total shrimp supply and 75-85% of the supply to retail is L. vannamei. The remainder is a mix of farmed P. monodon and a range of wild-caught shrimp species. Combined, Belgium, France, Germany, and the Netherlands imported around 250,000-260,000 MT of headless shell-on and peeled warmwater shrimp. We'll look into each country in more detail below.
| | | | | | |
| --- | --- | --- | --- | --- | --- |
|   | Imports 2022 | Import Growth 2018-2022 | Exports 2022 | Export Growth 2018-2022 | Domestic market estimate |
| France | 126,585 MT | 19% | 10,443 MT | -9% | 116,142 MT |
| The Netherlands | 93,124 MT | 38% | 67,858 MT | 45% | 25,266 MT |
| Germany | 68,521 MT | 21% | 12,740 MT | 0% | 55,781 MT |
| Belgium | 60,641 MT | 39% | 45,075 MT | 29% | 15,566 MT |
Figure 1: 2022 warmwater shrimp import and export volumes (MT) under HS030617 and HS160521/29 and the trade balance
Source: ITC Trade Map.
Image

The Netherlands
Imports into the Netherlands have increased by 38% over the past couple of years. The country is a hub for imports, reprocessing, and sales to the wider European market. In 2022, the Netherlands imported 93,124 MT and exported 67,858 MT. Only about a quarter of imports (roughly 25,000 MT) made its way to the domestic market. The rest was shipped to other European countries. The Netherlands exports mainly to Germany (almost 50%), Belgium (12%), and France (10%), but also to a wide group of other European countries. Of exports, 35,000 MT was raw frozen and 32,000 MT value added.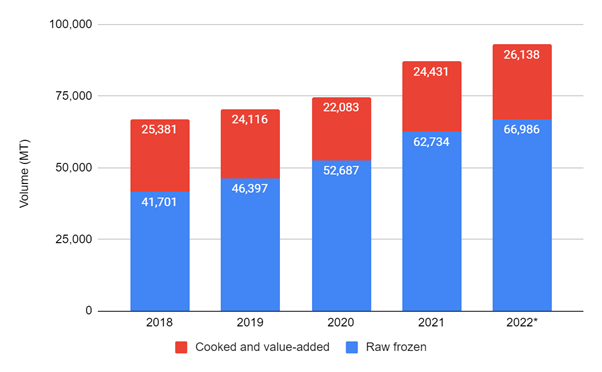 In 2022, Penaeus shrimp accounted for 50,000 MT of 67,000 MT of total raw frozen shrimp import volume. Of Penaeus shrimp, around 80% (40,000 MT) consisted of L. vannamei shrimp and around 20% of farmed and wild-caught P. monodon and other Peneaus species. While raw frozen L. vannamei was previously mainly sourced from India and Vietnam, Venezuela (9,000 MT), Ecuador (6,700 MT), and other Latin American suppliers (e.g. Honduras with 1,200 MT) are now catching up. If this trend continues, the majority of raw frozen L. vannamei imported into the Netherlands will soon originate from Latin America.
In terms of cooked and value-added imports into the Netherlands, the majority was North Sea shrimp (C. crangon): caught in the Netherlands, transported for processing to Morocco, and then shipped back to the Netherlands (almost 10,000 MT). Most of the cooked warmwater shrimp originated from Vietnam (8,200 MT), while other value-added products were mainly sourced from Indonesia (1,400 MT). Assuming that all cooked and value-added products from Asia and Latin America are L. vannamei, the total imports of that species into the Netherlands in 2022 was around 50,000 MT.
Germany
The German shrimp market hasn't grown in a similar way as the Dutch market. Still, especially if we look back a bit further, growth can be found: imports grew from 49,860 MT in 2015 to 68,521 MT in 2022. Although some of that growth came from coldwater shrimp from Greenland and possibly the Netherlands, most was due to warmwater shrimp imports from the Netherlands and Asia. With 12,740 MT in 2022, Germany is not a major re-exporter. The domestic market size for warmwater shrimp was around 55,000 MT, most likely the largest consumer market for headless shell-on and peeled warmwater shrimp in Europe.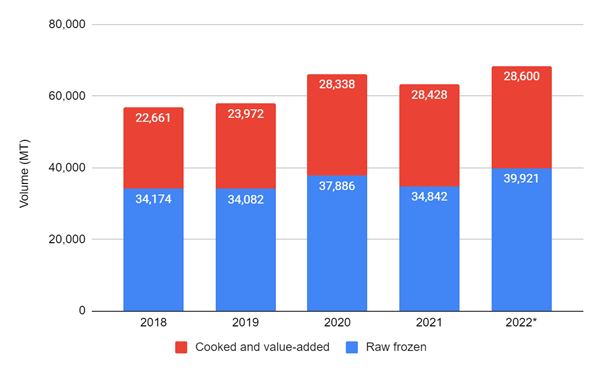 In the raw frozen segment, Penaeus shrimp accounted for around 75% of total imports into Germany in 2022. Raw frozen Penaeus originated mainly from Vietnam (8,300 MT, a mix of P. monodon and L. vannamei largely destined for retail), India (4,000 MT, a mix of L. vannamei destined for retail and wholesale and P. monodon mostly destined for wholesale), and Bangladesh (4,600 MT P. monodon mostly destined for wholesale). India's share in the German market is most impressive as it doubled since 2020.
Germany has a relatively large market for cooked products. In 2022, its cooked and value-added imports consisted of around 75% warmwater shrimp. 5,900 MT was directly imported from Vietnam, and the largest volume was sourced from the Netherlands (10,000 MT, a mix of cooked coldwater and warmwater shrimp). Companies like Heiploeg and Klaas Puul, which we will discuss below in this blog, play an important role in driving these volumes.
Belgium
Although Belgium's imports didn't grow a lot between 2018 and 2021, in 2022 they jumped to 60,614 MT. Just like the Netherlands, Belgium is an import hub for products that are sold in other European markets. In 2022, Belgium exported 45,075 MT, while the domestic market for warmwater shrimp was only around 15,000 MT. Exports in 2022 consisted of around 35,200 MT of raw frozen warmwater shrimp and 10,000 MT of cooked cold- and warmwater shrimp. They were shipped mainly to France (almost 40%), the Netherlands (20%), and Germany (10%), but also to a wide group of other European countries.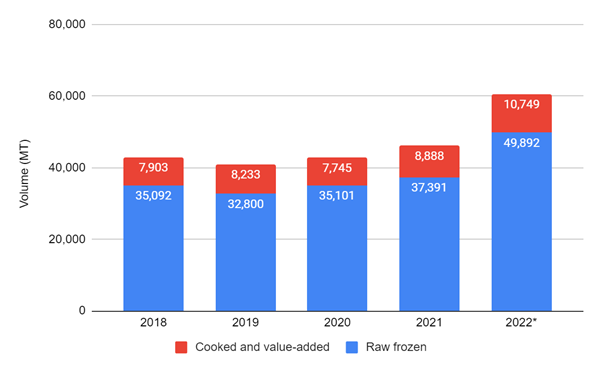 Penaeus shrimp represented around 82% (40,700 MT) of total raw frozen imports in 2022. The remainder (around 9,000 MT) was wild-caught Asian pink shrimp. Penaeus shrimp was responsible for the jump from 2021 to 2022. Around 75% of Penaeus shrimp was L. vannamei, and 25% was P. monodon. L. vannamei was mainly imported from India (13,000 MT) and Vietnam (around 6,000 MT), but Ecuador has also drastically increased its raw frozen Penaeus shipments to Belgium, reaching 7,900 MT in 2022 from just 1,600 MT in 2018. India and Ecuador were jointly responsible for the lion's share of the import jump from 2021 to 2022.
In 2022, imported cooked and value-added shrimp in Belgium mainly originated from Vietnam (4,000 MT), the Netherlands (3,000 MT), and a range of other countries. Although imports from the Netherlands might have included some coldwater shrimp, they primarily consisted of refreshed warmwater shrimp supplied by companies such as Heiploeg and Klaas Puul.
France
Why include France in a blog about Northwestern Europe? Because it's the odd one out in Southern Europe. Contrary to most retailers in Spain and Italy, French retailers also sell significant volumes of peeled warmwater shrimp besides head-on shell-on. While for the frozen segment, peeled warmwater shrimp is mainly supplied by French importers, for the refreshed segment it is supplied by large reprocessors in the Netherlands and Belgium. Therefore, when discussing France, I'll mainly look at the peeled products and not dig into the head-on shell-on market.
Let's try to pin down the size of the peeled market in France. For the sake of simplicity, I assume that all of France's imports from Asia in 2022 consisted of peeled warmwater shrimp (around 30,000 MT). And that at least 50% of imports of cooked and value-added shrimp from Belgium and the Netherlands consisted of warmwater shrimp (2,000 MT) and at least 10% of imports from Latin America was headless shell-on and peeled shrimp (7,000 MT). This adds up to around 40,000 MT of headless shell-on and peeled products in the French market, which makes it larger than the Netherlands and Belgium and just a little smaller than Germany.
Image

Northwestern Europe's Food Retailers
The European retail landscape is dominated by several German and French multinational organizations, although in each country a domestic retail chain generally maintains the top position. This section starts with a brief overview of the food retail markets in each of the Northwestern European countries.
Main retail organizations
Let's first look at the complete European food retail market, which is valued at around €2tn with more than 300,000 retail shops across Europe. The market is dominated by multinationals from Germany and France (both part of my definition of Northwestern Europe), which operate supermarket chains in various European countries. Some of the largest groups are:
Schwarz Gruppe: a family-owned retail group. It's Europe's largest retailer and the fourth-largest retailer in the world. The group's total turnover in FY 2020-2021 was around €125bn, about half of which came from its retail activities. It consists of the following supermarket chains:

Kaufland: operates around 1,400 stores in Germany and various Eastern European countries and had a turnover of around $20bn.
Lidl: one of the world's largest discounters. Operates more than 11,000 stores throughout Europe and over 100 stores in the US. Had a turnover of around $100bn.

Aldi: another one of the world's largest discounters. Founded by two brothers who later split the company into Aldi Sud and Aldi Nord. Combined, it operates more than 12,000 stores, mainly in Europe but also in the US and Asia. The turnover of the two groups combined was valued at around €100bn in 2022.

Sud: operates more than 7,000 stores, primarily in Germany and the US but also in 8 other European countries, Australia and China. Some of its supermarkets operate under the name Hofer KG. Turnover was around €76bn in 2022.
Nord: operates over 5,000 stores, primarily in Germany and France but also in 7 other European countries and the US. In the US, Aldi Nord's subsidiary is Trader Joe's. Turnover in 2022 was more than €25bn.

Rewe: Rewe and its subsidiaries operate around 6,000 stores in Germany and 3,500 in Austria and 12 other European countries. The group's total turnover was around $85bn in 2022, but part of this revenue comes from tourism activities. Rewe and Penny are the company's two largest supermarket chains. In Germany, they're responsible for a 2022 turnover of around €37bn, and about $17bn internationally.

Rewe: operates more than 3,700 stores across Germany.
Penny: a discounter, operates over 2,200 stores across Germany. The supermarket chain also has around 1,500 stores in other European countries.

Edeka: the largest German retail chain, holding around 20% market share. Its total turnover in 2022 was reportedly around €70bn and as such it's still among Europe's largest retail organizations, even though it's only active in Germany. Unites more than 4,100 stores under the Edeka brand and another number of stores as Spar Germany, Netto Marken-Discount, and Marktauf.
Carrefour: French multinational, operates close to 14,000 stores in over 30 countries on 4 continents. The group had a 2022 turnover of about €80bn. Around 50% of revenue is generated outside France, where the group is present in 5 European countries, 2 Latin American countries, 4 Asian countries, and 22 countries across Africa and the Middle East.
Les Mousquetaires: operates more than 4,000 stores across Europe, the majority of which are in France, and a couple of hundred stores in Portugal, Poland, and Belgium. Operates different brands such as Intermarché and Bricomarché. The group's turnover in 2022 was around €55bn.
E.Leclerc: operates more than 700 hypermarket stores in France and on top of that more than 80 stores in 7 other European countries. Turnover of around €50bn in 2022.
Ahold Delhaize: has its headquarters in the Netherlands but owns supermarket chains in the Netherlands, Belgium, 6 other European countries, the US, and Indonesia. Total turnover was around €85bn in 2022, €55bn of which was realized in the US and €30bn in Europe. It owns the following supermarket chains:

Albert Heijn: market leader in the Netherlands. With more than 1,000 shops its market share surpasses 35%.
Delhaize: second-largest retailer in Belgium. Albert Heijn also has stores in Belgium, but it doesn't compare to the more than 800 Delhaize stores in the country.
Foodlion: main supermarket chain owned by Ahold Delhaize in the US. Accounts for more than 1,000 of its close to 2,000 stores.
Image

The Netherlands
The total food retail market size in the Netherlands was around €50bn in 2021. Albert Heijn and Jumbo are the largest single brand supermarkets, jointly taking 47% market share. However, purchase organization Superunie, which represents several independent retail brands such as Plus, Coop, and Boni, accounts for 26% of the market. As such, only 5 major retail buyers are active on the Dutch market.
Top retailers in 2022 were:
Albert Heijn (Ahold Delhaize) (36%)
Superunie (26%)
Jumbo (21%)
Lidl (11%)
Aldi (5%)
Germany
The total food retail market size in Germany was around €240bn in 2021. Discounters have the largest market share, followed by supermarkets, hypermarkets, and online sales. Although Edeka and Rewe dominate the market, there are still many smaller retailers with considerable market shares.
Top retailers in 2022 were:
Edeka (21%)
Rewe (13%)
Aldi (11%)
Lidl (9%)
Kaufland (6%)
Other (40%)
Belgium
The total food retail market size in Belgium was around €31bn in 2021. Just like in the Netherlands, the market is relatively consolidated. National retailer Colruyt owns the largest share, while the other top retailers are all foreign owned.
Top retailers in 2019 were:
Colruyt (32%)
Ahold Delhaize (Delhaize, AD, Proxy, Shop'n Go, Albert Heijn) (25%)
Carrefour (18%)
Aldi (13%)
Lidl (10%)
Other (14%)
France
The total food retail market size in France was around €235bn in 2021. Traditionally, typical French hypermarkets dominated the market, but more recently smaller supermarkets and online sales are gaining market share. The market is slightly more consolidated than in Germany, but consumers still have a lot of choice.
Top retailers in 2022 were:
E.Leclerc (22%)
Carrefour (20%)
Intermarché (14%)
Système U (12%)
Auchan (8%)
Aldi (3%)
Other (21%)
Image

The Fresh and Refreshed Retail Segment and the Companies Supplying It
Most supermarkets in Northwestern Europe sell L. vannamei shrimp as refreshed and as frozen products. Unlike head-on shell-on products in Southern Europe, headless shell-on and peeled products in Northwestern Europe are normally not offered in bulk at fresh counters. Instead, they're usually offered in small 100-200 g trays. The vast majority of farmed shrimp in the refreshed segment is represented by L. vannamei. Other shrimp species include C. crangon (North Sea shrimp), P. borealis (Northern pink shrimp), and Seabob shrimp. Wild-caught shrimp is mostly MSC certified, while farmed shrimp has ASC certification. Retailers will often also have an organic item. Most products are sold as peeled deveined and peeled deveined tail-on. Often there are one or two headless shell-on or head-on shell-on items to complete the product range.
This segment is dominated by several larger players such as Heiploeg, Klaas Puul, and Morubel, who mainly import bulk individual quick freezing products. Depending on the company, they import cooked or raw products and thaw, cook, treat, and marinate them before packing and distributing them to retail clients. These players also often supply companies that prepare ready-to-eat meals for supermarkets, but don't use enough shrimp to import it themselves. Contrary to importers that just trade frozen products, importers in this segment make considerable capital investments in processing facilities, transport, and logistics.
There is one other group of players active in this segment: smaller companies offering a wider range of fresh or refreshed, smoked, and/or deep-fried fish. Contrary to large dedicated shrimp players, this group deals with much smaller volumes and isn't specialized in shrimp. It also often doesn't import shrimp but works with an importer who supplies it with frozen, fresh or refreshed bulk products. Most of these companies are integrated into larger seafood groups. Heiploeg, for example, acquired Profish, Mayonna belongs to Kennemervis Group, and Seafood Parlevliet is part of Cornelis Vrolijk/Primstar.
Image

Heiploeg
Heiploeg International is Europe's largest player in North Sea shrimp, the largest player in Seabob shrimp from Suriname and Guyana, and the largest importer and reprocessor of peeled L. vannamei shrimp. The company operates a large factory in Zoutkamp, a small fishing village in the far north of the Netherlands. It processes and packages local and imported shrimp as fresh and refreshed products.
Founded by two Dutch entrepreneurs back in 1900, and operating as Heiploeg since 1970, the company has changed ownership many times. In 2014, Dutch fishing firm Parlevliet van de Plas, the largest Dutch fishing company, acquired Heiploeg and made a restart with a number of the companies that were part of the group (not including Morubel, part of Heiploeg at the time). Since then, the group acquired important companies such as Deutsche See in Germany and Profish in the Netherlands, which helped grow its sales drastically.
Today, Heiploeg imports shrimp from a wide range of suppliers in Asia and Latin America. Through its network and the networks of group companies, it supplies many European retailers with refreshed, mainly peeled shrimp products. Heiploeg is the largest player in the segment.
Klaas Puul
Klaas Puul was founded in 1968 by Evert Puul who at the time was already peeling and trading North Sea shrimp in Volendam, a fishing village in the northwest of the Netherlands, where the company still has its operations today.
The company was family owned until 2016, when it was acquired by private equity fund H2. Under H2 ownership, Klaas Puul restructured its operations, built a brand new processing facility in Volendam, and renovated its operations in nearby Edam. In 2018, H2 acquired Foppen Paling & Zalm, another Volendam-based seafood company, and created the Dutch Seafood Company. The merger would turn out to be short lived. In 2020, when Klaas Puul was close to bankruptcy, H2 sold it to Sykes Seafood. Sykes' owner wanted to grow its business by entering continental Europe and saw an opportunity in snapping up Klaas Puul. Under the new ownership, Klaas Puul quickly rebuilt its business and is once again Heiploeg's main competitor in the European marketplace.
Besides Klaas Puul, Sykes recently acquired Ruskim Seafood and The Big Prawn Company, both in the UK, giving the group strong buying power across the world. As a group, Sykes is not only a major player in the refreshed segment but also in the frozen retail and the frozen wholesale markets.
Morubel
Morubel was established in 1954 in Oostende, a small fishing village on the Belgium coast. Previously focusing on fish processing and exports, since the 1980s shrimp imports have become the company's focus. The current facilities were constructed in 1993 and mainly consist of a processing and packaging site where Morubel mostly processes imported peeled shrimp into refreshed products for distribution to retailers throughout Europe. The company competes with Heiploeg and Klaas Puul.
Until 2014, Morubel was owned by Heiploeg. After Heiploeg's bankruptcy in 2014, Morubel wasn't acquired by Parlevliet van de Plas, but by private equity firm Bencis Capital. In 2016, Bencis also acquired German shrimp importer Ristic, which in turn owned Rainbow Exports, an aquaculture and processing operation in Costa Rica producing organic and conventional shrimp. This operation was maintained and Bencis merged the companies into one group known as Shore. Telson, a company specializing in the automated peeling of North Sea shrimp, also became part of the group. However, Rainbow Exports and Telson were divested in 2020.
It was known in the industry that Bencis was looking to sell Morubel. In 2022, it was acquired by Cooke. Already a big player in the salmon industry, the company had previously expressed its ambition to become one of the largest vertically integrated players in shrimp as well. After acquiring shrimp farming and processing operations in Central America, Morubel was Cooke's first move onto the European market.
Image

The Frozen Shrimp Segment and the Companies Supplying It
The frozen shrimp segment in most of Northwestern Europe's supermarkets has more product variety in terms of species and specifications than the refreshed segments. In the frozen segment, L. vannamei is still the main product, but you're likely to find P. monodon products as well. Although you'll mainly find peeled items, some headless shell-on and other items can also be found, as well as several breaded shrimp products.
Players in the frozen shrimp segment require less infrastructure than those in the refreshed segment. They don't need processing facilities as they're only moving containers and boxes. However, supplying retailers, whether with refreshed or frozen shrimp, requires being competitive in tenders for large contracts and keeping stocks to meet demand at any given time. To do this successfully, suppliers need high working capital and a solid financial basis.
An increasing number of retailers, such as Colruyt, Coop, and Rewe, are sourcing shrimp directly from the origin as well. But most retailers continue to depend on sourcing primarily through importers. Many retailers say they do this because, compared to other seafood such as salmon or pangasius, shrimp sourcing is too fragmented and volatile, and they can't understand the market thoroughly enough to make the right decisions.
Although also this market segment has seen some mergers and acquisitions over the past couple of years, at least two dozen importers are still taking part in this segment of the Northwestern European market in some sort of way. Here I'll list a few of the largest importers that supply the segment.
Image

Seafood Connection
Seafood Connection was established in 1995 in Urk, yet another Dutch fishing village. Since Maruha Nichiro, one of the world's largest seafood companies, got on board in 2013, Seafood Connection acquired several European companies such as Inlet Seafood (Spain) and Northcoast Seafoods (the UK). It also established sales offices in Portugal, Greece, France, Poland, and Denmark. Today, the company claims to trade around 70,000 MT of seafood. Although the majority consists of fish, the company's engagement in the shrimp industry has grown and most likely accounts for 10-20% of the volume.
Seafood Connection imports a wide variety of headless shell-on, peeled, and value-added items which it sells mostly in the ethnic and broadline wholesale markets across Europe. However, its frozen retail business is also expanding rapidly: some products can be found in the refreshed segment of several supermarkets. For that, the firm works together with companies like Mayonna that thaw and pack the products imported by Seafood Connection. Due to its engagement in the wholesale market, Seafood Connection is also a major buyer of P. monodon.
Gel-Pêche
Like many of France's shrimp companies, JMI Group started its seafood business in Madagascar after having invested in the local fishing industry. Gel-Pêche was set up as the company's import division in France. However, today it's most likely France's largest importer of peeled warmwater shrimp from Asia and Latin America. Its Asian shrimp originates mainly from India, but the company imports from across the continent. Since 2017, Gel-Pêche is part of JMI Group, which also owns Crusta C. Crusta C, in turn, is one of France's largest shrimp cookeries and supplies more than 10,000 MT of mainly head-on shell-on tropical shrimp to retailers across France, and in 2016 had a turnover of over €100m. Combined, the two companies sold over 15,000 MT of shrimp on the French market and had a turnover of more than €170m in 2021.
Escal
Escal is a family-owned company that started its business selling French specialty products on the German market. Today, the company offers a range of seafood, snails, and specialty products to retailers, mainly in Germany and France. The seafood business accounts for around 60% of the company's total turnover and shrimp is responsible for most of it. Escal is a strong brand and sells a wide range of farmed and wild-caught shrimp, including quite some organic shrimp products. Its L. vannamei shrimp is mainly imported from Ecuador, but also from India and Vietnam.
Costa Meeresspezialitäten
Costa sells a wide range of seafood products under its brand, which is well-known in some of Germany's and France's large retail chains. Various shrimp items are part of this range. Its L. vannamei shrimp is mainly sourced from Asia. Costa is part of the apetito group, a family-owned company with a presence in the ready-to-eat meals business in various European countries and Canada. From 1990 to 2008, Costa was owned by Dr. Oetker, a well-known food brand in Europe.
I.Schroeder KG
I.Schroeder is one of the largest suppliers of canned and bottled foods to the European retail sector and a major importer of frozen seafood. Its seafood imports in 2021 accounted for €50m-€100m, but this is only a minor part of the company's total turnover. Within seafood, shrimp accounts for a major part of turnover and imports are growing. I.Schroeder mainly imports L. vannamei (70%), some P. borealis and some P. monodon. Most of its L. vannamei is peeled and deveined (90%), and some of it is easy-peel sourced from Ecuador, India, Indonesia, and Peru. Part of the shrimp is used for its ready-to-eat meals, but most is supplied as frozen products to retail in Germany and other European countries.
Eastern Fish
Eastern Fish started as a US distributor of Alaskan and Canadian crab. In the early 1980s, the company turned to shrimp and today it's one of the major shrimp importers and distributors in the US. It's a bit of a strange fish on the Northwestern European market but the company supplies Delhaize in Belgium, which most likely happened as a result of the relationship with Ahold Delhaize in the US. Since 2014, Marubeni, a major Japanese company involved in the seafood industry, owns Eastern Fish, thus becoming the second-largest Japanese seafood company involved in the Northwestern European shrimp market.
Conclusion
While many of us tend to look at the US and China as growth markets for shrimp imports, I hope that this blog has shown you that the Northwestern European market for headless shell-on and peeled shrimp has been a growth market over the past couple of years, and with 250,000 MT not a small one. The wholesale market in Northwestern Europe holds dozens of potential clients while those in retail are fewer. However, it is the retail market that drives volumes and can give suppliers a more stable business environment, not the wholesale market. If you wish to become active in this segment of the European market, be willing to meet some of the world's most demanding requirements in terms of pricing, food safety, and sustainability.
Image