Image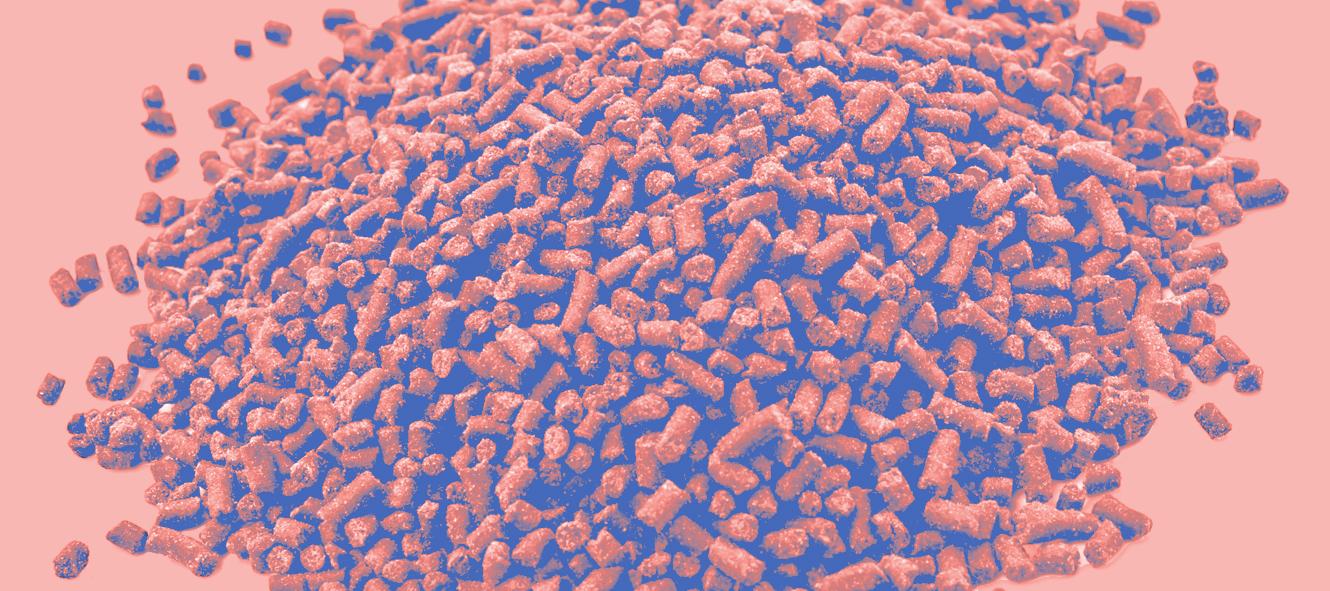 < Back
The Global Shrimp Feed Manufacturing Landscape. A Helicopter Overview.
While we're always quick to say that the shrimp industry is very fragmented, the feed segment differs from other segments of the value chain. In countries like Ecuador and Vietnam, the shrimp feed manufacturing segment is already very much consolidated and on its way to consolidate even further over the next couple of years. Other countries are likely to follow the same path. As consolidation increases, a relatively small number of global and regional players from Europe, the US, and Asia is slowly strengthening its grip on the industry as a whole. With that development, the responsibility of these players to drive innovation and help farmers be successful increases. In this blog, I'll provide you with snapshots of the players that shape the shrimp feed manufacturing landscape in Ecuador, India, Indonesia, Thailand, and Vietnam, as well as an overview of the most important multinational players that drive consolidation. It's not an in-depth analysis of shrimp feed manufacturing, but rather a brief overview of the landscape and its main players.
The Shrimp Blog is supported by: Inve Aquaculture, Benchmark Shrimp Genetics, Shrimp Improvement Systems, SPF Shrimp Feeds, Megasupply, DSM Animal Nutrition, Taprobane Seafood and Verwijs Import, Zeigler Nutrition, and Grobest.
This blog provides only a helicopter view of the shrimp feed manufacturing sector. Are you interested in a more detailed overview of the global shrimp feed production landscape? Get in touch for a quotation for more detailed information and, if desired, an on-demand PPT/PDF deck covering feed producers in most major markets in Latin America and Asia.
Image

AGRO COMMODITY AND ANIMAL FEED PLAYERS FROM THE US AND EUROPE HAVE GLOBAL PRESENCE IN SHRIMP INDUSTRY
Some of the larger agro commodity conglomerates and animal feed concerns in Europe and the US have in recent years rapidly become global shrimp feed players. Often having first invested in other animal feeds and salmon, these companies then moved on to shrimp. Most of these companies invest heavily in innovation and technology, and are key in driving the wider industry forward to a more resilient future. Besides manufacturing facilities, most of them have invested in their own R&D facilities, demonstration farms, smart farm management software, and smart feeding systems.
Image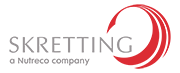 Skretting started producing commercial aquafeed in 1983 and, since 1994, has been part of Nutreco, today one of the world's largest animal feed producers. It's the largest salmon feed producer in the world, and the third largest shrimp feed producer. Skretting entered the shrimp industry in 2010 when it acquired Tomboy in Vietnam. More acquisitions soon followed with the acquisition of Shihai in China in 2011, and the acquisition of GISIS (the feed subsidiary of major shrimp producer Expalsa) in Ecuador and Honduras in 2012. In 2018, Skretting also started to build presence in the Indian market, announcing a JV with the West Coast Group. The new JV's facility in Gujarat opened this year. Currently, Skretting has at least seven manufacturing facilities producing shrimp feed in four countries, operates R&D facilities in Ecuador and China, and has announced an investment in another facility relevant for shrimp in Vietnam. Furthermore, the company fully owns smart feeding company Eruvaka and, through mutual ownership of the Fentener van Vlissingen Group, is related to Hendrix Genetics (Kona Bay), with which it owns a hatchery operation in Ecuador. While Skretting is the market leader in Ecuador, it is a relatively small (yet high-end) player in most of the Asian markets where it has presence.
Image

Image

Cargill, already a longstanding top 5 animal feed producer, has rapidly become a global leader in aquafeed. In 2021, the company sold 1.8m MT of aquafeed, of which more than 700,000 MT for warmwater species, including shrimp. Cargill now operates 20 feed mills across the world dedicated to aquafeed, 14 of which are dedicated to feed for warmwater species and 6 to feed for coldwater species. The feed mills for warmwater species are located in China (3), Ecuador (2), India (2), Indonesia, Mexico (2), Thailand, and Vietnam (3). Most of these facilities produce shrimp and fish feed. Another 21 of Cargill's feed mills focus on livestock feed and produce some aquafeed on the side. Cargill's shrimp feeds are sold under the Purina, Aquacel, and Liqualife (hatchery feeds) brands. Cargill's first major entry into the shrimp industry happened when it acquired Agribrands from Ralston Purina, making it the largest shrimp feed producer in Central America with facilities in, among others, Honduras, Mexico, and Venezuela. It maintains this position until today. When its announced JV with Skyvest (the owner of shrimp feed manufacturer Empagran) is concluded—and, together with another JV with shrimp farmer Naturisa, its existing capacity will double—Cargill will also become a major player in Ecuador's shrimp industry. With all its facilities in Latin America combined, Cargill is one of the most influential shrimp feed manufacturers in the region. This is different in Asia. Although the company has presence in most of the Asian countries that produce farmed shrimp, its position in these markets is much smaller. Nevertheless, at the global level, Cargill's overall presence in shrimp feed is impressive and to strengthen its presence further Cargill also operates a number of technical aquaculture centers and invests in the digitalization of the shrimp industry through its iQuatic platform.
Image

Denmark-headquartered BioMar was founded in the 1960s when it started pioneering fish feed production in Europe. In 2002, the company ventured into salmon in Chile and in the early 2010s also into Costa Rica and China. In Costa Rica, the company partnered with Aqua Corporación Internacional, a major tilapia producer. In China, the company operates in a JV with Tongwei, with which it opened a new facility in 2021. Although the company produces some shrimp feed in Costa Rica and China, its first fully dedicated investment for shrimp feed manufacturing was in 2017 when the company acquired Alimentsa in Ecuador. Today, after adding several new production lines and restructuring and expanding its facility, BioMar has become a top 5 player in Ecuador's shrimp feed sector. In 2021, BioMar made its next step into shrimp when it acquired a majority stake in the feed business unit of Viet Uc, the leading hatchery operator and major super-intensive shrimp farm operator in Vietnam. To further strengthen its position in shrimp, BioMar in 2022 also acquired AQ1, one of the world's leading smart feeding system suppliers. Although its shrimp business is slowly expanding, in 2021, shrimp feed sales only accounted for 11% of the company's total feed sales.
Image

Image

ADM is a global player in feed ingredients and animal feed. Since its acquisition of Neovia in 2018, ADM has been drastically expanding its presence in aquaculture feed. In the hatchery segment, the company operates under its BernAqua brand. In the growout segment the company has local brands in Latin America and in Asia. ADM has been present in Brazil since 1970 and has developed a strong aquafeed position that is still expanding, including in terms of shrimp feed. Since 2008, the company has been active in Mexico. In Ecuador, ADM has owned the local feed producer Balnova since 2019. Balnova has been in operation since 1991 and is currently only a small player in the country's shrimp industry. In Asia, ADM is mainly active in aquaculture in Vietnam (mainly under the Ocialis brand) and in China. The company sold its Neovia operations in Indonesia in 2020 to De Heus. Recently, ADM announced to aim specifically at expanding its sales to China from its operations in Vietnam.
Image

Although at a much smaller scale than the other companies mentioned in this section, Netherlands-based De Heus group is also slowly dipping its toes into shrimp feed. After already building a significant presence in Vietnam in animal feed in general and freshwater fish feed specifically since it entered the country in 2009, with the acquisition of Masan Group in 2021, De Heus has now become the country's largest producer of feed for freshwater fish. With the facilities of Masan, De Heus now has the capacity to produce 4m MT of animal feed in Vietnam of which a significant part is dedicated to aquafeed. While it is still a relatively small-scale player, the company has also developed shrimp feeds which it sells to selected customers in Vietnam. When venturing into Indonesia in 2020 following the acquisition of Neovia's operations in the country, one of the latter's feed mills already had a small footprint in shrimp feed. While the company's focus in Asia is mostly on fish feed, De Heus is likely to aspire to grow its market share in shrimp over time as well.
Image

MOST MAJOR GLOBAL PLAYERS HAVE GAINED A FOOTHOLD IN ECUADOR
Ecuador's shrimp industry is growing fast. This means that not only production has been increasing, but the feed industry, too, has had to continuously expand its production capacity. And so it did. Total feed manufacturing capacity in Ecuador is estimated to be around 2.1m MT with actual demand around 2m MT in 2022. This is based on the assumption that Ecuador will produce 1.3m MT of shrimp and that farmers will achieve an average feed conversion ratio of around 1.5.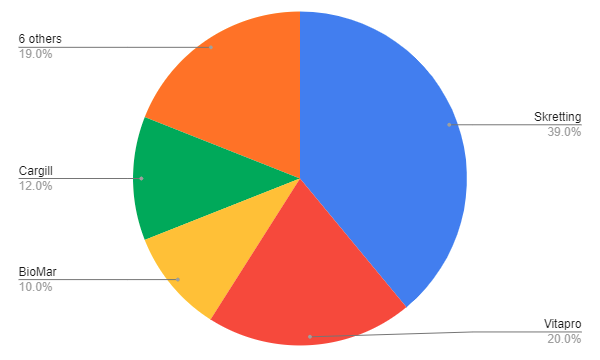 While in the first decade and a half of the 21st century, the Ecuadorian shrimp feed industry was still largely dominated by local producers, today there are only a few local players that remain active. In recent years, foreign animal feed producers have been investing in the country one after the next. These companies established JVs with local players through which they first took over existing facilities and, in most cases, later expanded their capacity by adding production lines to the existing facilities, or acquiring land to build completely new sites. Some companies ventured into Ecuador starting with a greenfield project from the beginning. Let's take a look at these major international players and their business in Ecuador:
Skretting was the first international aquafeed player to venture into Ecuador when it acquired 75% of the shares of Expalsa in 2012. GISIS was the aquafeed operation of major Ecuadorian shrimp producer Expalsa, and operated feed mills in Ecuador and Honduras. In 2022, Skretting has become Ecuador's market leader, both in terms of capacity as well as in terms of actual production. The company operates three feed mills and most likely has a production capacity of around 800,000 MT annually. Its market share is around 40%. The company was the first to introduce extruded shrimp feeds in Ecuador, which is now becoming the new norm. To further strengthen its position, Skretting recently opened a new aquaculture research centre which will also put the company in a good position to become a market leader in terms of innovation.
Vitapro, part of Peru's Alicorp, entered Ecuador in 2013 when it opened its first feed mill named Inbalnor, which was a JV partnership with Santa Priscila. Today, Santa Priscila is Ecuador's number one shrimp farmer and exporter and as such provides Vitapro with a stable market. Since its entry, Vitapro has continued expanding its factory in Ecuador and currently has a production capacity in the country of around 400,000 MT. Vitapro also uses its 170,000 MT feed mill in Trujillo, Peru, just across the border, to supply Ecuador as demand has outgrown its local capacity. Last year, Vitapro announced that it would invest $80m in 2022 to develop a new plant which will increase its capacity in Ecuador by 45%. By doing so, Vitapro, which currently has around 20% market share, consolidates its position and allows itself to keep up with the Ecuadorian shrimp industry.
Cargill ventured into Ecuador for the first time in 2015 when it established a JV with Naturisa, one of the farming operations that co-owns Ecuador's third largest shrimp exporter Songa. The JV opened a new shrimp feed mill that started operations in 2018. They claimed it to be the most technologically advanced feed mill in Ecuador at that time. In November 2022, Cargill, together with Naturisa, announced a JV with Skyvest, the owner of Empagran, the feed division of another vertically integrated shrimp producer in Ecuador—a next step to expand its footprint in Ecuador. When this acquisition is concluded, Cargill's capacity in Ecuador is expected to double, with an annual feed production capacity of around 250,000-300,000 MT.
In 2017, BioMar acquired a majority share of 70% in Ecuador's Alimentsa, one of the largest shrimp feed producers in the country. At that time, the capacity of Alimentsa's factory was around 120,000 MT with actual annual sales of 70,000 MT and a market share of around 15%. Since the acquisition, BioMar has continuously invested in the company, including purchasing new land, adding extrusion lines, and redesigning the existing factory. Currently, it has the capacity to produce around 220,000 MT of shrimp feed annually, which should increase to 400,000 MT once all the announced investments are completed. Since Cargill's announcement of its JV with Skyvest, significantly expanding its capacity, BioMar is now the fourth largest shrimp feed manufacturer in Ecuador.
Guang Dong Haid, China's largest aquafeed producer, entered the Ecuadorian market in 2019 when it started the construction of a 50,000 MT feed plant as part of its overseas expansion plans. This plant is a greenfield project and operates as a fully owned subsidiary. Operations started in 2022 and the company is slowly gaining market share.
Local players that still maintain small market shares include Agripac, Inprosa, Molinos Champion, and Bioalimentar.
MULTINATIONAL ASIAN FEED COMPANIES HAVE THE LARGEST MARKET SHARES IN THEIR OWN GEOGRAPHY
Most of the Asian companies manufacturing shrimp feed have been involved in the shrimp industry much longer than the European and US companies that I listed above. While these European and US-based companies currently dominate the shrimp feed sector in Ecuador, Asian multinationals still control a large part of the shrimp feed market in most East and Southeast Asian countries.
Image

Bangkok-headquartered CP Foods is most likely the world's largest shrimp feed producer, at least in terms of capacity. In terms of actual sales, it might compete for the first place with Guang Dong Haid. But its presence in shrimp is not global. Its feed manufacturing operations are located within South and Southeast Asia. Aquafeed only represents 15% of CP Food's total feed sales worldwide, most of which is sold outside Thailand. Besides its operations in Thailand (where it is the number one producer with 600,000 MT capacity and 150,000 MT actual sales), CP Foods owns subsidiaries and JVs in China (where it is one of the top 10 producers), India (where it has a production capacity of 400,000 MT and is the number two producer), Malaysia (number one producer), the Philippines (number one producer) and Vietnam (400,000 MT capacity and number one or two producer). Although the company also produces some fish feed, the vast majority of its sales is represented by shrimp feed. The company is not only a major player in feed but also in shrimp genetics. It operates multiple NBCs for P. monodon and L. vannamei in Thailand and supplies its subsidiaries and some external partners across Asia. In the 1980s, CP Foods founded CP Prima in Indonesia. Besides being the largest shrimp feed and shrimp hatchery operator in Indonesia, CP Prima until recently owned some of the world's largest shrimp farms and is also a major shrimp exporter. Today, CP Prima is a fully independent company.
Image

Image

Thai Union is well known as one of the world's largest tuna and shrimp conglomerates. It has not only invested in the industry in Thailand, but also owns a range of brands and import companies that provide it with access to markets. The company even has its own restaurant chains, such as the famous Red Lobster. In terms of its shrimp feed business, which operates as Thai Union Feedmill (TFM), the company operates two large feed mills in Thailand with a combined capacity of 250,000 MT aquafeed of which around 165,000 MT is dedicated to shrimp, making it the second largest player after CP Foods. India is where TFM has its largest footprint in terms of shrimp feed where, in 2009, it invested in India's largest shrimp feed producer Avanti Feeds. Avanti has over 600,000 MT annual capacity. And if that is not enough, Avanti is already building its next feed mill, adding yet another 175,000 MT of production capacity. In 2016, Thai Union also invested in the processing division of Avanti (known as Avanti Frozen Foods) to strengthen its access to Indian shrimp for its US import division Chicken of the Sea and restaurant chain Red Lobster. In Q4 2021, TFM opened its first 35,000 MT capacity shrimp feed manufacturing plant in Indonesia. The Indonesian company is named Thai Union Karisma Lestari, and is a JV with local seafood company PT MSK and Avanti. TFM furthermore invested in a JV aquafeed operation in Pakistan in 2021, but it's unclear whether this feed mill also produces shrimp feed.
Image

Grobest was founded in 1974 in Taiwan, with headquarters today in Taiwan and Hong Kong, and has 13 manufacturing units across China (since 1993), India (since 2002), Indonesia (since 1989), Malaysia (2014), the Philippines (since 2013), Taiwan (since 1974), Thailand (since 1988), and Vietnam (since 2001). After CP Foods, the company has the biggest presence in Asia's shrimp industry. The company's largest operations are in Vietnam and China where it operates multiple large manufacturing plants. While the company vies with CP Foods for the top position in Vietnam, in most other countries Grobest is a relatively small but high-end player. The company is primarily focused on shrimp feed and has local brands in each market, but in most of the countries the company also produces significant volumes of fish feed for a variety of species. In 2018, Grobest was acquired by Permira, a major private equity fund. Permira supports Grobest in modernizing its management structures and strategy and is likely to be looking to sell its shares in the company not too far in the future.
Image

Image

Guang Dong Haid is the second largest animal feed producer (with total feed sales of 20m MT) and largest aquafeed producer (with total sales of 5m MT) in China and owns more than 600 subsidiaries within China and abroad. Its overseas business represents around 8-10% of its total sales. Although its exact shrimp feed sales are unknown, the company is believed to have surpassed CP Foods' shrimp feed sales. The company was established in 1998 and initially focused on the premix market for aquaculture in China. Over the years, the company established a range of subsidiaries that paved the way for the company to enter the aquaculture market in various parts of China and also the broader livestock feed market in China. Guang Dong Haid furthermore established a genetics and hatchery business known as Hisenor, allowing it to not only sell feed but also fingerlings and PL to its clients. The company even has its own nucleus breeding program (NBC) supplying broodstock to its hatcheries in China. Since 2009, the company has been stock listed in China. Outside China, Guang Dong Haid is active in Vietnam (its largest overseas operation), India, Indonesia, Malaysia, and, since 2019, also in Ecuador, where it established a brand-new feed mill that is now rapidly gaining market share.
Image

Another Chinese company that is expanding its market in China and overseas in India, Indonesia, and Vietnam, is New Hope Liuhe, China's largest animal feed producer with aquaculture feed manufacturing operations (although with a sales volume of 1.3m MT, making it smaller than Guang Dong Haid). In most countries the company produces both shrimp and fish feed.
THAI SHRIMP FEED MANUFACTURERS OPERATE AT OVERCAPACITY SINCE THE PARTIAL COLLAPSE AFTER EMS
Ever since Thailand's shrimp production all but collapsed when the early mortality syndrome hit the farming sector, the country's feed manufacturers nowadays operate with significant overcapacity. While the local demand for shrimp feed is estimated at around 500,000 MT, the current capacity is estimated to be around 1.5m MT. CP Foods and Thai Union, the two largest aquaculture companies in Thailand, are major players in the regional shrimp feed sector as well as in the wider shrimp industry—CP Foods primarily through its investments in shrimp genetics and hatcheries, and Thai Union primarily through its investments in shrimp processing and import and distribution companies. Besides CP Foods and Thai Union, there are at least nine other companies having shrimp feed production capacity in Thailand. International shrimp feed players with a presence in Thailand include Cargill and Grobest. 
INDIA'S FEED MANUFACTURER LANDSCAPE REMAINS RELATIVELY FRAGMENTED
While Ecuador's shrimp feed sector has become highly consolidated over the years, the situation in India is different. The total feed market is estimated to be around 1.4m MT while the total capacity is estimated to be around 2.4m MT, indicating a significant overcapacity. The two biggest players (Avanti and CP Aquaculture India) combined are believed to account for respectively 25% and 20% of total capacity. The remaining 55% is shared between a group of around 30 feed manufacturers. Nonetheless, sales are dominated by Avanti which on its own accounts for around 50% of total shrimp feed sales.
While most multinational players have a foothold in the Indian market, local players still have a significant share of the market in their hands. Let's divide India's feed players in the following four categories:
Feed-oriented shrimp companies with foreign ownership

Avanti Feeds (partly owned by Thai Union which made the first investment made in 2009) and CP Foods-owned CP Aquaculture India (a 75% owned subsidiary since 2021) have the largest shrimp feed manufacturing capacities in India by far. Both operate multiple factories on the east coast and a feed mill in Gujarat on the west coast. According to its annual report of 2021-2022, Avanti sold 540,000 MT of shrimp feed, up from 473,000 MT the year before. Although CP Aquaculture India's sales are unknown, anecdotal evidence suggests that its sales relative to its capacity are lower than Avanti's. Avanti is not only a major feed producer, but has also become a major exporter, with a focus on the US market, and owns a shrimp hatchery as well. CP Aquaculture India, besides being the number two feed manufacturer, is a top 5 player in the hatchery segment and also operates a shrimp processing and exports business.

Other foreign owned shrimp feed manufacturers in India:

Grobest was actually one of the first foreign companies active in India, having opened its first plant in 1993. In recent years, the company has seen its market shares dwindle.
Cargill entered the Indian market earlier, initially via Matrix Biosciences, with which they first entered in a JV in 2006 and with which they established a feed mill, but Cargill then acquired the whole operation a few years later. In 2018, the company acquired Mulpuri Feeds and Food and upgraded that feed mill to a dedicated aquafeed facility with a production capacity of 90,000 MT.
Sheng Long Biotech India (a subsidiary of Guang Dong Haid) entered the Indian market in 2015, and reportedly, supported by a loan from the International Finance Corporation (IFC), has plans to open a second feed mill in the country soon.
After selling Vietnamese shrimp in the Indian market for several years, Skretting built a physical presence in India in 2019 with a JV with the West Coast Group, and opened its first feed mill in Gujarat this year.



Shrimp processors that ventured into shrimp feed

While in Ecuador we have seen that most vertically integrated shrimp producers have either sold their feed manufacturing divisions, or have established JVs with multinational shrimp feed producers to operate these divisions in partnership, in India many of the country's major exporters have in recent years been investing in their own shrimp feed manufacturing capacity by themselves.

The Waterbase and Sharat Industries already invested in shrimp feed manufacturing before the L. vannamei boom in India, but after that many others followed. Devi Seafoods was one of the first, BMR Industries, Devi Fisheries, Sandhya Marines and many others followed. While Devi Seafoods and BMR have larger capacities, most others operate smaller shrimp feed manufacturing units with a production capacity of 35,000-70,000 MT. Devi Seafoods is about to open its third feedmill adding another 100,000 MT to its production capacity bringing the total to 300,000 MT. According to some sources, in terms of actual feed sales, Devi Seafoods may soon take over the number two position from CP Aquaculture India. That would be a real change in the market, with CP Aquaculture India having been in second position for so many years.

While the largest players also sell their feed on the open market, most of these processors and exporters ventured into shrimp feed manufacturing to get in a better position to supply shrimp feed to farmers in their captive supply chains and improve the margins on their buy-back arrangements (where they prefinance feed and other inputs in exchange for a first right of refusal when the shrimp is harvested).

Companies that fit into this category are: Ananda Group, BMR Industries, Devi Fisheries, Devi Sea Foods, Falcon Marine, Royal Marine Impex, Sandhya Marines, Sharat Industries.

Domestically owned feed-oriented aquaculture companies

While CP Foods and Thai Union dominate the Indian shrimp feed sector, fully domestically owned companies such as Growel Group, Deepak Nexgen, and The Waterbase also still have significant market shares. Growel Industries and Deepak Nexgen, the two largest of these companies do not only focus on shrimp, but also have significant production capacities for fish feed. Most of these companies have not only invested in shrimp feed manufacturing, but also operate shrimp farms, hatcheries, and/or processing establishments. They are to various extents vertically integrated, but their core focus is on the feed segment of the industry. Growel Group is considered to be a driver of innovation in the Indian industry, having invested in its own indoor and outdoor trial facilities and pilot plants, which no other local company does at the same level and scale. Growel Group is also the only company to have invested in a twin-screw extruder for shrimp feed production, allowing it to produce extruded shrimp feeds for local special feeds, and for exports to e.g. Saudi Arabia.

Companies that fit into this category are: Coastal Feeds, Deepak Nexgen, Fedora Sea Foods, Growel Industries, Ishi Marine Technologies, NG Feeds, RNK Agro, The Waterbase, Unibait.

Domestically owned broadline animal feed producers

Some of the larger domestic broadline animal feed producers have also established shrimp feed manufacturing capacity. This includes India's major agricultural conglomerate Godrej Agrovet, but also poultry-oriented companies such as IB Group and the Pasupathi Group. These companies can leverage their advantage in terms of scale, but still have to navigate the much more fragmented Indian shrimp landscape to be successful.

Companies that fit into this category are: Godrej Agrovet, IB Group, Pasupathi Group
VIETNAM'S SHRIMP FEED MANUFACTURER'S LANDSCAPE IS CONTROLLED BY ASIAN MULTINATIONALS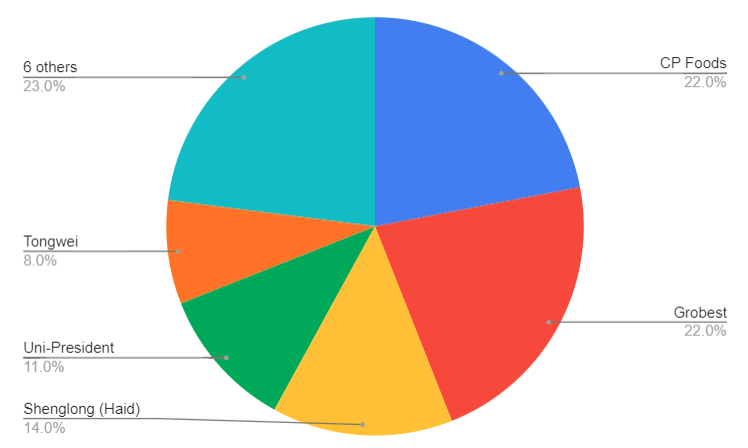 Just like in Ecuador, Vietnam's shrimp feed sector has been largely taken over by foreign multinational shrimp feed manufacturers. The top producers are Asian-based conglomerates including CP Vietnam (CP Foods, Thailand), Grobest Vietnam (Taiwan), Sheng Long Biotech (a subsidiary of Guang Dong Haid, China), Uni-President (Taiwan) and Evergreen (China). But European and American companies including Skretting, Cargill, De Heus, and BioMar have investments in Vietnam as well. Interestingly, although some of the companies have also invested in the breeding and processing segment of the industry, just like in Ecuador, the level of integration of the feed companies in Vietnam is relatively limited, especially compared to the situation in India.
Image

INDONESIA'S LEADING FEED MANUFACTURERS ARE STILL DOMESTICALLY OWNED BUT CHINESE COMPANIES RAPIDLY PENETRATE AND GAIN MARKET SHARES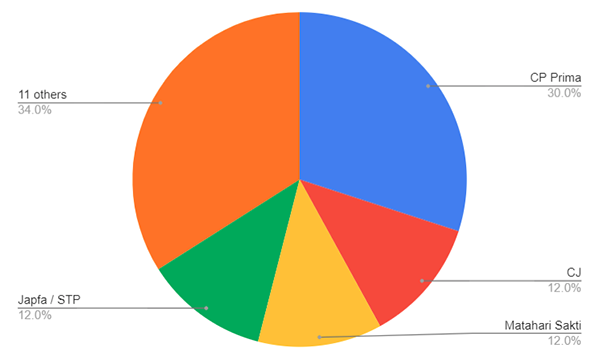 The shrimp feed manufacturing sector in Indonesia is relatively consolidated and concentrated in the hands of only a few players. The top 4 players hold around 70% of total shrimp feed manufacturing capacity in the country. However, contrary to other countries where the sector is so consolidated, in Indonesia most of the largest producers remain domestically owned.

Still, in Indonesia international players have also established a foothold. Some, such as Grobest, have been active in the country for many years, but most only entered the Indonesian market in recent years. This includes Cargill, Thai Union, New Hope, Evergreen, Tongwei, Guang Dong Haid, and De Heus.

Most of the feed companies in Indonesia produce a range of aquatic feeds for the wide array of fish species and shrimp that are cultivated by Indonesia's aquaculture farmers. According to some sources, especially the Chinese companies have been very aggressively competing for market share and have put the established feed companies' market shares under pressure.
Image

CONCLUSION
While the shrimp industry's feed segment is increasingly coming under the control of larger multinational companies from especially Europe, the US and Asia, many smaller local players also remain present in the market. This is the case in markets such as India and Indonesia, but also in smaller markets such as Brazil, the Philippines, Saudi Arabia and Venezuela. Often, the feed companies in these countries are larger broadline animal feed producers, and specialized aquaculture feed producers that are part of larger vertically integrated companies. It is not unlikely that these independent companies are experiencing continuous interest from the larger multinational shrimp feed players who are looking to grow their business further through mergers and acquisitions.
This blog provides only a helicopter view of the shrimp feed manufacturing sector. Are you interested in a more detailed overview of the global shrimp feed production landscape? Get in touch for a quotation for more detailed information and, if desired, an on-demand PPT/PDF deck covering feed producers in most major markets in Latin America and Asia.
Image

Disclaimer: The data presented in this blog is sourced from news articles, company websites, direct communications with companies involved, and expert opinions. All data presented in the graphs in this blog represent shrimp manufacturing capacity shares, not feed sales shares. Although I'm confident that the information in this blog provides a good indication of the actual situation, it should not be interpreted or used as a basis for decision-making, merely as a source of opinion.