Image
< Back
BROODSTOCK: MY 2020/2021 MARKET REVIEW AND OUTLOOK
Ok, this is going to be a long one, but it will surely be worth your time! Last year, I published the Shrimp Insights Report Series "L. Vannamei Broodstock Report", and it's been downloaded more than 1,100 times so far. According to some of my readers, it's the most comprehensive report on this segment of the industry out there. In this Shrimp Blog, I look at how the broodstock market developed during the COVID-19 pandemic in 2020, and what developments we can expect from broodstock suppliers in 2021 and beyond.
 
Thanks go to Robin (API), Robins (CPF), Ricardo (SyAqua), David (SIS), Neil (Kona Bay), and Oscar (Benchmark) for sharing your perspectives!
LOGISTICS CONTINUE TO CHALLENGE BROODSTOCK SUPPLIERS AND THEIR CUSTOMERS
Being almost entirely dependent on international air transport, broodstock companies and their customers have been heavily affected by logistical disruptions caused by COVID-19. When the first wave swept around the world, cargo space became scarcely available and many flight schedules were halted. For broodstock companies, it became a real challenge to get their broodstock delivered to their clients at the right time. Even if cargo space was available, it was often doubtful whether local logistical conditions would allow the broodstock to be delivered to the hatcheries. 
Image 1: Benchmark broodstock packaged for shipment
Image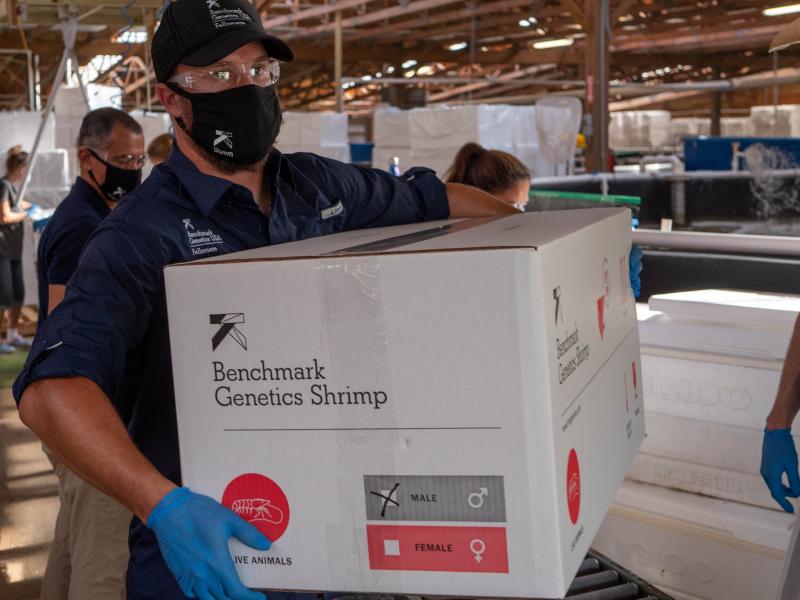 Source: Benchmark Shrimp Genetics
While the companies in Florida located close to three international airports could mostly still find regular flights, companies in Hawaii faced more serious challenges. Neil Manchester of Hendrix Genetics, which owns Kona Bay, told me that Kona Bay was heavily impacted by the many flight disruptions from Hawaii. Kona Bay managed to overcome these challenges by chartering its own flights and gearing up for very large shipments in one batch. This solution allowed the company to resume sales to India as early as May 2020.
 
Although all of the broodstock companies claim that they have proven to be crisis resilient and have managed to keep business going, they all experienced significant added freight costs. Most of the companies say that they absorbed these costs directly, but some hatchery operators also report that broodstock prices did actually increase during 2020. While the average cost of a broodstock in 2019 was around $55, some of my sources in India have told me that in 2020 the cost increased to $60 or $65 on average.
Image

Although vaccination campaigns around the world might provide us with some relief soon, most of the broodstock companies expect air cargo space to remain very limited, at least in the first half of 2021. This means continued higher freight costs and general logistical challenges in a bid to deliver products at the right time to the right place. All of these companies are, nevertheless, confident that they will not let their customers down, and actually believe that strong demand from Asia might drive the broodstock business to new record heights in 2021.
THE DAYS OF HAVING ONE SHRIMP THAT CAN DO IT ALL ARE NUMBERED
While earlier the focus of broodstock companies was on supplying Asian shrimp farmers with an SPF animal with the fastest possible growth rate, improved breeding technology now enables broodstock companies to offer these farmers genetics with more specific traits. SIS, Kona Bay, CPF, and Benchmark were among the first to offer different genetic lines, but other companies like SyAqua, API, and SPD also plan to offer different lines to the market soon; all companies (except API which states to continue to focus primarily on survival) offer – or are planning to offer – at least one line focused on growth and one focused on survivability.  
Image 2: Marketing material for CPF's new "The Bolt" fast-growth genetics line, which will initially be used to supply super-intensive farms in the US.
 
Image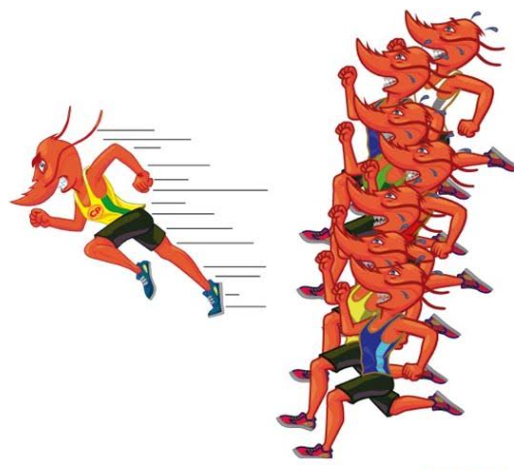 Source: Home Grown Shrimp US

These companies' lines with high survival rates are promoted under names reflecting this, such as "the Hardy" (SIS), "Strength" (Kona Bay), "Kong" (CPF), and "Protect" (Benchmark). The focus put on bringing their robust lines to the market is likely to be accelerated by the success of API's "High Vigor" broodstock, especially in China – API had a breakthrough with its broodstock derived from all pathogens exposed (APE) animals from Ecuador that proved to be superior in terms of survivability in harsh farming environments. With severe disease challenges in China's shrimp farms that continue to be present, survivability is more important than growth, and API managed to gain a 45% market share within a couple of years. API is currently trying to expand to other markets where farmers struggle with disease as well. With new lines also promoting robustness, the other companies are aiming to compete with API in this market segment.
 
In more intensive (indoor) shrimp farms in the US, Europe and Vietnam, for example, but also in China and Indonesia, farmers aren't looking for animals that survive in harsh environments, but for shrimp that grow quickly and allow the production cycle to be shortened. Robustness is less of an issue as long as the animals are specific pathogen free (SPF). To meet the demand of these farms, SIS, Kona Bay, and CPF also recently started to promote their "Fast" (SIS), "Speed" (Kona Bay), "Yield" (Benchmark), "Turbo" and (more recently) "Bolt" (CPF) lines. These lines are only promoted to those farmers with the highest biosecurity measures in place, as in other environments these lines may underperform in terms of survivability. Both the robust and growth lines are often promoted at a premium price compared to the conventional lines that balance these two traits.
Image

 
While acknowledging that most of the leading genetics companies, including SyAqua itself, have started to develop – or already offer – different breeding lines for different environments, SyAqua's Ricardo Mello stresses there is still a significant market for shrimp lines that express both good growth and an increased level of resistance or tolerance to important diseases. Many farms in Asia operate under semi-intensive culture systems with a higher level of biosecurity. These farms need animals that grow fast but that are also able to withstand environmental challenges and pathogen exposure. It's these farms that are best served with a balanced line combining good growth, resistance to diseases, and the capacity to thrive under different environmental conditions. This is a valid point, and I find it important to stress that the newly launched lines come in addition to the existing lines – they don't replace the existing lines that see most companies striving to reach the optimal balance between growth and tolerance, but rather they target specific groups of customers.
 
Although not actively promoting different lines yet, Robin Pearl, API's chief shrimper, also acknowledges the trend and argues that the diversification of breeding lines is only in its earliest stage of development, and that API will also soon offer more than one line, telling me that "the days of having one shrimp that can do it all are numbered". Using a DNA lab where he can test thousands of shrimp each day, API is well on its way to developing a variety of lines that, according to Pearl, can take the industry to the next level. He even expects to have 100-200 different breeds with specific traits for specific clients in the foreseeable future. And while all companies claim superiority in one way or another, they also all acknowledge that the proof will eventually come from how they perform: the proof will be in the pudding, as the saying goes. 
FIERCE COMPETITION FOR THE BROODSTOCK MARKET IN CHINA TO BE EXPECTED
With an estimated 600,000 broodstock imported in 2020, China is by far the world's largest L. vannamei broodstock market. Until 2017, the market was dominated by CPF, SIS, and Kona Bay. Since CPF decided to stop selling broodstock on the open market in China in 2017, and SIS and Kona Bay's exports almost entirely came to a halt (reportedly due to the underperformance of their broodstock in a shift to more tolerant lines), other suppliers filled the vacuum. Within a couple of years, API became the market leader with a 45% share of the market, followed by SyAqua and Top Aquaculture Technology.
 
In 2021, competition is expected to ramp up as almost every broodstock company has plans to expand in China. CPF's Robins McIntosh recently announced in an interview with Undercurrent News that CPF has decided to start selling on the open market in China again and is aiming for a 50% market share by 2023 starting with 100,000 broodstock in 2021. To regain market share, the company is particularly pushing its "Kong" line, an SPF line with a high tolerance to disease. McIntosh recently commented to me that "China is competitive, but in the end it will be which stocks make money for the farmer. We believe we have such a stock in CP Kong. Time will tell".
Image 3: Kona Bay broodstock on its way from Hawaii to Guangdong in China in December 2020
Image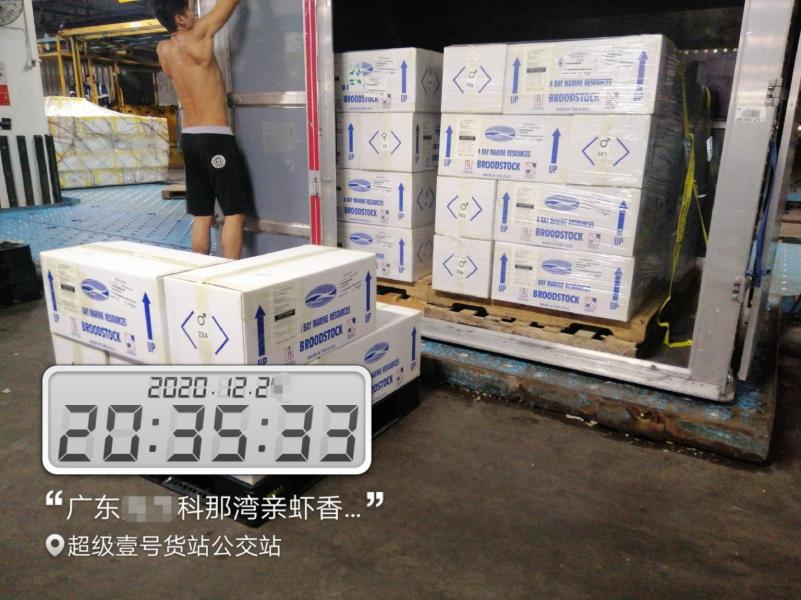 Source: Jiangua (Jerry) Shi, Kona Bay's Sales Manager in Asia 
Kona Bay also plans to expand its presence in China. China used to be a big market for Kona Bay, but sales collapsed after 2016 when Chinese hatcheries' preference for SPT broodstock started to grow – see my Report Series pp. 44-45. With its newly developed "Strength" line, Kona Bay aims to compete with API and others in this segment in China. According to Manchester of Hendrix Genetics (owner of Kona Bay), API really took advantage of the demand for robust broodstock in China, but there is now clearly space in the market for alternative suppliers. In 2020, Kona Bay already managed to sell more broodstock to China, and this even went some way to compensating for a shortfall in sales to some other markets.
Image

Mello of SyAqua told me that SyAqua aims to consolidate its market in China in 2021 and beyond. SyAqua's position in the Chinese market was achieved with its "Balanced" line, a line that has been performing well for the last 3 or 4 years. With a different strategy to API, SyAqua has not been focusing on promoting the robustness of their animals but rather their balanced performance in terms of growth and tolerance, and in doing so has targeted a different market segment to API. Both Mello of SyAqua and Manchester of Hendrix Genetics emphasize that the broodstock market in China is large, and the needs of hatcheries and farmers are very diverse. This offers opportunities for different suppliers that can offer different traits – for example, super-intensive farms in China are looking for fast growth lines. However, both acknowledge that in the short term, the market that demands robustness (as opposed to growth) is the largest segment. Both hope to supply this market with their robust lines. Manchester added that in addition to robustness at the farm, hatchery performance is also a crucial factor – Kona Bay may therefore have an edge there in terms of fecundity (i.e. the number of post-larvae produced from a broodstock). 
 
In 2020, API continued to gain customers. When asked how he feels about the increased competition that API might be confronted with in China, Pearl acknowledges that pretty much all of API's competitors are coming with new lines that, just like API, focus on robustness and survivability. But he argues that this actually validates API's strategy: now all broodstock companies are promoting survival rates instead of growth rates. Pearl's view on it? Well, he remains pretty confident that API will manage to maintain its market share: "Time will tell whether these new offerings will be a factor. I believe they would not only need to be the same as API, but that they would need to be substantially better. And that is pretty hard."
Image

INDIA: 252,000 BROODSTOCK IMPORTED IN 2020 AND NEW ENTRANTS ON THE RISE
In March 2020, the Indian government took extreme measures to deal with the first wave of COVID-19. The government decided to temporarily close the Aquaculture Quarantine Facility (AQF). As broodstock must be quarantined before being distributed to the hatcheries in India, broodstock imports came entirely to a halt. It was only in mid-May 2020 that the government decided to reopen the AQF allowing hatchery operators to place new orders with their suppliers. However, at that time, cargo freight availability was so limited that hatchery operators and their suppliers were forced to look for creative solutions, and some of the first broodstock were brought in by chartered flights.
Figure 1: Indian broodstock imports from January 2018 till December 2020
Image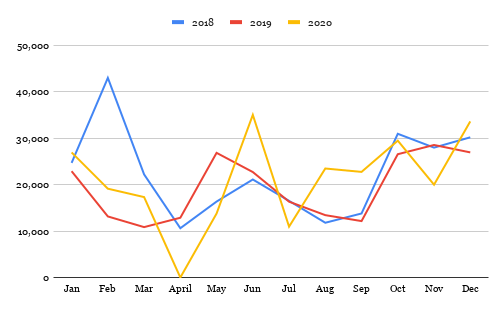 Source: Aquaculture Spectrum and Coastal Aquaculture Authority

The shortfall of broodstock imports earlier in the year was soon made up: from June till October, a large amount was imported. Over that period, with 212,750 broodstock, 2020 imports outperformed 2018 and 2019 by 29% and 33% respectively. But most in India claim that these record imports have not resulted in record harvests during the last crop of 2020; there have been widespread issues with disease, causing crop failures. Imports in November and December 2020 were at around the same levels as in 2018 and 2019, and by the end of 2020 India had imported just over 252,000 broodstock, 19,000 more than in 2019 but 17,000 less than in 2018.
Figure 2: Market shares of broodstock suppliers to India in 2020
Image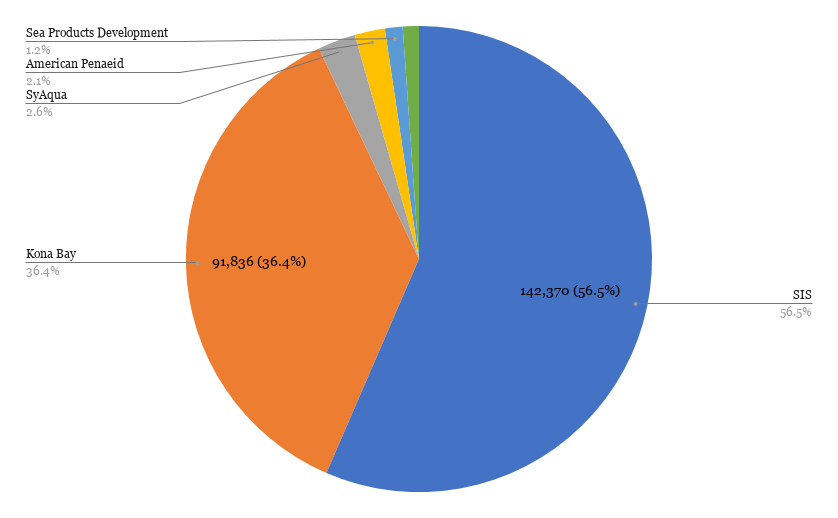 Source: Aquaculture Spectrum and Coastal Aquaculture Authority

SIS and Kona Bay once again dominated the Indian market (Figure 2). However, competition is likely to step up in 2021. In 2020, SyAqua had a breakthrough: after sending some initial shipments to India in May and October, the first big order was delivered in December. Vaisakhi, once again India's largest broodstock importer, is now its biggest client in India. SyAqua hopes to double its exports to India in 2021. Vaisakhi is also placing new orders with API, but API's expansion in India is rather slow. According to Pearl of API, the main reason for this is not the performance of its broodstock at the farm, but its performance in terms of fecundity – this is important in India due to the limited capacity of India's AQF and the quota for broodstock imports.
 
Vaisakhi is the major driver behind welcoming new entrants to the Indian market. While many of the large hatcheries in India are loyal to one broodstock supplier only, Vaisakhi works with broodstock from SIS, Kona Bay, SyAqua, and API (Figure 3).
Figure 3: 2020 broodstock imports by India's top 6 hatcheries
Image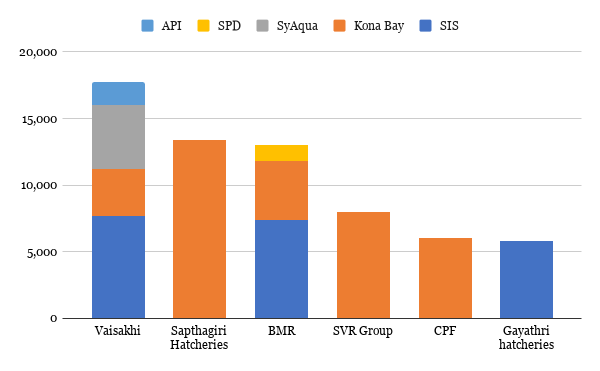 Source: Aquaculture Spectrum and Coastal Aquaculture Authority

Although it might prove to be difficult for new entrants to break through due to the exclusive relationships other importers have with their suppliers, there will likely be sufficient opportunities with smaller hatchery operators as well. The top ten hatchery operators in 2020 only had a market share of 30-35%: the remainder of the market is accounted for by around 150 smaller hatchery operators.
 
In addition to API and SyAqua, CPF may also enter the Indian market. Currently, the Indian authorities do not permit CPF India to import broodstock from its facilities in Thailand, meaning that CPF India currently depends on Kona Bay's broodstock. Once CPF's Homegrown Shrimp subsidiary in the US gets a permit to supply to India, it is likely that CPF India's hatcheries will make use of this opportunity.
 
Domestic broodstock production may also increase further. My sources in India estimate that in 2020, around 200,000 parent post-larvae were imported by BMR Blue Genetics and RGCA. Although there are rumors that BMR Blue Genetics ran into some trouble at the end of 2020, it is likely that the company will be back in the market with its locally grown broodstock later in 2021. RGCA restarted the activities at its broodstock multiplication center (BMC) at the end of 2020 and will bring its broodstock to the market during the stocking season for India's first crop of 2021 in February and March. 
NEW ENTRANTS AND LOCAL PRODUCTION CAPACITY IN INDONESIA
With around 100,000 animals, the market for imported broodstock in Indonesia is relatively small. It has been dominated by SIS and Kona Bay and, to a lesser extent, SyAqua. SIS for many years was the exclusive supplier of CP Prima (CPP), Indonesia's largest hatchery operator, and as such had a significant market. Kona Bay is the dominant supplier on the open market. Imported broodstock is complemented by broodstock produced locally by the Indonesian government on Bali, and by Global Gen on Lombok. The total market is estimated to be anywhere between 150,00 and 175,000 animals. Several companies have plans to compete for market share.
Image

CPF's McIntosh informed me that CPF is planning to sell broodstock to Indonesia from its Homegrown Shrimp facilities in the US. While Thailand is banned from selling broodstock to Indonesia, there are no restrictions on sales from the US. According to McIntosh, CPF could well be selling around 20,000 broodstock to Indonesia by 2022. Just like CPF, API also has ambitions in Indonesia. According to Pearl, API shipped around 10,000 broodstock to Indonesia in 2020 and its clients have reordered for 2021's crops. McIntosh argues that this proves that API's High Vigor broodstock is a good match for Indonesian farmers that are struggling with harsh conditions. In 2021, API hopes to increase its shipments to 40,000 animals.
Image 4: API's broodstock transitioning in Indonesia
Image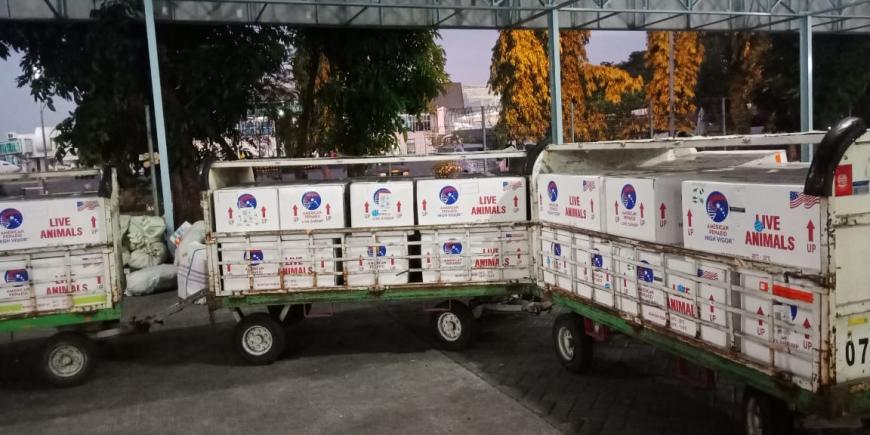 Source: API
But one question remains unanswered: at whose cost will the expansion of new entrants like CPF and API come? Kona Bay is not likely to give up its market share in Indonesia. In October 2020, the company established PT Kona Bay Indonesia, a joint venture with JAPFA, Indonesia's second largest shrimp hatchery operator. The new company will start broodstock multiplication in existing facilities in West Java, but will eventually move its operations to brand new facilities in North Bali. Once at scale, the company has the capacity to locally produce 100,000 broodstock annually, more than 50% of Indonesia's total broodstock market size.
 
Hendrix Genetics' Manchester told me that Kona Bay's BMC in Indonesia, which is in addition to its facilities in Hawaii, Ecuador and Malaysia, is just the first of several that the company plans to open in Asia soon. After a significant drop in production from 2018 to 2019, Kona Bay's broodstock sales in 2020 recovered to above 250,000 animals, and will further increase to 300,000 exported from Hawaii in 2021. On top of that, Kona Bay is also awaiting the final certification of its facilities in Malaysia, adding a capacity of 50,000 broodstock annually. All this considered, to me it seems inevitable that Kona Bay will strengthen its top three position among the world's broodstock companies.   
Image

CONCLUSION
Improvements and diversification in genetics in terms of disease resilience, fast growth, and performance under specific conditions will provide farmers with the possibility to improve survival, shorten production cycles, and, for example, grow L. vannamei in environments where so far this has proven to be difficult. Of course, better genetics is just part of the puzzle: proper hatchery and farm management are at least as important. But with genetics in the shrimp industry only in the early stages of development, the benefits this may bring in the near future should not be underestimated. 
 
All of the broodstock companies I've talked to have ambitious plans, and it is abundantly clear that competition among them will gear up in 2021. But their combined ambition in terms of numbers of broodstock may well be larger than the increase in demand that might come from actual production increases in Asia. This makes me think that there will be fierce competition among the market leaders and their smaller peers across markets and segments in realizing their ambitions. Time will indeed tell…