Image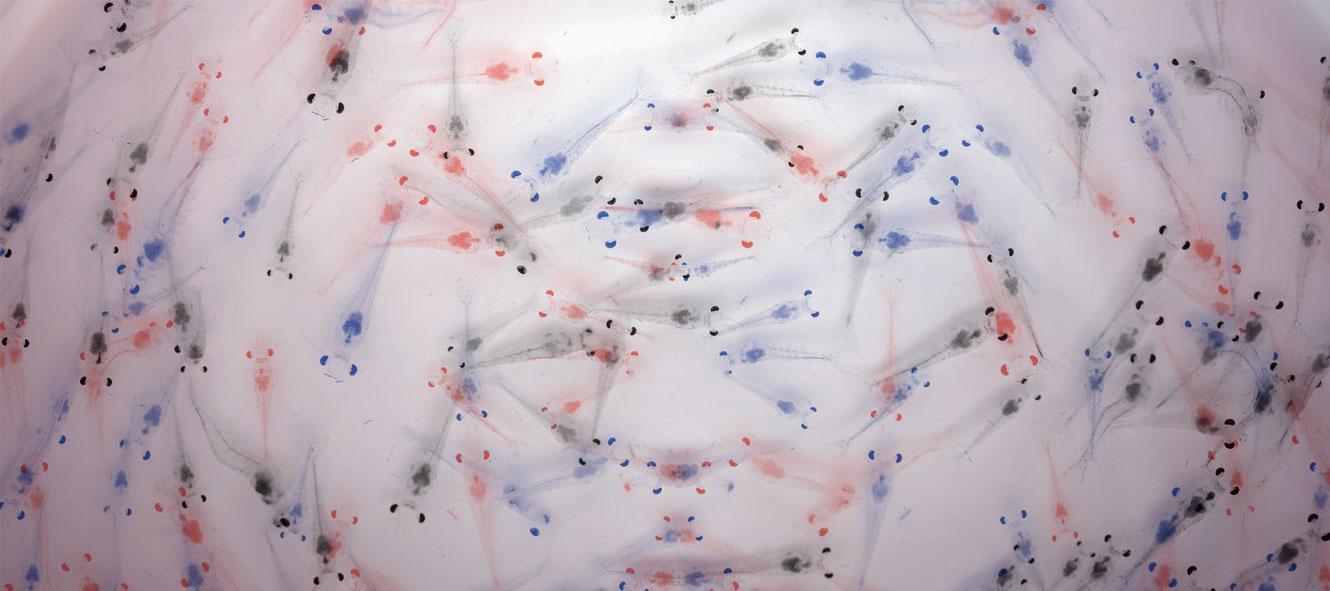 < Back
A 2022 Update of the Shrimp Broodstock Market
Although some of you might think broodstock is not that relevant for your part of the business, I respectfully disagree. The quality of broodstock can make or break a successful crop: better genetics may reduce volatility and risks, and stability and predictability benefit the industry as a whole. So I'm happy that you've started reading this blog! In my 2019 L. vannamei broodstock report. I extensively covered the L. vannamei broodstock market and the companies that rule it. In this blog, I'll provide you with an update on how the market and the largest broodstock suppliers have been doing since then. Enjoy! And please let me know your thoughts once you're done reading.
Image

Thank you, Robin Pearl (American Penaeid Inc. (API)), David Leong (Shrimp Improvement Systems (SIS)), David Danson (Hendrix Genetics – Kona Bay), Ricardo Melo (SyAqua), Francisco Saraiva Gomes (Ocean 14 Capital), Carlos Pineda (Blue Genetics) and Robins McIntosh (CP Foods) for sharing your valuable insights.
 
The Shrimp Blog is supported by: Inve Aquaculture, Benchmark Shrimp Genetics, Shrimp Improvement Systems, SPF Shrimp Feeds, Megasupply, DSM Animal Nutrition, Taprobane Seafood and Verwijs Import, Zeigler Nutrition, and Grobest.
Image

API Back to Pre-COVID Numbers and Likely to Be the World's Largest L. Vannamei Broodstock Producer
Robin Pearl, owner and CEO of American Penaeid Inc. (API), tells me that COVID-19-related logistical challenges caused API's exports to drop from 330,000 animals in 2019 to 277,000 animals in 2020. The company adjusted its strategy and increased its exports to 535,000 animals in 2021. Part of this increase is due to supplying some of its customers with parent post-larvae (PPL) instead of adult broodstock. This reduced shipping costs and enabled a more efficient use of scarcely available air freight while also meeting customer demand. The survival rate of PPL is lower than that of broodstock. It's therefore hard to estimate how many of API's animals have actually been put to work as adult broodstock in the hatchery. But we can safely assume that API is at least back to the same numbers as in 2019.

Photo 1: Breeding companies use LinkedIn to show the world how their animals are shipped and perform in the field. API's Robin Pearl is one of the most active on LinkedIn showing of his new Dragon line™ used in the field.
Image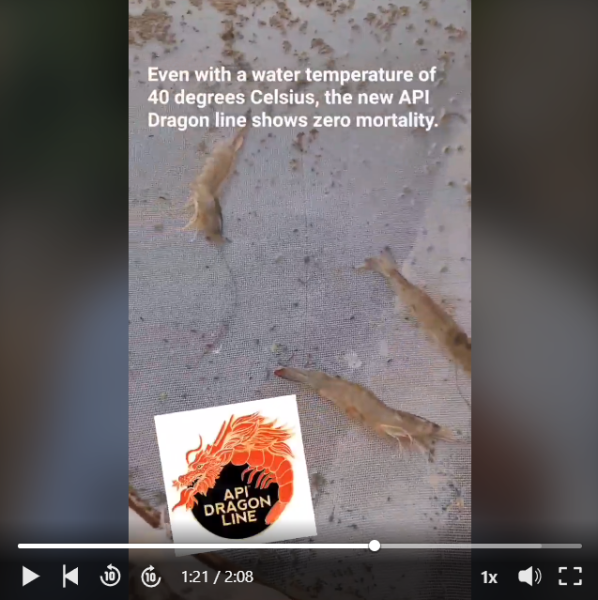 Source: Robin Pearl, API
 
One of the main drivers of API's market expansion is the launch of its new Dragon line™. According to Robin, its performance is exceeding expectations. Tested in China—still by far API's largest market—during the 2020 season and first commercially launched in China in 2021, this new line is showing excellent survival rates in the most heavily disease-impacted environments. Farmers report excellent growth, low FCR, and much improved fecundity. Robin is hopeful that the Dragon line™ will help API to continue dominating the Chinese market and to penetrate the Indian and Indonesian markets. Within these markets, API will specifically target the most disease-affected hatcheries and farms, which will benefit the most from the exceptional robustness and proper growth of the Dragon line.
 
Despite the fact that his competitors are targeting his clients with competing products, Robin believes that his approach to genetics will make him successful. Instead of trying to find out what makes shrimp perform well (like his competitors are doing by using genomic selection), he continues to focus on finding the animals that perform well and identifying their parents to use those animals to produce the next generation of high-performance PL. Being able to do all the genetic work in-house in its DNA lab in Florida gives API an advantage over others who use third-party service suppliers. Over the past 3 years, API has genotyped more than 1 million animals, much more than any competitor. According to Robin, genetics is a numbers game: the more you can test, the higher your selection pressure can be.
Image

API Continues to Dominate Chinese Market but SIS and Hendrix Genetics – Kona Bay Tolerant Lines Gain Traction
In 2019, China imported around 600,000 L. vannamei broodstock: 300,000 imported through legal routes and the remainder smuggled. Large vertically integrated shrimp companies such as Haid and Evergreen produced another 400,000 broodstock domestically. This brings the total L. vannamei broodstock used in China to around 1,000,000. A much larger number per MT farmed shrimp production than countries like India and Vietnam, most likely related to disease issues on the one hand and small harvest sizes targeted at the domestic fresh market on the other hand.

Photo 2: Hendrix Genetics - Kona Bay Shrimp broodstock arriving and treated for bio-security reasons by the local customer
Image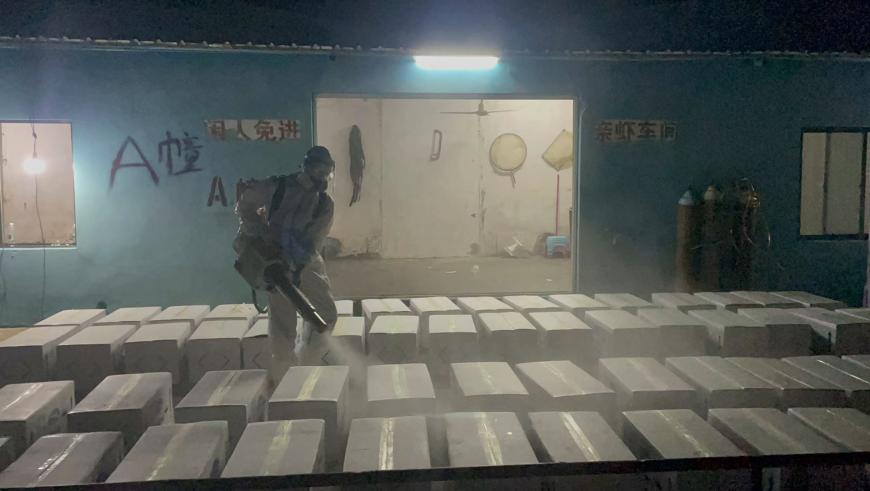 Source: (Jerry) Jianguo Shi, Sales Manager Asia Hendrix Genetics - Kona Bay Shrimp 
 
In 2020, China's legally reported broodstock imports reached a value of $20m, up from $15m in 2019. With costs per animal having increased from around $50 to possibly $65, I assume the total number of animals was relatively stable. In 2021, however, January-November broodstock imports were behind 2020 by almost $5m while the costs per animal didn't change much. This is in line with the expected impact of the closure of shipping routes. One of my sources mentioned that with the legal shipment routes through Hong Kong and Shanghai shut down, in April 2022 only the route through Guongdao was still open.
 
In terms of smuggling, it's all about rumors that are hard to verify. While some rumors relate to the shipping routes for adult broodstock, one specific rumor relates to PPL shipments from North and South America into China. Shipping PPL instead of adult broodstock allows for reduced costs and dealing with limited air cargo availability. Shipments from South America would be particularly interesting as these animals wouldn't be SPF. PPL shipments make it extremely hard to estimate total numbers of animals imported into China as PPL survival rates and value are unclear.
 
In terms of shares of imports, it's a bit uncertain whether the landscape has changed. API claims that its new Dragon line is immensely popular in China and that deploying this line helped the company to remain one of the largest broodstock suppliers to China. Nevertheless, various sources confirm that both Hendrix Genetics – Kona Bay and Shrimp Improvement Systems (SIS) have increased their shipments to China as well. This is reportedly also the case for Blue Genetics which may have turned to China after losing access to the Indian market. The market share gain of these three companies may have been at the cost of CP Foods which has been struggling to sell its fast-growth line due to the high prevalence of disease in most of China's farming regions.
Image

SIS Has Increased to 346,000 Animals in 2021 and Hopes to Grow Further to 400,000 Animals in 2022
Just like API, SIS struggled with COVID-19 logistics, especially in Hawaii. Nevertheless, CEO David Leong states that from 2019 SIS has seen a continuous growth in broodstock export numbers: to 291,000 in 2020, 346,000 in 2021, and an estimated 400,000 in 2022.

The company continues to ship from both its facilities in Florida and Hawaii. Hawaii makes up for most of its sales but with four different genetic lines in the market it makes sense that they're split between the two facilities instead of having each line at each facility. India and Vietnam remain SIS's largest markets with market shares of respectively 52% and 54% in 2021. Florida mainly supplies to India, while Hawaii largely supplies to Vietnam.

Photo 3: Some shipments of Superior broodstock from Hawaii and Growth Line broodstock from Florida arrived in Vietnam
Image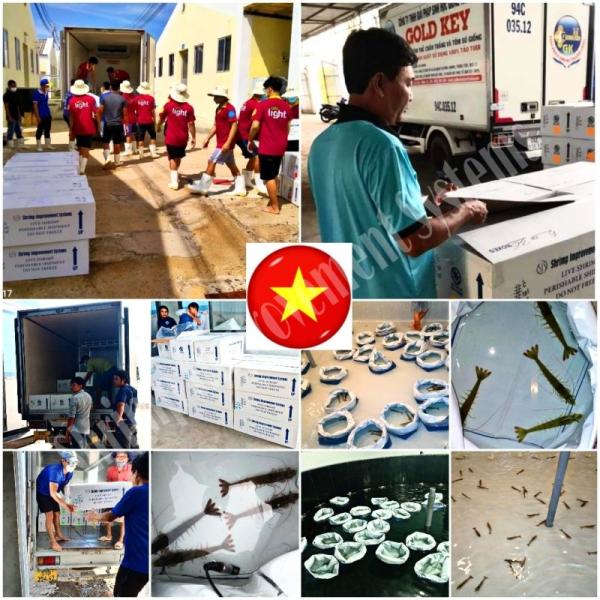 Source: Nanang Hidarto, Head of Technical Support Shrimp Improvement Systems
 
According to David, SIS has been continually working on improving the new lines' performance for hardiness and growth rates and the new generation of lines are becoming well established in their key markets. His local sales teams work together closely with his clients to identify which line best suits the specific local context. This doesn't happen at the national but at the regional level, or for some larger farmers, even at the company level. David is especially enthusiastic about the increase of sales into China. SIS' new, hardy line has been received well by some of SIS's customers and sales have been doubling year after year since 2020. Keeping in mind the size of the Chinese broodstock market, David is hopeful that further penetration of that market will contribute to realizing his growth ambitions.
 
Referencing Hendrix Genetics – Kona Bay's recently announced BMC JV in India with Sapthagiri Group, David admits that Hendrix Genetics – Kona Bay has a great strategy to be operating as close as possible to its target markets. As airfreight logistics remain challenging for the foreseeable future, no doubt SIS will also have to look at this strategy. So far, SIS' main concern has been whether in countries such as India or Vietnam it would be able to establish a BMC that would maintain the high level of biosecurity required to keep the SPF status of its animals. However, looking at today's logistical challenges and extremely high transport costs, the company is now seriously considering producing limited numbers overseas to overcome these bottlenecks.
Image

Vietnam Reportedly Imported around 200,000 L. Vannamei Broodstock in 2021
The Vietnamese government claims that in 2021, around 250,000 broodstock was required to sustain PL production for its shrimp farming sector. The vast majority—around 210,000—is said to be imported and the remainder domestically produced. While broodstock demand might increase over the next couple of years alongside Vietnam's ambition to increase its farmed shrimp production, broodstock imports are not expected to grow much further. Domestic broodstock production by the private sector and government-supported breeding programs should facilitate further growth of the industry.

Photo 4: One of Viet Uc's hatcheries in one of the hatchery hubs in South Central Vietnam.
Image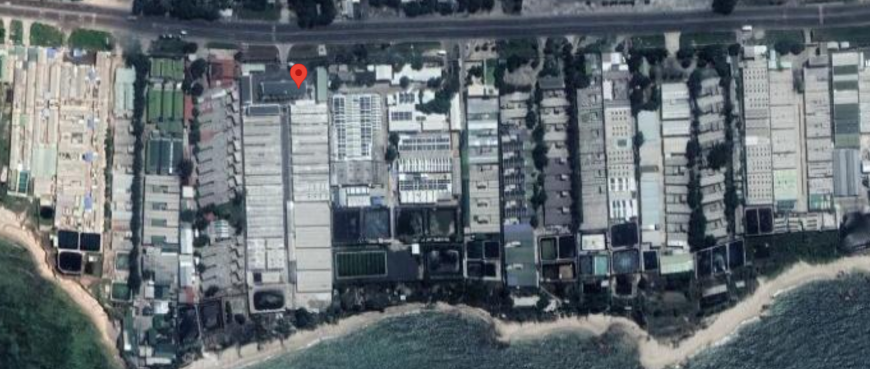 Source: Google Maps
 
Although the Vietnamese government doesn't publish countrywide broodstock import numbers, in a recent news article the government summarized the 2021 import landscape. Imported broodstock almost entirely consists of L. vannamei originating from the US and Thailand. Shrimp Improvement Systems is said to have a market share of 53.5%, while CP Foods Thailand accounts for 20%. The remainder is reportedly mainly accounted for by Hendrix Genetics – Kona Bay, and to a lesser extent by the Oceanic Institute of Hawaii Pacific University, Top Aqua, American Penaeid, SyAqua, and Molokai Sea Farms. Around 20,000 broodstock is said to be locally produced by Viet-Uc (Vietnam's leading hatchery player), which runs its own breeding program. Viet-Uc uses its broodstock only for its own hatcheries and doesn't sell to third-party hatcheries. Although the total number of animals imported and locally produced has slightly increased, market shares of the different broodstock suppliers have remained relatively stable.
 
While a small amount of P. monodon broodstock is imported or produced from imported PPL, most P. monodon PL is still produced from wild-caught spawners. The Vietnamese government reported that in 2021 around 5,000 P. monodon broodstock were imported. In addition, 20,000 broodstock were produced by Moana Ninh Thuan (which receives PPL from Moana Technologies in Hawaii). Although also Viet-Uc is believed to be working on its own P. monodon breeding program, there's no sign of commercial use of these broodstock yet.
Image
Hendrix Genetics – Kona Bay Executes Its Strategy to Establish BMCs Closer to Its Clients
Although Hendrix Genetics – Kona Bay declined to give exact numbers of its broodstock sales, it provides some interesting insights into how the company and its presence in Asian markets have developed. According to David Danson, from 2019 to 2022, its broodstock supply to Asia has increased by nearly 50%, and the company foresees a further growth of 15-20% in 2023. Looking at the numbers I published in the 2019 broodstock report, this would mean that in 2022 the company will sell around 270,000-330,000 animals to the Asian market.
 
Photo 5: the current breeding center of Kona Bay Indonesia
Image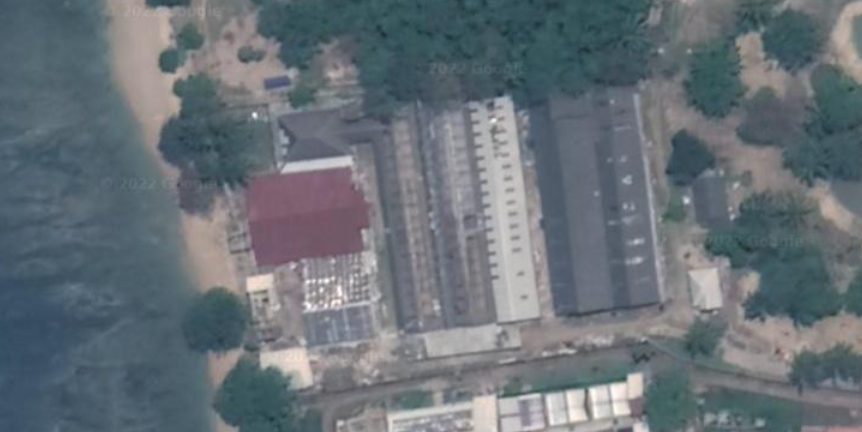 Source: Google Maps

The biggest development for Hendrix Genetics – Kona Bay has been the establishment of Kona Bay Indonesia, a JV with JAPFA. Kona Bay Indonesia is a BMC that imports PPL from Hawaii and grows these into adult broodstock before selling them to local hatcheries. According to David, Kona Bay Indonesia has increased its customer base from 9 to 32 hatcheries since it has made broodstock locally available. The new company started operations in an existing facility and increased its production capacity from 60,000 to 80,000 broodstock within the first year. A new facility that is currently being finished in Bali will come online later this year and will have the capacity to produce 100,000 animals annually. This facility is built in a modular way to be able to scale production as the scale of the Indonesian shrimp farming sector grows. With this set-up in place, Hendrix Genetics – Kona Bay's dominance of broodstock imports will likely grow further over the next couple of years.
 
Earlier this year, Hendrix Genetics – Kona Bay also announced a JV with Sapthagiri Group, one of the largest hatchery operators in India with a share of the total broodstock market of around 20%. Just like in Indonesia, David explains that the BMC will have the capacity to produce 100,000 broodstock annually and aims not only to supply Sapthagiri's hatcheries but also other hatcheries looking for locally produced high-performance and affordable broodstock. The BMC in India is also built in a modular way and production can scale as demand increases. The BMC should help Sapthagiri and Hendrix Genetics – Kona Bay to overcome capacity constraints of the Aquaculture Quarantine Facility in India and other logistical challenges, including rising costs. According to David, customers in India already like the product, but the risk of ending up on a waiting list in busy seasons is one they can't afford. With all the advantages of having a local production facility, the company hopes to grow its market share in India by reducing its backlog of shipments and attracting new customers once the BMC comes online in 2023.
 
Besides its expansion in Indonesia and India, in 2020, Hendrix Genetics – Kona Bay also re-entered the market in China, with the country now having become the company's third largest market.
Image

Kona Bay Indonesia Dominates the Market While the Government Wants to Revitalize Its Breeding Program
For 2021, my sources estimate that broodstock imports amount to around 100,000. However, opinions vary and it's hard to get a solid number. This would be a slight increase compared to 2019, when I estimated broodstock imports to be around 85,000, and it would be in line with the positive trend of growing shrimp production.
 
In terms of Indonesian market shares, not much has changed since 2019. Looking at imported broodstock, Hendrix Genetics – Kona Bay increased its share from around 50% in 2019 to around 60% in 2021. SIS's market share declined from around 30% in 2019 to around 20% in 2020. This is most likely the result CP Prima's increasing focus on its feed business and less on its hatchery, farming, and processing operations. CP Prima is still SIS's only customer in Indonesia. SyAqua, API, and Benchmark all three also continue to be active in the Indonesian market but their shares today are still small.
 
Figure 1: Market shares of Indonesia's broodstock suppliers
Image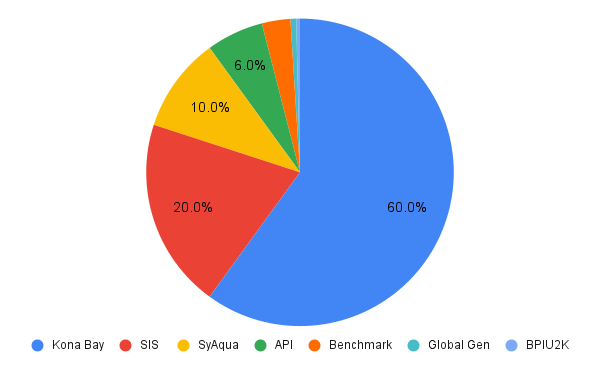 Sources: mixed, Indonesia
 
The biggest change in Indonesia that I see today compared to 2019 is that Hendrix Genetics – Kona Bay now imports PPL from its facility in Hawaii and produces broodstock locally in its JV operation with JAPFA. According to the company its current facility runs at maximum capacity and produces around 80,000 animals annually. Its new facility in Bali, that will come online later this year, will be able to produce 100,000 broodstock yearly and can expand on a need basis. Hendrix Genetics – Kona Bay supplies JAPFA's hatcheries across the country, but also sells to over 30 other hatcheries.
 
With Hendrix Genetics – Kona Bay having such a dominant market position, there will always be hatcheries and farmers looking for different genetics. Especially due to disease prevalence, some farmers have been eagerly making use of the arrival of the robust lines of companies like API and Benchmark, which have both been slowly growing their presence in Indonesia. In the next couple of years, more hatcheries and farmers might be looking at using API's and Benchmark's genetics if Hendrix Genetics – Kona Bay and SIS don't prove that their animals can nowadays also be successful in the most heavily disease-affected farms.

Photo 6: BPIU2K Breeding Centre in Bali, Indonesia
Image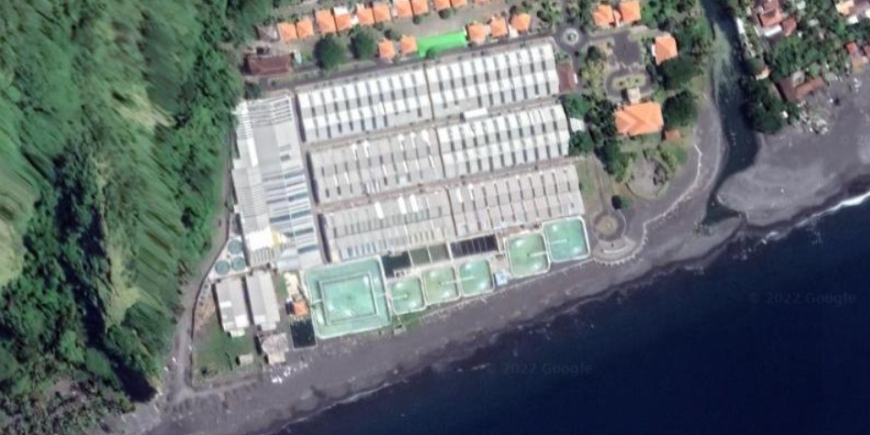 Source: Google Maps
 
Broodstock imports into Indonesia are complemented by local production from BPIU2K (a government-owned breeding program), Global Gen (a private breeding program on Lombok), and Prima Larvae (a private breeding program operating from Sumatra and Bali and known to produce F2/F3 generation broodstock). It's unclear how much broodstock these local programs account for and what the trend of today's production is. However, a recent announcement from the Indonesian government made it clear that local production will continue to be a factor.
 
The government has signed an agreement with the Oceanic Institute of Hawaii Pacific University to revitalize its breeding program in its BPIU2K facility in Bali. The government has appointed two of its facilities as BMCs. The Oceanic Institute will support the government in designing a breeding program that will produce superior local broodstock and that will make Indonesia less dependent on imports. I'm curious to see how this program develops.
Image

Ocean 14 Capital Acquires a Majority Stake in SyAqua and Says It's Just the Beginning of Its Involvement in the Shrimp Industry
Let's go to possibly the most exciting news of this update. SyAqua, owned for many years by Switzerland-based Golden Springs Group, onboarded a new investor that takes a majority share in the company.
 
Ocean 14 Capital is a growth equity fund that was established in 2019 and invests in 5 ocean-related industry verticals. Aquaculture is one of them. With its first €200m growth fund, the group aims to make around 20-25 investments in 10-12 growth platforms for ocean and ocean-related industries. Ocean 14 Capital focuses on growth and uses its significant flexibility over investment structures to support both organic and inorganic growth plans.
 
The fund's investment in SyAqua is its first step into the shrimp industry, but will not be the last, says Francisco Saraiva Gomes, Founding Partner and CIO at Ocean 14 Capital.
 
Ocean Capital 14 is focused on benefiting from and further enhancing systemic change in the shrimp industry by offering complimentary products and services that can improve the efficiency and sustainability of shrimp farming. "We want to contribute to this systemic change by using technology to accelerate innovation in animal husbandry and intensifying shrimp production," says Piers Lakin, Senior Associate at Ocean 14 Capital and deal lead for SyAqua. "In SyAqua we aim to develop a new at-scale player for the supply of sustainable shrimp farming technologies."
 
Declining to give an exact amount, Piers mentions that Ocean 14Capital will invest more than $15m in SyAqua. That investment will allow SyAqua to expand its footprint by investing in nutrition, data, automation, and environmental services. According to Piers, these are the types of technologies adjacent to SyAqua's genetics business that are required to bring farming operations to the next level and be part of the future sustainable shrimp industry.
India Reports Record Broodstock Import Numbers for 2022's First Crop of the Year
The difficulty in making India's shrimp production outlook is that while local industry stakeholders often predict that disease challenges will have a negative impact on overall production, overall production often exceeds everyone's expectations. This might be because local industry stakeholders want to prevent prices from dropping, but it can also be related India being such a large country which makes it hard to see the complete picture.
 
I'd like to think that broodstock imports are a good indication of the upcoming production. Despite a 3-5 months delay between broodstock imports and shrimp harvests, and the many things that can happen in that time, broodstock imports indicate what the industry expects in terms of PL demand for the upcoming crop. This year, with farm gate prices being high at the end of last year and the first months of this year, broodstock importers clearly expected enthusiasm from farmers to stock for the first crop. Broodstock imports between November and February reached 125,000 animals, much higher than the 3 years before. Farmers have begun harvesting the shrimp produced with these broodstock from the end of April onwards, with a drop in prices as a result.
 
Figure 2: Total broodstock imports for the first crop of the year from 2018/2019 to 2021/2022 
Image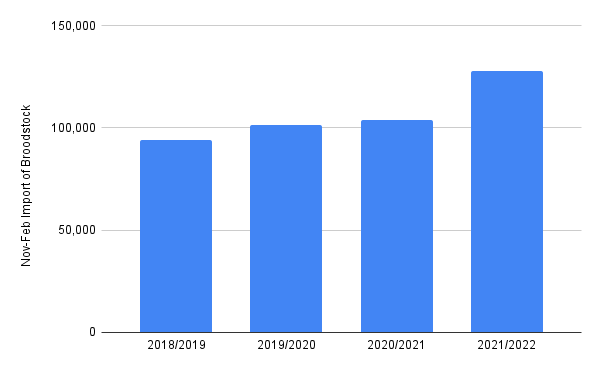 Source: Aquaculture Spectrum, India
 
In terms of suppliers, in 2021, SIS lost a bit of market share. While Hendrix Genetics – Kona Bay was responsible for some of it, the largest part was accounted for by smaller suppliers such as SPD, Benchmark, SyAqua, and API. In the first 4 months of this year, the trend continued. Benchmark seems to have made a breakthrough, shipping 9,000 broodstock in the first 4 months of 2022, grabbing a market share of almost 10%, and driving SIS's market share down to only 45%. One hatchery operator in India confirms that Benchmark's broodstock have been well received by hatcheries and farmers, who appreciate the survival and growth rates.
 
Figure 3: Market shares of India's broodstock suppliers from 2019-2022
Image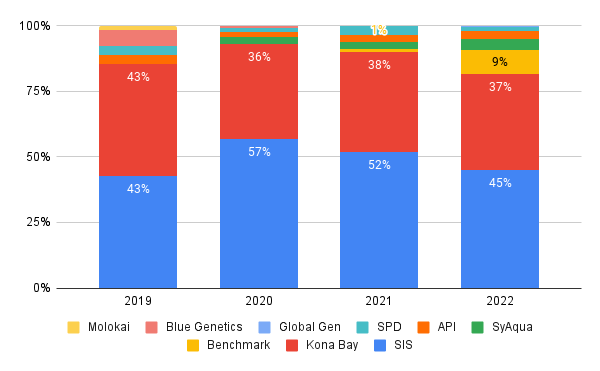 Source: Aquaculture Spectrum, India
Image

Mexico-Based Blue Genetics and Texas-Based Sea Products Developments (SPD) Merge in Blue Genetics Global
Blue Genetics, an operation in Mexico of the French Groupe Grimaud, recently announced to have merged with Texas-based Sea Products Development. Both companies were covered in my 2019 broodstock report. Blue Genetics used to export around 40,000-50,000 broodstock yearly from Mexico to countries like India and Thailand. In Thailand, Blue Genetics works with Topgen Aquaculture, while in India the company has established a JV with BMR Industries, a top three hatchery player and vertically integrated shrimp conglomerate from Andhra Pradesh.
 
Photo: At Groupe Grimaud's headquarters in France. (L-R) Mr. Lorenzo Juarez, CEO of SPD, Mr. Frederic Grimaud, President and CEO of Groupe Grimaud, Mr. Fred Thurman, President of SPD, and Carlos Pineda, Executive President and CEO of Blue Genetics Global.
Image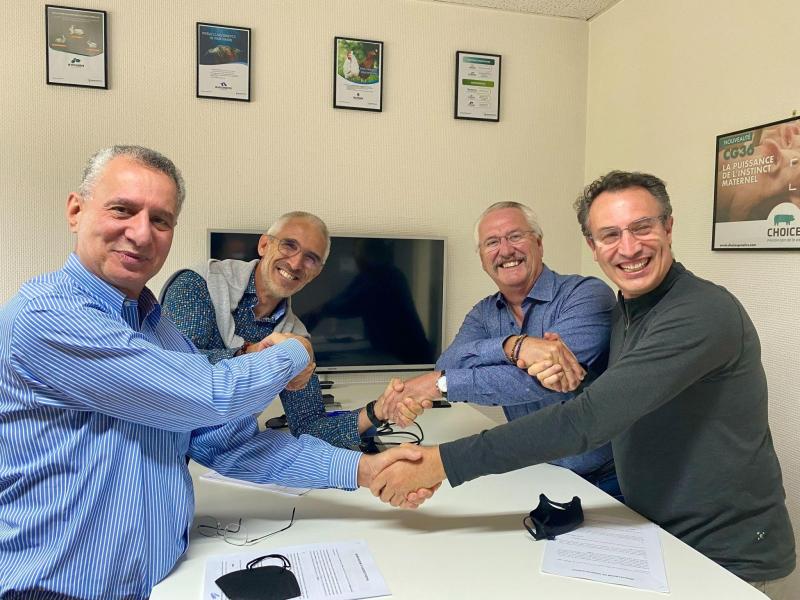 Source: Blue Genetics
The JV with BMR Industries most likely started the discussion with Sea Products Development (SPD) about a possible merger. Blue Genetics got into trouble in India when its products were tested positive for certain pathogens. The country lost its import permit and, as a result, the BMC was idle as it didn't have any broodstock to produce with. SPD, in turn, has undergone major changes after much of its facilities were damaged during a hurricane in Texas back in 2017. Even though the company was already re-entering the market in 2019, it was clear that it struggled with new leadership. SPD still had its import permit for India and was again selling broodstock to some of its clients in India. With Blue Genetics having lost its import permit, and SPD having a hard time in the very competitive broodstock market, it's kind of a perfect match as BMR Blue Genetics can now use SPD's broodstock from Texas to reactivate its BMC operations in Andhra Pradesh, India.
 
Everything I say regarding the reasons for this merger is speculation as the company declined further comment beyond what was already said in its press release. However, the fact that BMR Industries drastically increased its SPD broodstock purchase in 2021 (7,160 broodstock in 2021 compared to only 1,200 in respectively 2019 and 2020) in my opinion is a clear sign that something has been brewing for some time.
Final Thoughts
There seems to be an overarching expectation in the Asian broodstock market: disease pressure in farms that lack biosecurity cause these farmers to increasingly favor survival over growth. Although this may sound like a no-brainer to most of us, it's a real turning point in the Asian industry. One that Ecuador already went through a couple of years ago when it was recovering from the devastating effects of the white spot syndrome.
 
The broodstock suppliers that can prove that their animals survive the harshest environments while maintaining decent growth and food conversion rates are the ones that seem to be penetrating the markets where farmers are battling disease in suboptimal farming environments. While most companies nowadays market some of their lines as being tolerant to disease, differences in survival rates are likely to become more visible over time. Companies that prove their superiority in terms of survival and don't underperform too much in terms of average growth, feed conversion, and fecundity, whether they're big or small, are likely to have a bright future ahead.
 
This said, in the long term, outcompeting large global companies like Hendrix Genetics – Kona Bay, CP Foods, and Benchmark Genetics won't be easy for smaller, dedicated shrimp genetics companies such as API or SyAqua. As a smaller company, can you compete with the financial power, R&D capacity, and scale of the world's largest animal genetics companies and shrimp conglomerates? Or is further consolidation inevitable?
 
In such turbulent times, I'll continue to keep a close eye on the broodstock market and the companies that drive it.